PST is vetting the candidates to succeed Sunil Gulati as president of the United States Soccer Federation. This post speaks with Kyle Martino — the broadcaster and former MLS midfielder — about his candidacy. His website is Everyonesgameusa.com.
As U.S. Soccer enters arguably its most critical juncture in recent history, Kyle Martino aims to become the voice of the American soccer community, while implementing several new measures to enhance the game nationwide.
For years, promotion and relegation has divided those within the U.S. soccer landscape, from MLS executives all the way down to supporters of the league and other leagues. However, Martino is not only candid about the conversation — but also insistent on the fact that others begin to have rational discussions about it as well.
[ MORE: PST's Q&A with USSF presidential candidate Eric Wynalda ]
The 36-year-old — who has seen first-hand the benefits of pro/rel in countries like England — believes the topic of conversation is one that needs to be had and will only enhance the growth of soccer in the United States.
His Progress Plan, which was released to provide more detail regarding his platform ahead of this month's election, dives further into the topic of pro/rel. That includes a plan to implement the system into the U.S. Soccer landscape on a trial basis as early as 2024, which Martino notes would likely begin with USL and NASL.
"For me it's pretty surprising that such a compelling, competitive argument cannot be discussed unemotionally," Martino told Pro Soccer Talk. "The game has grown in soccer cultures around the world and I think it's important to do two things: first, why it isn't possible to do it here and understand with our unique landscape, one that has seen a professional league collapse in our lifetime, how we can make soccer the best it can be. It's important to see why these decisions in the past have affected things and how our current structure has seen a growth in our first division.
"I think we need to have the discussion about 'is there a better way?' And to me, I think there is a better way, where there's a merit-based soccer landscape that accomplishes two things. You are going to be able to reach different markets that normally would go untapped with expansion in the first division. Overnight we're not going to spend per team what the Premier League spends or La Liga spends or Bundesliga spends.
"The way you get people excited. The way you grow the soccer culture here is through affinity. Affinity happens locally. When I grow up, there was no professional league for many years, and then I celebrated teams like the Bridgeport Italians and the Brooklyn Italians, which were amateur teams in my neighborhood.  I know millions of fans are supporting their local teams as well, and want to believe that there is a possible move upward in mobility for their club.
"I think it's integral that the people that have helped grow Major League Soccer throughout its expansion are willing to come to the table and have mature conversations about the merit of promotion/relegation."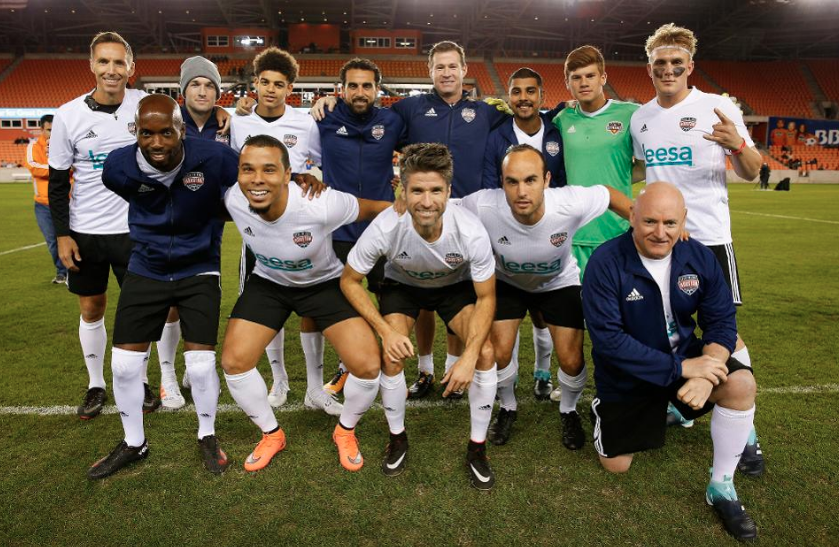 In a time where the North American Soccer League (NASL) is still involved in a fierce legal struggle against the U.S. Soccer Federation, the potential implementation of pro/rel seems like an eternity away given the uncertainty of NASL.
With U.S. Soccer having denied Division 2 sanctioning in 2017 — which sparked the NASL's legal measures — the league's status is far from assured moving forward. Teams like Indy Eleven and more recently, Miami FC and the Jacksonville Armada, have sought refuge in other leagues to preserve their ability to continue playing.
Martino remains confident though that NASL will be able to coexist with its adversaries in the future. It's simply a matter of having the right people in place to continue a very complex, and at times, heated conversation.
"The most important thing is finding out whether everyone is capable of getting back to the table to have these discussions," Martino said. "Then you need to have a plan. I'm the only one with a vision moving forward in terms of a substantive resolution and how I'm going to lead.
"Pro/rel is a part of that plan. It's a part of my plan. I know that this topic is one that a lot of people want to see happen sooner than I have planned, but what I have to say to that is 'please come up with a better strategy.' That has been what's so frustrating about this topic though, is that it's such an important one.
"I hear a lot of people screaming, and I feel like if they're willing to put down their pitchforks and instead pick up a pen that we could be having a much more substantial conversation. We need many good ideas, which should range from doing it tomorrow to doing it across the U.S. Soccer landscape by 2030."
That 2030 estimated timeline proposed by Martino may seem like an eternity away, but by that point, the United States could potentially have hosted its second World Cup in the nation's history. At least, that's the plan.
The U.S., in conjunction with Mexico and Canada, have been preparing its United bid to bring the World Cup back to North America in 2026 on the heels of the U.S. Men's National Team missing out on the biggest global soccer competition for the first time in over 30 years.
To this point, only Morocco is poised to challenge the United bid for the right to host in eight years' time.
While political turmoil has raised questions about the U.S.' ability to host the competition, Martino is not only confident about the bid the bring the World Cup back to the U.S., but also believes the joint-bid exemplifies what has made this nation so great for so long.
"I think that our bid is representative about what makes our country so great," Martino told PST. "When leadership makes comments that disappoints us you know that it's not what our country represents. This country is about opportunity and how beautifully multi-cultural it is.
"Sharing the opportunity to host the greatest sports tournament in the world with our neighbors in Canada and Mexico — that United bid — is a message that rises above comments that could be made in Congress.
"Obviously we are uniquely-positioned because the tournament looks like it will be expanded and bigger by the time 2026 comes around, but we could host the World Cup tomorrow if we wanted to. The infrastructure that we have in this country is amazing, and Mexico and Canada share a lot of those capabilities.
"We still, to this date, have the highest-attended World Cup back in 1994. A World Cup is obviously an economic boost and puts a spotlight on a nation — or in this case three nations — for a summer, but it has a ripple effect across the global sports landscape. A tournament in the U.S. in 2026 would create a windfall of revenue that could be reinvested in the game all over the world, which is really what this sport is all about."
Martino's confidence in his platform and ability to evoke change has driven him to a point where he believes he can fully challenge for the seat of U.S. Soccer president.
From discussions with youth clubs nationwide to some of Major League Soccer's biggest stars (which include endorsements from players like Dax McCarty and Sacha Kljestan), the former player believes it's very possible that he will be the one to steer American soccer down the right path.
Follow @MattReedFutbol