NEWCASTLE — Wearing a lively floral tracksuit in the height of winter in England's chilly North East, DeAndre Yedlin is obviously a man who expresses himself freely.
[ LIVE: Stream every Premier League game ] 
Yedlin, 24, had already laughed off banter from his teammates about his Dolce & Gabbana gear from Milan as he sat down to talk exclusively with Pro Soccer Talk at Newcastle United's snowy training ground ahead of their clash with Manchester United on Sunday (Watch live, 9:15 a.m. ET online via NBCSports.com) at St James' Park.
Thousands of miles away from his hometown of Seattle and the United States of America, the U.S. national team right back admitted he is still smarting from their shocking failure to qualify for the 2018 World Cup.
That said, when asked what the USMNT's aim should be in the next decade, a period where he is expected to be a leader on the pitch with 49 caps already to his name, Yedlin was bullish about how the U.S. can bounce back from the biggest disappointment of all.
"For me, I want to win the World Cup. If that's not the goal then I don't think you should be playing," Yedlin said. "A lot of people will say that isn't realistic but for me, I will say 'why?' Why isn't that realistic? Leicester City won the Premier League and nobody thought that could happen but it did. If that's [winning the World Cup] not the ultimate goal then I think we should reevaluate things."
Wow. Yedlin believes it when he says that the U.S. should be challenging for glory in Qatar in 2022 and potentially on home soil in 2026.
For a player who in the space of four years has risen from the Seattle Sounders academy to an MLS star (via two years at the University of Akron) and then on to Tottenham Hotspur before a loan spell at Sunderland in the Premier League and eventually spending the last 18 months at Newcastle, he is in a hurry to get the USMNT back on track.
Talking about the pain of the defeat at Trinidad & Tobago back in October 2017 which led to the U.S. failing to make the World Cup for the first time since 1986, Yedlin believes good can come from this and a talented young group can turn it into a positive as they focus on the 2022 World Cup.
"100 percent. I wouldn't call it a blessing in disguise but I think now, especially the guys that have come through it, now we feel what disappointment is like, not making the World Cup," Yedlin explained. "Now there is going to be an extra gear that is hit to make sure we make the next one but not only make it but do well in it. Nobody wants to feel this way again. It gives us extra motivation but it shouldn't come to the point where you need to feel that. But that's what it is and hopefully it helps us."
[ MORE: Latest USMNT news ] 
With question marks about the experienced USMNT core of Tim Howard, Clint Dempsey and others carrying on for the next four-year World Cup cycle, Yedlin feels like now is a good natural time for the promising young talents of Christian Pulisic, Weston McKennie, Tyler Adams et al. to be given their chance to shine for the Stars and Stripes.
"I think so and I think those guys realize it as well," Yedlin admitted. "Every international career is going to come to an end you're going to pass it down to the younger generation. Every career comes to that point. I think they are happy with doing that and they know we have some talented players coming in."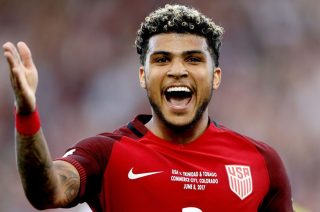 Given the debates around the current U.S. Soccer Federation presidential election and plenty of questions asked about how U.S. Soccer not only develops, but finds the next crop of talented players in the future, does Yedlin, a player who came through both the MLS academy and college systems, believe there is a problem with talent identification?
"I do think players are slipping through the net," Yedlin said. "It is a situation where we do need to reach out to some of the communities that maybe historically haven't been as interested in soccer or some of the poorer communities because I think there are kids slipping though the net. Just like there will be in any sport or in any country. I realize it is hard because the USA is such a big country. In that same sense there are that many more kids who could be the next ones who help us reach a World Cup final. You know? I think as big as a country America is, we should start trying to become a powerhouse in this sport."
What about his own career as he helps Newcastle battle relegation from the Premier League with 12 games to go, aided by their incredible support?
Under Rafael Benitez he's flourished as a title winner in England's second-tier last season and a regular in the Premier League for the Magpies this season, and he believes playing for a coach lauded for his defensive techniques has helped his game massively.
"It is based on what the coach likes and prefers but I think defensively I've just gotten a better understanding of when to go, when to stay, how aggressive to be and realizing what is around me," Yedlin said after he had talked Pro Soccer Talk through, on a tactics board, when to step to engage a winger and when to drop and hold your defensive shape. "It's the whole understanding of the game which has become better and that comes with maturity and experience."
Jurgen Klinsmann was the man who gave Yedlin his chance with the USMNT and brought him to the 2014 World Cup amid much fanfare and then helped push him to Europe afterwards. Yedlin praised Klinsmann for "getting him to where he is today" but understood why he was fired after the poor set of results at the start of 2018 World Cup qualifying which weren't all his fault because "the name of the game" is the coach getting fired even though he "can't press a button and make all the players play well during a game."
Yedlin revealed he hasn't thought too much about who the next permanent USMNT coach would be, and when asked if Caleb Porter, his former coach at Akron, would be a good fit, he was positive about such an appointment.
"It's not something I've thought a lot about but I've had Caleb [as a coach] before and I'd definitely be happy with that, but whoever it is I am sure will be a good fit," Yedlin added.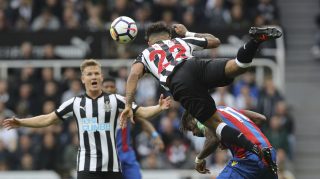 One of just three Americans playing regularly in the Premier League (Danny Williams of Huddersfield and Geoff Cameron of Stoke City being the others) Yedlin isn't looking too far ahead and revealed he is a serial short term goal-setter.
"I have to make a list of a bunch of different things. There is not one thing. I make a lot of lists," Yedlin smiled. "Every three months I reevaluate my goals and see how I did. They are short term targets and build season to season."
His ultimate goal to win the World Cup during his time with the USA is a lofty one, and at least four years off, but Yedlin, like his tracksuit, is bold and aims to be a leading light in the USMNT's shot at redemption.