This week the latest batch of jerseys were released ahead of the 2018 World Cup. And there were some absolute beauties…
There are still a few more to be unveiled, but now there are a good chunk of the 32 teams going to Russia this summer who know what they will be wearing.
With that in mind, it's time for a good old update of the 2018 World Cup jersey rankings.
Let us know your favs (and duds, because there's a few) in the comments section below.
NBC Sports Shop: World Cup kits, gear and more
---
1. Wow. Nigeria's home kit is stunning (on the left) and will become the go-to jersey of the 2018 World Cup. The away kit isn't too shabby either. Majestic from the Super Eagles.
---
2. Did someone say argyle? Belgium's homage to their EURO '84 team not only looks great on the pitch but wack it on with a pair of jeans and you look stylish in the bar. Superb.
---
3. Big fan of this. Germany took inspiration from their 1990 World Cup win for this jersey. A beauty.
---
4. Carlos Valderrama would be proud of this from Colombia. I would like to have seen the blue and red triangles a little bigger, but still a quality jersey
---
5. Peru's first World Cup since 1982 sees their famous sash jersey return. Umbro have delivered
---
6. El Tri will be looking sharp in this simple but eye-catching shirt. Love the deep green color
---
7. Argentina's jersey to mark the 125th anniversary of their football association is a little too plain for me. Still, nice clean look
---
8. Simple and subtle, hard not to want a little more from the Samurai Blue's jersey
---
9. Egypt's first World Cup appearance since 1990 seems them arrive with a sleek, simple design. Love the badge.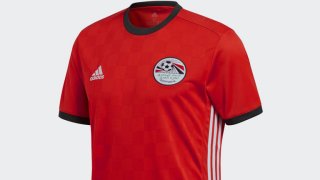 ---
10. Russia's new jersey is inspired by the Soviet Union's 1988 Olympic Gold medal team. Uninspiring
---
11. Sweden's classic kits will always stand out but I'm not really a fan of the three stripes down the ribs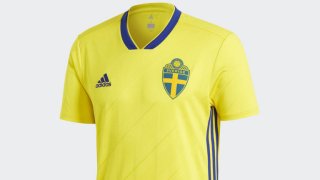 ---
12. Spain's nod to their 1994 World Cup shirt is just a little too messy for my liking
---
13. England's design is so plain and just boring. The warm up jersey (second from the left, front row, and in the featured image above) should be the home shirt. The red away jersey is pretty nice.
---
14. The color Uruguay's jersey is nice, but the design on the front is not. Enough said.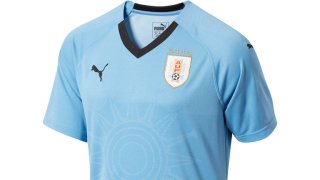 ---
15. It looks like Switzerland have gone for a design which includes fingerprints across their shirts.