This is it. After a two-month hiatus, the UEFA Champions League is back and the action returns this week.
[ MORE: Champions League schedule ] 
The Round of 16 games will be spread over the next month with five Premier League teams — Manchester City, Manchester United, Chelsea, Tottenham Hotspur and Liverpool — still in the competition.
Below is a look at each of the eight matchups with a score prediction, as Europe's elite teams lock horns.
---
Basel vs. Manchester City (first leg, Feb. 13; second leg, Mar. 3)
No disrespect to the Swiss champs, but this is the easiest draw Man City could have got. Pep Guardiola's men are in imperious form and could have this tie wrapped up after the first leg in Switzerland. Kevin De Bruyne, Sergio Aguero and Raheem Sterling will be too much for Basel to handle, but City have to watch as Basel stunned Man United in the group stages. Score pick: Man City to advance 5-1 on aggregate
---
Juventus vs. Tottenham Hotspur (first leg, Feb. 13; second leg, Mar. 3)
What a tie this promises to be. Spurs' high-press against Juve's solid defense with a fondness for counters with Gonzalo Higuain finishing off chances. Tottenham will look to take Juve level to Wembley for the second leg but with Harry Kane in fine form, he could cause Juve's ageing defense some issues. Spurs' best chance of success may be to ease off their high-pressing and allow Juve to come onto them before picking holes on the counter. Score pick: Tottenham to advance 3-2 on aggregate
---
FC Porto vs. Liverpool (first leg, Feb. 14; second leg, Mar. 4)
This Liverpool side seem set up for success in Europe and with the addition of Virgil Van Dijk in defense, his battle with Vincent Aboubakar should be epic. We all know about Liverpool's incredible attacking talents and that should see them over the line. Jurgen Klopp won't take Porto lightly, but the second leg being at Anfield is a huge bonus. Score pick: Liverpool to advance 4-2 on aggregate 
---
Real Madrid vs. PSG (first leg, Feb. 14; second leg, Mar. 4)
What a game. When Real Madrid finished second in their group (behind Spurs) PSG are one of the teams they would have feared most. With Neymar and Cavani ripping it up, Real's usual method of all-out attack may not work against PSG. The two-time reigning European champs have all their eggs in one basket under Zinedine Zidane with their La Liga form struggling. This could well be the end of an era. Score pick: PSG to advance 3-2 on aggregate
---
Chelsea vs. Barcelona (first leg, Feb. 20; second leg, Mar. 14)
My goodness, these two clashing bring up some epic UCL memories. When Chelsea fluffed their lines by not winning their group, this was the worst-case scenario. Lionel Messi, Luis Suarez and Co. will relish heading to an injury-hit Chelsea in the first leg as Antonio Conte's men battle poor form in the league. The La Liga leaders have struggled themselves a little lately, but they always seem to deliver in the big games. Score pick: Barcelona to advance 4-2 on aggregate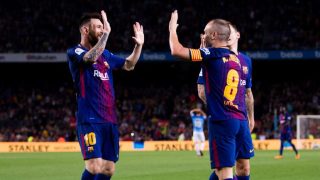 ---
Bayern Munich vs. Besiktas (first leg, Feb. 20; second leg, Mar. 14)
A kind draw for Bayern considering they finished second in their group behind PSG. Besiktas should not be underestimated and having the second leg at home will be a big bonus. That said, surviving the trip to Munich in the first leg with anything less than a one-goal deficit would be massive. Having sold Cenk Tosun to Everton, Besiktas have lost their top scorer this season but have plenty of experience. Score pick: Bayern to advance 3-2 on aggregate
---
Sevilla vs. Manchester United (first leg, Feb. 21; second leg, Mar. 13)
Tricky test for United against a Sevilla side who caused Liverpool problems with their incredible comeback from three goals down. Jose Mourinho's men will play for the draw on the road, then look to finish the job at Old Trafford. Sevilla aren't the force they have been in previous seasons but they will not be a walkover. United have handled business carefully in Europe this season and Romelu Lukaku will be key in this game, plus Alexis Sanchez being able to play is a huge bonus. Maybe the defeat at Newcastle last weekend was the wake-up call United needed. Score pick: Man United to advance 2-1 on aggregate 
---
Shakhtar Donetsk vs. AS Roma (first leg, Feb. 21; second leg, Mar. 13)
One of just two teams to beat Manchester City this season, Shakhtar will be eager to hit their stride in the first leg with Fred, Bernard, Marlos and Facundo Ferreyra the danger men. The Ukrainian champs have had a nice rest with no official games since December with the Ukrainian Premier League starting up against this weekend, but that can sometimes leave them a little rusty. Roma kept hold of Edin Dzeko in January, which was massive, and you have to fancy them taking Shakhtar back to the Italian capital in the second leg. Score pick: Roma to advance 3-2 on aggregate
---