With no national team in the World Cup and without a wild outsider laying claim to the U.S. presidential chair, many American soccer fans have let the United States men's national team slip to the back of their minds.
And while that's understandable, new boss Carlos Cordeiro needs his recruiters working hard in two areas: finding the top man to be U.S. technical director, and making sure the next Jonathan Gonzalez isn't largely ignored while he decides to switch allegiances to Mexico.
[ MORE: American debuts as Chelsea tops Hull ]
He may not have a ton of convincing to do, thanks to current staffers, but there are a least a couple dozen short phone calls he should make on behalf of the men's national team.
"Hey, I'm the new president. We're going to hire some new soccer people and a USMNT manager, but I want you to know we know and care about you."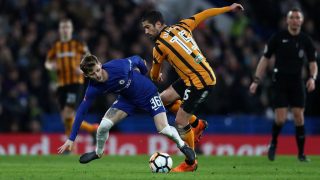 Kyle Scott stands as one of three reminders just this month. The Chelsea 20-year-old center midfielder, born in Bath, represented England at U-16 level and Republic of Ireland at U-17 before switching to the U.S. for U-18 and U-20 duty.
He is, barring some unknown FIFA bylaws, another prospect who could fall between the cracks™.
Eight days ago, Bundesliga.com listed 10 young league talents who could "soon join the USA national team," including teenagers like Bayern Munich youth Timothy Tillman, Malik Tillman, and Jalen Hawkins, as well as established players like Borussia Dortmund's Jeremy Toljan (23).
Goal.com's Ives Galarcep moved four Mexican-American prospects into the hopper when he wrote about three LA Galaxy prospects and NC State right back Manny Perez.
Plus: we're all quite aware of Spurs center back Cameron Carter-Vickers.
I was critical of U.S. Soccer for implementing a number of significant measures last month in the run-up to the presidential election, things that might have been better with approval from the new president, but it's worth noting that not a single one of these players needed to wait for a recruitment push from Tab Ramos or any number of influential people in the USSF set-up.
To be clear: playing in a German youth set-up doesn't make a player superior to stateside prospects, and there are any number of perceived European academy washouts playing NCAA Soccer who won't go on to sniff an MLS Draft slot, let alone a battle between Hoffenheim and Mainz.
But Bob Bradley and Jurgen Klinsmann were both very successful at convincing players, future stars and let-downs alike, to choose their American heritage. Whether Bruce Arena or Tim Howard thinks these players are American-blooded enough to succeed is irrelevant in my opinion, let the field sort that out.
But Cordeiro could go a long way toward currying favor with his new populace by finding the next Klinsmann-level super recruiter to make sure that the player pool is as deep as possible.