NASL's latest setback has cost them another club, and it's beginning to look like the end of the ill-fated league could be near.
Following the league's decision to forgo a 2018 season on Tuesday, expansion side 1904 FC has announced that it won't join NASL and instead pursue its entry into the United Soccer League (USL) during the 2019 campaign.
Below is the full press release distributed by the club.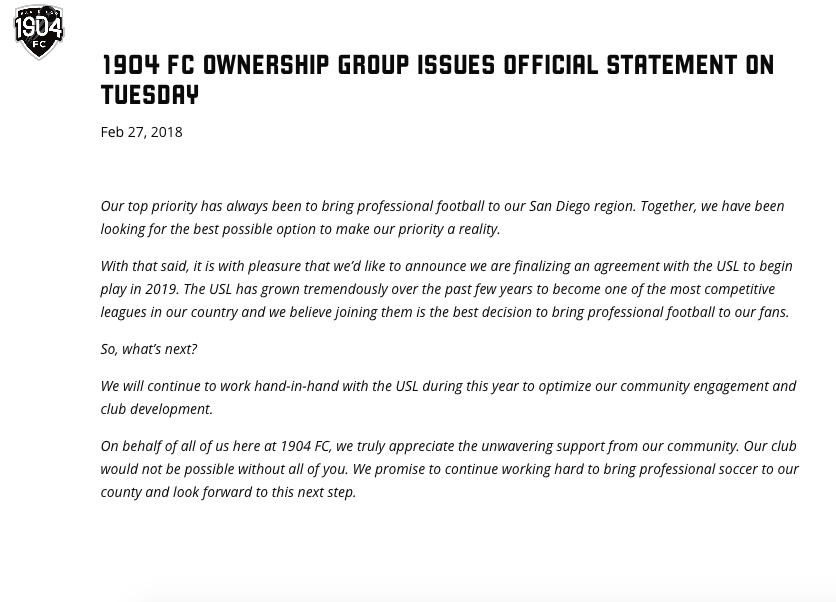 NASL lost its recent injunction against the U.S. Soccer Federation, which would have temporarily blocked USSF's decision to not grant the former Division II status.
The decision by the San Diego-based club leaves NASL with five clubs left if the league does in fact continue in the future.
The Jacksonville Armada, Miami FC, New York Cosmos, Puerto Rico FC and expansion side California United FC remain as NASL is currently constructed, although the Armada, Miami and the Cosmos have already begun pursuing other opportunities by entering the National Premier Soccer League (NPSL).
Prior to 2018, the Armada and Cosmos have fielded strictly Under-23 teams in NPSL play, however, it is believed that the they will feature several professional players with the senior team on hiatus from NASL play.
Follow @MattReedFutbol