It's a long, old season of soccer-ing still to be soccer-ed, but we're 60 percent of the way through the opening weekend of MLS 2018, which means it's time to start drawing grand conclusions.
[ FOLLOW: All of PST's MLS coverage ]
PST's Joe Prince-Wright talked us through the first three lessons of the newborn season this afternoon. Now, a look at three games this evening…
[ MORE: MLS 2018 season previews ] 
There should have been an all-out bidding war for Justin Meram
Orlando City SC only got a draw against D.C. United on Saturday, but Jason Kreis is surely over the moon with regards to the dominant performance of Justin Meram, just one — and the most expensive — of the Lions' major offseason acquisitions. Despite the fact he and Orlando were a man down for 50 minutes, Meram, who was very clearly given the freest of roles in the absence of Sacha Kljestan (suspension), Dom Dwyer and Josue Colman (injuries), was far and away the best player on the field.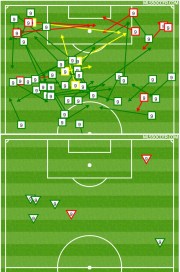 At right, you can see both Meram's attempted passes (key passes are in yellow — there's four of them, not including the inch-perfect through ball to Jonathan Spector which earned Meram a secondary assist on Orlando's 93rd-minute equalizer) and attempted dribbles. To say, those success percentages are high, would be a massive understatement. There's still a ton to be worked out by Kreis and Co., as far as the long-term formation and system go, and Meram's versatility will give his new coach an endless list of options. If Saturday's showing can be replicated another 20-24 times this season, the Lions have themselves a real darkhorse MVP candidate.
As an aside, 21 other teams had the opportunity to pay a small fortune in order to acquire Meram this winter, but very few — if any — teams not named Orlando were reported to have engaged in serious negotiations with Columbus Crew SC. Shame on every last one of them.
---
Justen Glad is next-level good
It should come as very little surprise to anyone who watched him in 2016, and particularly in 2017, that Justen Glad — he of more than 4,500 MLS minutes before his 21st birthday (last Wednesday) — is easily a top-five (if not -two or -three) center back in the league already.
Real Salt Lake found themselves under a constant flow of pressure during their 1-1 draw with FC Dallas — in truth, RSL were horribly unlucky to only come away with a point after Glad's partner, Marcelo Silva, scored an own goal four minutes from full-time — and Glad was the undisputed star of the defensive show.
Glad's final stat line for the night: 7 clearances, 4 interceptions, 2 blocks, 2 recoveries — all while completing nearly 80 percent of his 35 passes attempted against an extremely front-foot FCD side which trailed for more than an hour.
There were times over the last two years where Glad relied almost solely upon his brilliant recovery speed and instincts, but 90 minutes into 2018 — on the back of an almost faultless finish to last season — he's in complete control of RSL's entire defensive, he's seeing, reading and reacting to threats long before they materialize, and he's arguably the most important player on a team that has the look of Supporters' Shield challengers.
---
I'm just really sorry for you, Revs fans
Here's the thing about hiring a first-time head coach: he's never been a head coach before, and there's no way to possibly know whether or not he's actually qualified for the job. That's where I'm at — and where everyone else should be, too — with Brad Friedel. Couple that with the fact that the New England Revolution's roster is an unmitigated disaster zone, and it's going to be a long, long season in Boston Foxborough. The season that just might never end began on Saturday, with a 2-0 loss to the Philadelphia Union, and only nine players on the field at full-time.
Sure, there's plenty of exciting attacking talent — from Lee Nguyen, to Diego Fagundez, to Juan Agudelo and Krisztian Nemeth — but there's a whole other half of the field that hasn't been blessed with a single successful signing since… I don't know, Jermaine Jones, all the way back in 2014.
It's true: sometimes you really do have to completely bottom out before you can get better.
Also true: you can actively facilitate such a process by acknowledging your own failures and shortcomings, blow the whole thing up on your own accord, and get to the other side a whole lot quicker. Just think about it.