The opening weekend of MLS 2018 is in the books.
[ FOLLOW: All of PST's MLS coverage ]
PST's Joe Prince-Wright talked us through the first three lessons of the newborn season yesterday, followed by three more later in the evening, and three more earlier today…
[ MORE: MLS 2018 season previews ]
Throw NYCFC into the "incredibly well-coached" category
It's time to put Patrick Vieira into the "best coach in MLS" conversation. It's one thing to swarm and press and overwhelm teams with numbers, but it's another thing to do so with the discipline and the tidal wave of energy that have become synonymous with New York City FC.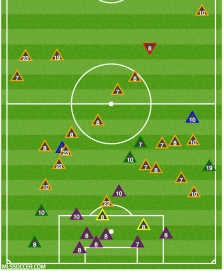 Starting with David Villa up top and all the way back to Yangel Herrera and Alexander Ring in central midfield, NYCFC are simply relentless and forever in sync with one another. The way they rotate and step into passing lanes is not only impressive, but it's also exhausting to watch. For nearly an hour of Sunday's 2-0 victory away to Sporting Kansas City — until they had their two goals and called off the dogs — they squeezed the life out of a side that's done precisely that to so many opponents over the last decade.
The sheer number of defensive actions from the front six — again, spearheaded by Villa (7) and made possible by Ring (8) — will make NYCFC one of the toughest teams to break down and fashion more than a handful of decent chances against this season, whether at home or on the road.
Creative hub (still) required in KC
The (presumed) idea behind Sporting KC's offseason roster moves — trading away Benny Feilhaber, after trading away Dom Dwyer last summer; replacing them with Yohan Croizet, Johnny Russell and Felipe Gutierrez — was that the former two additions would wreak havoc on the wings and serve as the primary danger men, while the latter teams up with Roger Espinoza and presses teams to death all over the field, thus putting Croizet and Russell into counter-attacking chances aplenty.
Against a team that presses as frequently and effectively as NYCFC — which is to say just as well, if not better than, Sporting — that all falls apart rather quickly when you've no one with the patience to dwell on the ball and open the field up (that was Feilhaber), nor a striker with the size, strength and aerial presence to serve as a totally different type of outlet altogether.
That sounds an awful lot like the struggles of Sporting foes from years gone by, only this time the shoe was on the other foot.
Croizet struggled terribly and lasted just 57 minutes before he was subbed off; striker Diego Rubio offered very little in terms of hold-up play to rescue a suffocating midfield; Russell being heavily involved was a promising sign, even if the final ball was always lacking; and Gutierrez was the most effective of the newcomers, but expecting no. 10-type playmaking from an all-action box-to-boxer isn't going to lead to a ton of, if any, quality chances.
If your highest value chance of the game is an extremely difficult scissor kick to finish a chipped through ball over the defense, I'm still of the mind that you don't have a striker problem, so much as you've got a chance-creation problem for the fifth year running.
Having a midfield makes a difference
The LA Galaxy spent each of the last three seasons — and even prolonged periods of 2014, en route to winning MLS Cup on David Beckham's swan song — attempting to play the game of soccer without a functioning midfield. Neither Steven Gerrard nor Jermaine Jones — shockingly — proved to be the cure to what ailed Bruce Arena in his final two-plus seasons in LA, nor Curt Onalfo and Sigi Schmid in 2017.
Then, the Galaxy tried something truly whacky and zany this winter: they signed Perry Kitchen, a well above-average MLS defensive midfielder. We're only one game into the 2018 season, but if Sunday's 2-1 home victory over the Portland Timbers is any indication whatsoever, Kitchen makes the Galaxy a real-life, functioning, professional soccer team again.
Not only was his final stat line of defensive actions (5 recoveries, 2 interceptions, 2 clearances, 1 tackle won and 1 block) far in excess of any Galaxy d-mid in recent memory, the majority of his contributions are done on the front foot, as he reads the game and snuffs out chances before they come to pass. There are still plenty of questions to be asked about who'll ultimately start at center back for this team, but regardless of who it is in the end, they'll be infinitely better protected with Kitchen patrolling the midfield in front of them.
Surely there's someone on this team that wants to drop deep into midfield, get their foot on the ball and drive the attack forward. Once they get that (significant) kink worked out, they're pretty easily a playoff team.