Patrick Vieira is in his third season with New York City FC in Major League Soccer and the legendary French midfielder believes his project is gathering momentum as they prepare to host LA Galaxy at Yankee Stadium in their home opener.
To help build the anticipation levels for their opening home game of the 2018 MLS season, NYCFC is hosting a 24-hour game at Rockefeller Center with Patrick Vieira and David Villa each having a side in their name and getting involved on Mar. 9-10.
The 24-hour game kicked off on Friday afternoon in Manhattan and will finish on Saturday afternoon with a special soccer pitch set up in the center of Rockefeller Plaza, plus all of the proceeds from the event will be donated to support NYCFC's charity, City in the Community (CITC).
Speaking exclusively to Pro Soccer Talk ahead of NYCFC's home opener against the Galaxy on Sunday, Vieira revealed his excitement levels are sky-high as he looks to reward the fans with another season of progress.
"We are really excited. It is always good to play at home in front of our fans and, honestly, last year they were really good, they were fantastic supporting the team, especially when we were going through a difficult period," Vieria said. "We are really looking forward to playing the young kids again and there wasn't a better way for us to start [this season] after the win we had at Sporting Kansas City. I'm really looking forward to the game against LA at home."
After finishing second in the Eastern Conference last season, the pressure is on Vieira, 41, and his players to make another big leap forward in 2018.
With Jo Inge Berget and Anton Tinnerholm arriving from reigning Swedish champs Malmo in the offseason, plus talented young attacker Jesus Medina from Paraguay, the makeup of this NYCFC team is a little different to having the likes of Frank Lampard, Andrea Pirlo and David Villa around as they did over the past three years, although the latter is still leading the line at the age of 36.
[ FOLLOW: All of PST's MLS coverage ]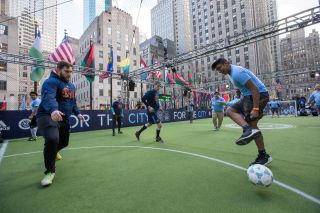 Vieira acknowledges that the pressure is building but he is also keen to keep NYCFC's identity strong.
"I think what's important for us, as a team I think when you look at the last two or three years, I think we managed to be in the playoffs, especially last year in the playoffs, we looked better than in the first year," Vieira said. "Of course, there is a big expectation of ourselves because of who we are. My job is still the same. There is going to be a pressure all the time and this is something I accept and that is what brings the best out of me. What is important for me is not to forgot that to win you need to get the best of the players. To get the best of the players you need to have a clear identity and a clear idea on how you want to play. It is my job to make the players understand this."
With reigning MLS Cup champs Toronto the favorites to win it all again, plus Atlanta United spending big in the offseason to bring in Darlington Nagbe and Barco, does Vieira see those two teams as their biggest rivals to finish atop the Eastern Conference?
"Yeah, Atlanta, Toronto… but when you look at the East, D.C. United have a really good team and this year is going to be really tough. Columbus went to win in Toronto, so I think in this league it is of course a bit too early to talk about who is the favorite but we have a team who can compete against other teams," Vieira said. "What will be important for us is for me to get the best of the players and to allow them to perform at the best that I know they can do, and obviously to be consistent. Consistency will be really important for us."
The likable Frenchman beamed when talking about their opening day 2-0 win at Sporting Kansas City as his side showcased grit and a solid defensive outing in testing circumstances away from home: "We showed experience and I really loved the way we managed the game," Vieira added.
The former Arsenal, Juventus, Inter Milan and Man City star also revealed that new signing Medina, who scored on his debut in that win at Sporting KC, took a while to adjust to life at NYCFC after arriving from Paraguayan side Libertad in the offseason but he is now "expressing himself and we don't have any doubt about his talent" with the entire squad eager to make him feel at home and let his talents flourish.
Speaking of talent, Vieira's former team Arsenal has plenty of that but has struggled for results this season in the Premier League with the Gunners so far having their lowest points tally under Arsene Wenger at this stage of a PL campaign.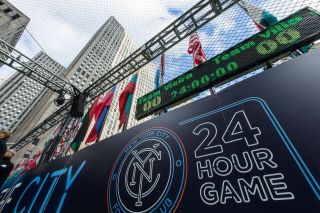 With Arsenal in sixth place in the table and the Wenger Out calls growing louder despite their win at AC Milan in the Europa League this week, Vieira believes there are plenty of other PL clubs worse off than the Gunners.
"When you look at Arsenal in the last four years, I think they've managed to win three FA Cups. You only have one winner in the last few years and in the last few years Arsenal was there," Vieira said. "I think at the moment people are maybe asking too much about this team because of what they can deliver. I don't know because I'm not there to see it. All I have to say is that when you judge a team by what they win in the last couple of years and when you look at Arsenal and what they won in the last couple of years, I think there are a lot of teams who are doing worse than what Arsenal is doing at the moment."
As pressure continues to mount on his former manager Arsene Wenger, some have linked Vieira as being a potential successor to the long-time Arsenal boss. The former Arsenal skipper, who won three PL titles with the Gunners and led the famous Invincibles side, is fully focused on NYCFC heading into the new MLS season.
But with one eye on his old team, does he feel the current criticism of Wenger is unfair?
"It is unfair because they've been winning silverware and there are a lot of teams who are not performing and not winning," Vieira said. "Arsene, with what he has given to this football club, I think he should be the one who decides when it is time for him to leave or not."