Claudio Reyna is one of the most important figures in American soccer and when he talks you listen. Simple.
You can't help but devote your attention to the Hall of Famer who speaks so eloquently and intelligently about the current state of the game in the USA.
Now, more than ever, it is worth soaking in his every word.
Speaking exclusively to Pro Soccer Talk from Rockefeller Plaza as he took part in New York City FC's 24-hour game to raise money for charity and get NYC hyped for their 2018 home opener against LA Galaxy this weekend, Reyna was up front and brutally honest about the future of not only MLS but the U.S. national team.
[ MORE: Vieira talks to Pro Soccer Talk ] 
The current Sporting Director for NYCFC played 112 times for the USMNT. He was named in the team of the tournament at the 2002 World Cup as the USA reached the last eight. He knows how to get things done and has been leading NYCFC off the field since Day One.
With NYCFC pushing for a third consecutive playoff appearance under Patrick Vieira and Reyna in just their fourth season as a club, all is well in the Bronx.
It's the current state of the U.S. national team after they failed to reach the 2018 World Cup (their first missed World Cup since 1986) that really gets former USMNT skipper Reyna going.
"As a former player and having a lot of close ties with the U.S. national team, it is disappointing and frustrating not to be going to the World Cup but at the same time I do feel hopeful that it has woken us up and that we must improve in many different areas," Reyna said. "Whether it is behavior, whether it is the way we put teams together, the way we prepare teams and just really improve on what has been, in my opinion, a steady slide over the last few years."
Following the World Cup qualification nightmare, Reyna hit out at a "culture of arrogance" within U.S. Soccer and his no-nonsense attitude impressed many.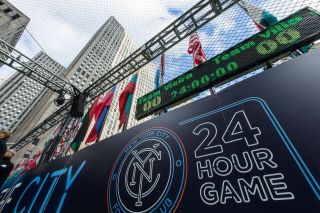 One thing which still frustrates Reyna is division among the USMNT. He believes it is creating a real problem for the program moving forward as they try to rebuild from the devastating disappointment of not making the World Cup in Russia this summer.
"I do think we need to unite. There seems to be a strong division around all of this nonsense around German-American players, MLS players, European players, Mexican players that all play for the United States," Reyna continued. "I think it is all really nonsense and to be honest disappointing that we've become divided on how we view players who put on our national team jersey. I don't care where they come from when they play for the national team. They have to be ready to perform and play. There are good players in Europe, in MLS, there are no excuses. I am hopeful because we have good talent and good players, but my frustration is where we need to come together and eliminate some of the division which exists from players, coaches, leagues, everything in general, that is where I'm at with the cultural challenges that we have with our behaviors."
Once again, when Reyna talks, you listen. He makes so much sense.
Given that fact, some are putting him forward for roles with the USMNT to help get them back on track. Asked directly if he is interested in taking on the new GM job with the USMNT after Carlos Cordeiro, the new president of U.S. Soccer, created the role, Reyna reaffirmed his love for NYCFC.
He also wants the new GM, whoever they are, to "get real" with the changes which need to be made.
"I'm fully focused with NYCFC. I love my job," Reyna said. "It is important that the right person is in charge and hired. It is important that we kind of get real with the changes that happen. A lot of it is often humanistic and people to people changes which need to happen. That is what we need to face. I am hopeful that the disappointment of not qualifying has woken us all up and brought humility to our sport in this country and I think and I feel confident that there will be a reaction from everybody because we are a country that wants to do well and wants to win. Overall, despite the disappointment I believe we are going to come out of it better for it. I'm very hopeful of the young talent and players that are in the system. It is our job as coaches and technical people to make sure we get the most out of them."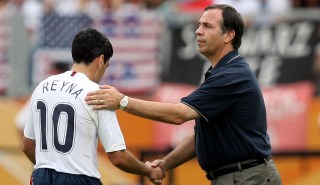 When it comes to developing young talent in the system, it is clearly something Reyna also feels passionately about. His son, Gio, is one of the top prospects U.S. Soccer currently has, while the likes of Christian Pulisic, Tim Weah, Tyler Adams and Weston McKennie continue to make waves and, Pulisic aside, push towards being in the senior team regularly.
This is something Reyna feels strongly about. He heads the Claudio Reyna Foundation, a non-profit organization which focused on proving to provide soccer training and mentoring to underprivileged youth in the USA and overseas. He clearly feels passionately about given youngsters a chance to make their way in the game, no matter where they are from or who they know.
In his day-to-day business in the MLS world, Reyna has a new toy to play with: Targeted Allocation Money (TAM).
That mechanism is something which gives each MLS team a sizable chunk of cash each season which is primarily used to bring in players from outside the league (it can also be used to pay current players more) who fall outside of their current salary cap restrictions.
Cue an influx of talented players from South America and Europe who would have previously taken up a Designated Player spot. The main debate going on in American soccer circles right now is that the influx of those players via TAM could have a negative impact on young American and Canadian players breaking through in MLS.
Does Reyna share that view?
"No. My view is that it is very positive to have more good players in our professional league. For the American and Canadian players to play, they have to earn it. They have to earn it Monday through Friday in training and they will get the chances when they do that," Reyna said. "It is only positive that there is more talent coming to the league from other countries because it is going to make our American players better. They're going to have to step up and improve and fight and be smarter on the field. I think it is actually really positive. We can't create an environment where we open doors and make it easy for American players to play. That wouldn't be the right thing to do. That doesn't exist anywhere else in the world. You have to earn your right to play and that has to be the same for promising young players and, for that matter, any player."
Reyna believes his players at NYCFC in 2018 are "motivated, hungry and want to succeed" and they've brought in stars from reigning Swedish champs Malmo, plus young Paraguayan playmaker Jesus Medina. He praised the work done by Vieira in preseason and believes the "balance" of the squad is right with youngsters, players in their prime and a sprinkling of experience with David Villa once again leading the team.
What is achievable for NYCFC in 2018?
"Our expectation is to be one of the top teams in the league, similar to last year," Reyna said. "Wherever we land at the end of the year we will see. There is a lot of work and games left to be played obviously. We feel good about the team we have and our experiences last year making us better for this year. We want to integrate our new players and get them up to speed with how we play and get them comfortable in our league. I think we are a team that feels when we step on the field with any team in MLS we can get a result. That is the feeling with the players, the coaching staff and myself as well. We can play with anybody in MLS but we have to work hard. It is a brand new season and what happened last year happened last year."
Straight talking. Honest. Focused. Reyna's voice is one of the most important in American soccer right now. We should hear it, and listen intently to it, more often.