Zlatan Ibrahimovic may be looking for a thank you from LA Galaxy supporters, but the former European icon will have to produce on the pitch before he warrants the sentiment.
The 36-year-old striker completed a long-awaited (about five years overdue) move to the Major League Soccer giants on Friday in a sensational switch that sent shockwaves around the globe.
[ MORE: United bid says MetLife Stadium would host 2026 World Cup final ]
Now, it's just a matter of Ibra making his way to the United States, and finding the form that once made him known as the deadliest striker on the planet.
While his play at Manchester United this season has been far from stellar, a combination of injury and the introduction of Romelu Lukaku hurt the veteran's chances of recapturing his success from 2016/17 (his first season at Old Trafford) — where Ibra notched 28 goals in all competitions.
Through all of his successes though, Zlatan has often times been considered a true number nine during his expansive career, and now the Swede will likely need to find a way to partner with another striker in the Galaxy starting XI.
Ola Kamara, who joined the Western Conference side in a high-profile trade this winter from the Columbus Crew, has been as good as any striker in MLS since coming to the U.S. in 2016.
"We're going to have to try and figure that out," Sigi Schmid told reporters after Saturday's draw with the Whitecaps. "I didn't want to think about that a whole lot [before Vancouver].
"I wanted to make sure we had this game plan right. I'll probably throw some lineups or different formations on the board and see what I think works and what makes sense.
"But Ola's an important player to our team, because of his ability to score goals and because of his ability to stretch the defense. At times Zlatan's played very well with that kind of a player. I'm sure we can establish a connection and a combination there."
Here's a look at two possible formations the Galaxy could employ with Ibrahimovic and Kamara starting in the attack.
---
4-1-3-2
This scenario would sacrifice Perry Kitchen in the midfield to give the Galaxy a bigger attacking threat with the introduction of Zlatan.
---
3-2-3-2
This formation gives Schmid a bit more assurance in the midfield with a partnership of Kitchen and Jonathan dos Santos in the center. Meanwhile, there's a more natural three in the back with Skjelvik, Ciani and Feltscher, and sends Ashley Cole to the bench. While it would be a tough decision for the manager, the former Premier Leaguer is more of a traditional left back in a flat four.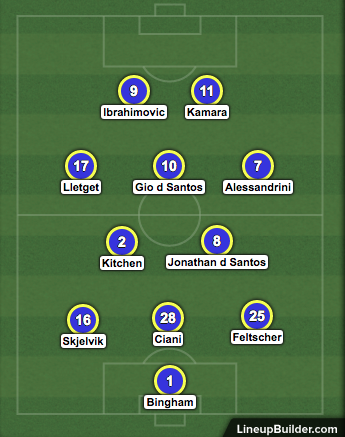 Follow @MattReedFutbol