BERLIN (AP) Bayern Munich coach Jupp Heynckes has earned his retirement at the end of the season.
Again.
After returning to the helm in October, Heynckes' Bayern won its record-extending sixth straight Bundesliga title on Saturday with a 4-1 win at Augsburg.
No other team has come close since Bayern claimed the treble in 2013 under Heynckes, who has said he will go back into retirement at the end of this season – despite Bayern's attempts to keep him on.
Bayern sealed its record 28th German championship, including the solitary pre-Bundesliga title in 1931-32, with five rounds to spare.
Here's a look at why Bayern keeps winning in Germany:
—
HERO HEYNCKES
Bayern's lackluster start to the season is all but forgotten due to the rapid turnaround instigated by Jupp Heynckes on his return for his fourth stint as coach in October.
Bayern was five points behind Borussia Dortmund after slipping to two draws and a defeat in its opening seven league games, but Heynckes started with a 5-0 win over Freiburg, led the side back to the top and claimed the title with 18 wins in 21 games, including the victory in Augsburg.
A perfect record in the German Cup – four wins from four – and Champions League – seven from seven – sees Bayern well placed in both competitions for a possible repeat of the treble achieved in Heynckes' previous stint in 2013.
The only issue Bayern has with Heynckes is that he won't continue. The 72-year-old former striker has long maintained that he will go back into retirement once the season is done.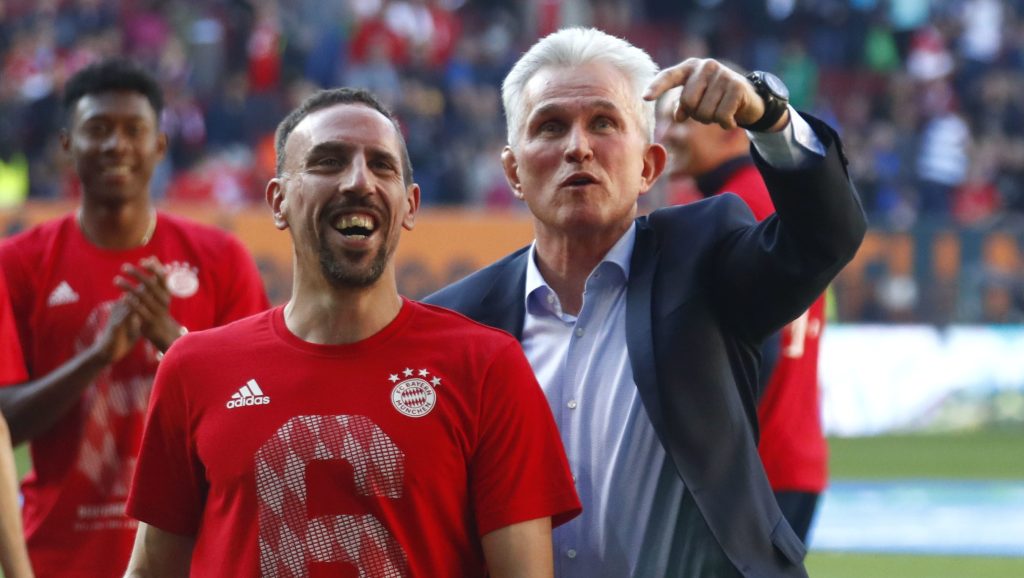 —
TACTICS
Jupp Heynckes reverted to the 4-2-3-1 system he favored in the treble-winning season for most games this time round, but he has also shown willingness to tinker with the system depending on the opponents.
He also coaxed a better work-rate from his players, starting with league top-scorer Robert Lewandowski, who pressurizes defenders for the ball and helps to win back possession.
Heynckes returned to the wide areas as key facets of the side's attack. Franck Ribery, despite celebrating his 35th birthday against Augsburg, has enjoyed a renaissance on the left wing. Kingsley Coman (before his injury) and Arjen Robben have also excelled, helped by overlapping pace from David Alaba and Joshua Kimmich.
—
IMPROVEMENT
Arturo Vidal was criticized by Jupp Heynckes shortly after returning, saying the combative midfielder wasn't working hard enough and that others were ahead of him in the pecking order.
But the Chile midfielder, familiar to Heynckes from their days together at Bayer Leverkusen, responded as Heynckes undoubtedly knew he would and has since emerged as one of the team's key players in fighting for midfield possession. Vidal has also chipped in six goals.
James Rodriguez is another player to have blossomed under Heynckes, returning to the form that prompted Real Madrid to pay a reported 80 million euros for his services in 2014. Madrid could yet regret letting him go.
—
MONEY
Bayern is by far the richest club in Germany thanks to lucrative sponsorship deals, TV money, ticket sales and other sources of revenue. Last season the club posted a record turnover of 640.5 million euros ($759 million) with profits up 22.2 percent on the season before.
Borussia Dortmund, the next nearest challenger, lags well behind with turnover of 405.7 million euros for 2016-17.
Bayern's financial clout means it can afford to turn down mega-money advances for its best players. Chairman Karl-Heinz Rummenigge recently ruled out Robert Lewandowski moving to Real Madrid. Bayern can also cherry-pick the best of what the rest of the Bundesliga has to offer.
Schalke's Leon Goretzka is joining for free next season.
—
COMPETITION
Bayern had no challengers for the title after Borussia Dortmund's early promise collapsed. Schalke, the best of the rest, is clearly not at the same level, despite its improvement under new coach Domenico Tedesco. Bayern has scored almost twice as many goals.
Faced with the added strain of European football, last year's runner-up Leipzig was unable to mount a challenge.
Dortmund faces another summer of rebuilding, while Bayer Leverkusen has been too inconsistent to mount a challenge under new coach Heiko Herrlich.
"It looks like we'll also be German champions next year," Heynckes said last month.