The sixth Saturday of the 2018 MLS season is in the books, and as always, we learned a few lessons from the afternoon and evening's slate of games…
[ MORE: Other MLS Things — The Archive ]
Return of the ATL buzzsaw
Atlanta United were shut out — and blown out — on opening day just over a month ago, and the knee-jerk reactions were as predictable as they were flimsy: Are they really that good? Maybe they just had a lucky season last year? You can't play like that in MLS and expect to win.
That narrative lasted, quite literally, all of 90 minutes before Tata Martino's men dismantled D.C. United and Vancouver Whitecaps by a combined score of 7-2 in back-to-back weeks immediately thereafter and ground out a 1-0 win over Minnesota United while playing 52 minutes a man down last week. The Five Stripes' resurgent run came to a head on Saturday, when they hammered Los Angeles FC, the expansion side upon which so much praise was heaped following wins in their first two games, to the tune of 5-0. Miguel Almiron scored two from the penalty spot, to go with single tallies from Josef Martinez, Julian Gressel and Romario Williams.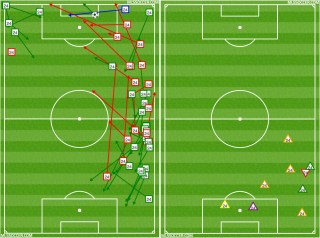 On Saturday, it was Gressel who stood head and shoulders above his peers, as the 24-year-old German import (via last year's SuperDraft) bagged the game's opening goal and delivered the seeing-eye cross to Martinez for the second which all but put the game to bed. At right, you'll find the entirety of Gressel's contributions for the afternoon, on both end of the field.
A few observations: 1) there's not a single unsuccessful pass shorter than 10 or 15 yards in distance; 2) he's extremely tidy when involved in short, combination play; 3) the location of his defensive actions, all of which are inside Atlanta's defensive half of the field, placed alongside his passing map, paint a clear picture of just how active and involved he is over the course of 90 minutes.
Teammates like Martinez, Almiron, Ezequiel Barco, Hector Villalba and even Darlington Nagbe will get 95 percent of the headlines coming out of Atlanta this year — and rightly so, nothing should be taken away from them — but it's someone like Gressel, who functions like the glue that hold all those entertaining, attacking parts together, while managing to contribute more than his fair share of danger, that has this buzzsaw ripping through opponents week in and week out.
[ MORE: Agent: Giuseppe Rossi could seek MLS move after two years ]
VAR is… struggling… still… still
Atlanta midfielder Chris McCann was sent off for a reckless tackle, which occurred 36 seconds into the game, that referee Ted Unkel deemed to have endangered the safety, in one way or another, of LAFC's Benny Feilhaber. Unkel then consulted his handy-dandy video-assistant review system, and reversed the call, drastically changing the events and outcome of the ensuing 89 minutes.
If you watched the above clip, you'll probably agree it's something commonly referenced as an "orange-card" offense — just shy of a sending-off, but worse than your run-of-the-mill yellow card — which is just a clever way to say that it's far from a "clear and obvious error" (yet again, that's the language of MLS and the Professional Referee Organization), which is, of course, the threshold for a reviewable decision. No matter the initial call — red or yellow — it's planted firmly in the gray area between yes and no, right and wrong.
If you watched that clip, you'll find another extremely gray-area decision that initially went against Atlanta, only for Unkel to change his mind after a video review. I'm of the opinion it's probably a foul — one that Almiron baits Walker Zimmerman into and undoubtedly embellishes — but it's nowhere near definitive one way or another, which is the mandatory requirement to review the call on the field.
In the grand scheme of the game, it mattered very little, but if this is the willy-nilly process by which refs choose whether or not to review calls on the field, it's going to rear its ugly head at a critical point in a game in the near future, and continue to do so until there's a uniform process in place. The fact we're left to wonder about the thought process of refs is, easily, the most frustrating part and does little to dispel the notion that MLS refs aren't up to the standard of the league's players and they too routinely impact the outcome of games.
[ MORE: CONCACAF issues punishments for TFC-America fracas in CCL ]
A win, but the same old problems for Chicago
Here's the good news for Chicago Fire fans: after two losses and a draw to start the season, your team beat Columbus Crew SC and got its first win on Saturday.
Here's the bad news: it was an identical offensive performance to those first three games, only with a Howler of the Year nominee from Crew SC goalkeeper Zack Steffen to bail out an attacking unit totally bereft of ideas and execution.
This is hardly a new development for Veljko Paunovic's side, which lacked any semblance of a focal-point playmaker last season. Here's some worse news, as something of an aside: it wasn't addressed during the offseason, and the secondary transfer window might be too late in a deep Eastern Conference (the primary window is still open, but April and May are practical non-starters for transfer activity).
You can see, clear as day, where the gaping hole exists, as well as some pretty damning statistics. Paunovic's plan ahead of Saturday's win over Columbus was to pair a target man, Alan Gordon, with the defending Golden Boot Winner, Nemanja Nikolic, presumably to provide a bit of hold-up and knock-down play for Nikolic to swarm around and make runs off of. It… well, didn't really work, as Nikolic touched the ball just once times inside Crew SC's penalty area — his goal, which resulted from a wayward pass from the opposing goalkeeper.