What an awful week for Manchester City.
What a marvelous moment for Liverpool.
[ MORE: Match recap | Roma stuns Barca ]
Job done
It feels a tad insane to call a four-goal margin of victory over two legs scrappy, but there was nothing simple nor easy about Liverpool's stunning and complete defeat of the Premier League leaders Manchester City.
Jurgen Klopp's men were lethal against Pep Guardiola's bunch. If you were given the following stat lines before the tie, would you think it ends Liverpool 5-1?
Game 1: Man City 11-9 in shot attempts, 66 percent possession, 8-0 in corners
Game 2: Man City 20-5 in shot attempts, 68 percent possession, 9-2 in corners
Total corners, of course, is an incomplete stat, but there was simply no denying the Reds. They were compact, gritty, and scored on five of 14 shots. That's bonkers, and it's why we watch the games.
Momentous loss
Manchester City losing this tie at all would've altered the discussion on their legacy, but losing it 5-1 to drop three in-a-row in all competitions is brutal and raises legitimate questions about the legacy of this season.
Yes, they'll still win the Premier League in dominant fashion, but Pep Guardiola's men went from arguably conducting the finest season in the history of English top flight soccer to being unquestionably behind Arsenal's Invincibles while losing three times to one English club and failing in a bid to clinch the title against their crosstown rivals in historic fashion.
Yeah, not good.
There's still no question that Man City's style of play and Guardiola's success in utilizing it to build a champion with it is terrific, but "Could they win the quadruple?" became a double with the weakest jewel of the quartet included in the spoils.
It's crazy to type this considering there's still a deserved coronation for one of the best Premier League seasons in history but… maybe next year?
Different tourney, but Salah makes his POY case
His goal early in the second half was one of the easier ones he'll bag this season, but the red-hot Red continues to make a case to be Premier League Player of the Year (even if the UEFA Champions League shouldn't really count for voters).
Aided by Fernandinho's surprising decision not to get up after hitting the deck in his own box, Salah followed the ball and bagged his 39th goal of the season in the win.
Everybody parks the bus sometime
Heads whipped up to the clock. It read just over two minutes, and Manchester City's Gabriel Jesus had just shaped a shot around the splayed Loris Karius to make the tie's score line read 3-1 on aggregate.
Liverpool then packed it in for the rest of the half.
This was going to be headline image after 45 minutes of play, before we learned Pep Guardiola had been sent to the stands for arguing a ref and before Jurgen Klopp flipped his game plan on its ear.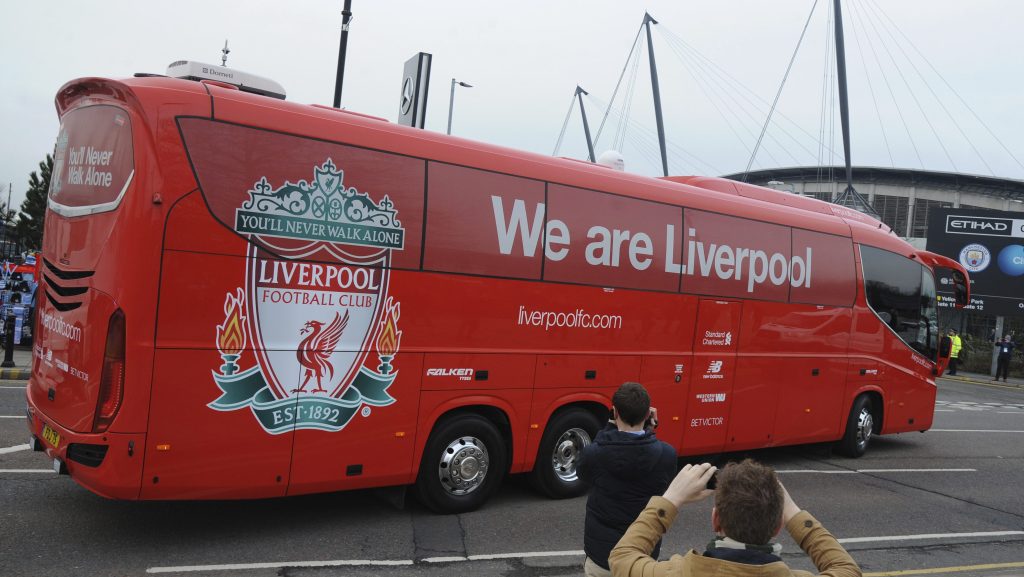 From the moment Gabriel Jesus gave Man City its second minute lead, Klopp's Reds were penned into their own half.
There was a sense that City needed a second goal before halftime, where Klopp could change his battle stations. And whether by design or instinct, the Reds were able to better high press the ball at the start of the second half.
We won't know how long the tactic would've lasted thanks to the Mohamed Salah goal that changed everything.
No one wants to see Antonio Mateu Lahoz referee again any time soon
It's a sad thing to be talking about the referee after a match of this magnitude, and the *good* news is he was pretty much universally awful for both sides.
Antonio Mateu Lahoz handed out five yellow cards in the first half. Depending on your vantage point, he missed a foul on Raheem Sterling in the build-up to Man City's opener, and then looked to have gotten an offside call wrong that would've led to a second City goal.
Even though those were canceled out, Lahoz wasn't done. He sent Guardiola to the stands for the second half and missed a potential Liverpool penalty moments before Mohamed Salah scored. Again, it wouldn't have changed anything about the outcome.