As we continue to break down Manchester City's Premier League title-winning season, it is time to look at some bigger picture questions around Pep Guardiola's latest masterpiece.
Is he creating a dynasty? Where does this City team rank, all-time? How can they improve?
[ MORE: PST's coverage of Man City's title win ]

With that in mind the Pro Soccer Talk got together in a roundtable format to discuss Man City's title win. Here it goes…
---
What has been the most impressive thing about this Man City team this season?
Joe Prince-Wright: The way Pep's tactics and philosophy have clicked into place. That doesn't just happen. City were a long way off a Pep team last season but it takes hard work on the training ground on the small details and all of the players to buy into Pep's philosophy. They did and it worked splendidly well.
Nick Mendola: The consistent dominance in the deepest league in the world. Forget style for a moment and look at the numbers.
Kyle Bonn: I would have to say the team's grasp of Pep's tactics. Last season they just flat out didn't get it. It never clicked, and that seemed like a huge problem going forward into the long-term. But this year, they've slapped the puzzle together and made it work in pretty stunning fashion considering how out of sync things appeared last year.
Dan Karell: (Until recently), it's been the overall consistency in league play. Man City was dominant from the start and aside from this recent run of form, it has remained the dominant force in the Premier League.
---
Does the amount of money Guardiola has spent take away from their achievement?
Prince-Wright: A little. It will always be there with City because they've come such a long way in such a short space of time and that is down to the huge financial backing from Abu Dhabi. Still, you can chuck money at it whatever way you like (ahem, Man United…) and it doesn't guarantee success. Guardiola has a plan and he has been lucky enough, as he often says, to acquire top players who can carry out what he wants.
Mendola: It's a ton of dough, yes, and outspending rivals should make a team the favorite to win the league… but I have a hard time saying a couple hundred million bucks is the reason a team won the league in such impressive fashion with a month-and-a-half to spare.
Bonn: I don't believe so no. Many top teams in the Premie League either spend similar amounts or at least have the means to do so. It's easy to nitpick amounts spent, but it's still very hard to dominate such a competitive league the way they have.
Karell: Not at all. If you want to win in world soccer, you pretty much have to spend, and Man City has not only spent big but spent smartly. Also consider that one of the biggest signings for Man City, Benjamin Mendy, has missed the entire season with a torn ACL and is just returning to fitness.
---
Are we seeing the start of a new dynasty in the PL? Three titles in seven seasons is impressive, but does it feel like they can easily repeat this success for the next few years?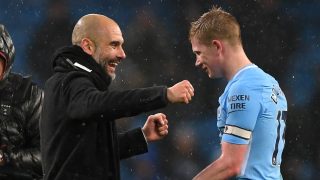 Prince-Wright: It does. It really does. Manchester United and Chelsea are the only teams to win back-to-back titles in the PL era (United won it three times on the spin twice) but no team has successfully defended their title in a decade. That shows how competitive it is each season and in City's case they didn't do well at all the season after winning their first two PL trophies. This feels different and given the finances Pep will get to spend this summer to make City into genuine favorites for the Champions League, plus the likes of Sterling, Sane and Ederson all being so young, there is a real possibility they will dominate the PL for many years to come.
Mendola: Maybe, sure, but the amount of money being spent by Chelsea and Manchester United isn't going to die down, and Liverpool, Arsenal, Everton, Spurs… there are a lot of teams who can catch fire for a season.
Bonn: No. Dynasty doesn't fit Manchester City's success. Obviously much of how the league views City also has to do with their success in Europe, which at this point is minimal. Especially this year potentially going down to a Premier League team paints them as beatable. It feels like ages ago that Sergio Aguero's miracle goal won them the league, and they have plenty of work ahead to establish themselves as a "dynasty" like Sir Alex Ferguson's Manchester United did.
Karell: Maybe. This team definitely has some legit pieces who could win titles for many years, but there are still questions about some of the older players and whether they can keep up the pace in the future. Leroy Sane and Raheem Sterling will be around for years as will Kevin De Bruyne, but Vincent Kompany, Sergio Aguero and Fernandinho are all on the wrong side of 30 and play in crucial positions in the spine of the team. Finding replacements for them (though Gabriel Jesus seems terrific so far) will be necessary for Pep Guardiola to keep this team at the top of the Premier League
---
Which player has been the most important for City this season?
Prince-Wright: I want to say Kevin de Bruyne, and it probably has been, but I'm going with David Silva. You can pick KDB, Leroy Sane, Raheem Sterling, Ederson, Aguero… they've all been very important in their own ways. But Silva has made everything tick and his play has set the tone for the entire team. Defenders give him the ball and he gets things going from that slightly deeper role and he's still found time to pop up in the box and score or assist. KDB has been the star but City aren't the same team when Silva is missing.
Mendola: It's Kevin De Bruyne, though there's an argument to be made for Leroy Sane. The German on the left side has been the target for so much of Guardiola's attack. And whatever freedom De Bruyne can manage, often on the right, is somewhat tied to that.
Bonn: Ederson. A ball-playing goalkeeper is so important to Pep's system, but also that goalkeeper must be, you know, a good goalkeeper. This is where Claudio Bravo failed, and it was a massive problem. Now that Ederson has the goal locked up *and* can play the team out of the back to perfection, the ball movement flows beautifully.
Karell: It's got to be Kevin de Bruyne. The Belgian has been a maestro in the midfield and thanks to Fernandinho's strong work cleaning up loose balls behind him, de Bruyne has the freedom to create and set the tempo, leading to goals goals goals.
---
And which new arrival has had the biggest impact in their debut campaign at the Etihad?
Prince-Wright: Ederson. His array of passing with his feet is unreal. Kyle Walker has done well too but the Brazilian goalkeeper was the calm, possession based stopper Pep wanted after the Claudio Bravo experiment went badly wrong. If you want to find out more about Ederson, here's a piece on him from myself after I met him earlier this season.
Mendola: Ederson, who exemplified Guardiola's plans for the goalkeeper position (and showed us why Claudio Bravo was a thought). It might've been Benjamin Mendy or Aymeric Laporte with health and a full season, but it's certainly not Kyle Walker and neither Danilo nor Bernardo Silva played enough to make it count.
Bonn: Ederson, clearly. But at the risk of repeating myself, I'll pick someone new to talk about here. Kyle Walker was a no-brainer for Pep to snatch and slide right into his system, and it's gone exactly how most would have expected: brilliantly. Walker is a perfect fit for Pep's style, and his importance to the squad can't be overstated
Karell: Ederson. He's come in and completely dominated the position, ensuring that Claudio Bravo wouldn't play again. Not only a gifted goalkeeper defensively, Ederson's ability to pick out a pass from 50+ yards away has effectively given Man City an extra midfielder on a field full of them.
---
Be honest, after last season did you think it would be possible for Guardiola's team to dominate this league by sticking to his playing philosophy?
Prince-Wright: No. I didn't think they could do it. I picked City to win the league but winning it is one thing and winning it with this style is another. A joy to watch.
Mendola: Dominate? No, but there was enough in how they played to imagine they'd be able to contend for the title this season. Kudos to City's hierarchy for not flipping their collective lid after finishing 15 points behind Chelsea's first year boss last season.
Bonn: Nope. Not one bit. Between their lack of understanding of the tactical setup and their inability to defend, there was no reason to think this team would end up here.
Karell: Yes. I predicted from the start that Man City would win the Premier League and they lived up to the lofty expectations set by fans and the media (and they themselves, surely). Man City was the best team on paper coming into the season and they proved it on the field too, playing their way.
---
Where, if anywhere, can this Man City team improve? Where do they need to add new players in the summer?
Prince-Wright: Bringing in Fred to be the long-term replacement for Fernandinho is a good move and I still think they need another new center back with Vincent Kompany not getting any younger and John Stones struggling. Apart from that, pretty set, but they have to keep an eye on the Sergio Aguero situation with the Argentine stating again he will leave in 2020 at the end of his contract to go back to Independiente.
Mendola: Benjamin Mendy returning to health fixes the left back issue, and competition for Kyle Walker at right back isn't a bad idea. I'd vote for improvements on John Stones and either growth from or competition for young Gabriel Jesus behind Sergio Aguero (who is 29).
Bonn: They probably need to thin the wing-back ranks to get more consistency, but also they need another striker. They're lucky Sergio Aguero has made it through the season unscathed, because the squad lacks another target man. With Aguero about to summit 30, they could use the insurance. Also, the midfield could use some support as Fernandinho has been spectacular so far but he has nobody who can play that role and Gundogan is injury prone.
Karell: Of course they can improve. The fact that the team was winning games 4-0 and 5-0 masked some defensive issues and they certainly need to get younger in their spine, with Sergio Aguero, Fernandinho and Vincent Kompany all 30-years old or older.
---
Finally, where will this City team go down, all-time, in PL history? The best team ever?
Prince-Wright: Third best behind the Invincibles and United's 1998/99 side. Chelsea's great teams will be in the conversation too but we always remember the more stylish teams and City fall into that bracket. If they had won the UCL, then they would've been the best PL team ever.
Mendola: Just behind Arsenal's Invincibles and United's 1998/99 squad? Chelsea worth a shout? It's either The Invincibles or this team, and I'm leaning heavily toward City. Arsenal's unbeaten team dropped points 12 times despite finishing the league season unbeaten, and City is already 20 goals worth of differential ahead of their pace. The style is similar, but the league is better and deeper now. This season is nuts.
Bonn: It's hard to slide then in anywhere definitively at this point, but I think they slide in around 3rd. Really tough to argue they go anywhere below that given the sheer dominance. I don't think they make it above the Invincibles, but they would be a good battle for Man United in the late 90's or Chelsea's 04/05 team.
Karell: I think they're certainly in the top 5 of the Premier League's history of teams. Their offensive dominance and flair for the beautiful has been fun to watch. I think they're behind the 04/05 Chelsea team and Arsenal Invincibles but it's certainly a ridiculously good team and one that will be talked about for many years to come.