Professional athletes are often lauded for their achievements on and off their field of play, but for those that have never played their respective sport at the highest level it is often difficult to exactly understand what occurs on an everyday basis for that athlete.
Regimented training schedules, as well as pre-planned diets for each player are only a few of the considerations that take place between a club and its players, and New York City FC is no different.
[ MORE: Sweden coach says Ibra must reach out to have chance at World Cup ]
On Tuesday, Pro Soccer Talk and various members of the media had the unique opportunity to visit the Etihad City Football Academy — NYCFC's new, state-of-the-art training facility in Orangeburg, New York to get a closer look at what the daily life of a soccer player is like.
PST's Matt Reed, and decided to keep a journal of many of the day's activities, from getting all geared up in the locker room to viewing his performance from the day's training session following the workout.
Below, we'll take an hour-by-hour look at what it means to be an NYCFC player.
---
9 a.m. ET
Upon arriving in Orangeburg, the first thing noticeable when pulling off of the Palisades Parkway was the town's devotion to soccer.
Before driving into the parking lot at NYCFC's facility, it's nearly impossible to miss the various turf fields that lie in front of the City Football Group-owned ground. Those fields belong to World Class FC — a local U.S. Soccer Development academy that has begun working closely with the Major League Soccer side.
After parking the car and walking through the front doors of the venue, there was immediately a presence that could not be overlooked. On the near-side wall was a global map, which featured pinpoints of each of CFG's entities around the globe, which include parent club Manchester City, NYCFC and Melbourne City, among others.
Breakfast was the first item on the agenda in the team's cafeteria, which featured an open setting that allows players to either eat inside or outdoors right next to the pitch. Every food and beverage item features a card next to it indicating the calorie intake, which is something the organization is making a strong effort to pay close attention to.
Following the meal, we had the chance to walk through the facility, which features a very similar setup to that of Man City and Melbourne. The design is said to be nearly identical to NYCFC's sister club in Australia.
Many of the club's full-time staff for both the senior and academy teams work on-site in Orangeburg, with an office view that allows the employees to look directly outside to the pitch.
One major emphasis from the club and its vision of the facility was to allow everybody to be inclusive of one another.
That was in focus when we visited the indoor training area, filled with weights, stationary bicycles and various workout machines. Not only can players view the pitch outside, but the team's medical staff is able to see everything in that room, as well as on the opposite side of the wall where players can be tended to for injuries, massages, ice baths and other amenities.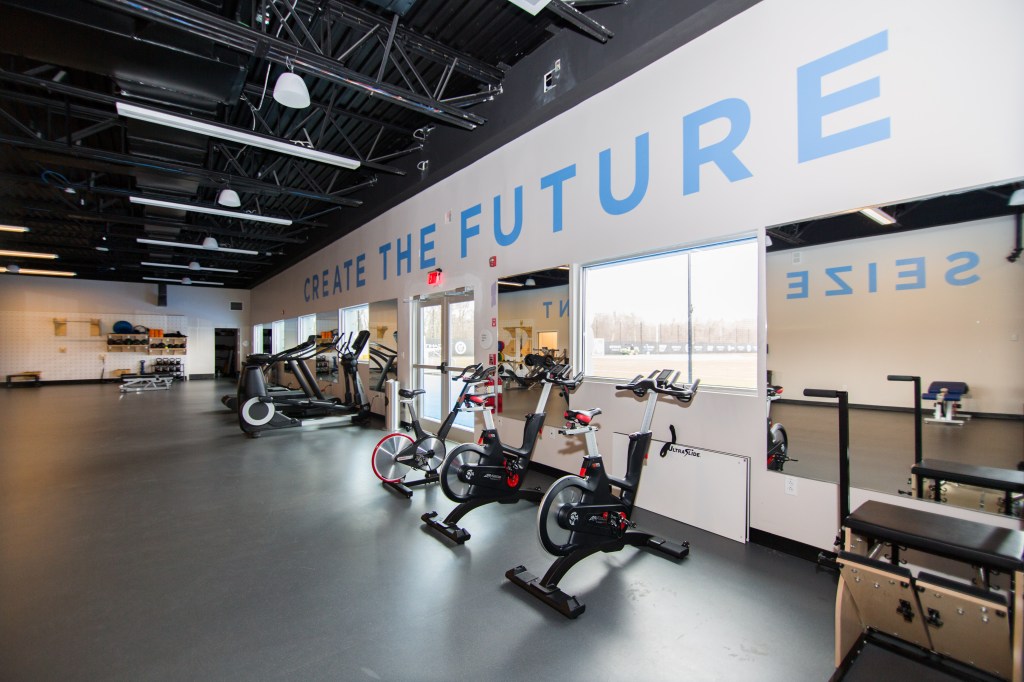 ---
10 a.m ET
Although NYCFC has been training at its new facility for over a month now, the occasion served as an official opportunity to open up the ground with all of the club's executives.
Technical director Claudio Reyna and head coach Patrick Vieira were on-site for the ribbon-cutting ceremony, along with Vice-Chairman of NYCFC, Marty Edelman, and president Jon Patricof.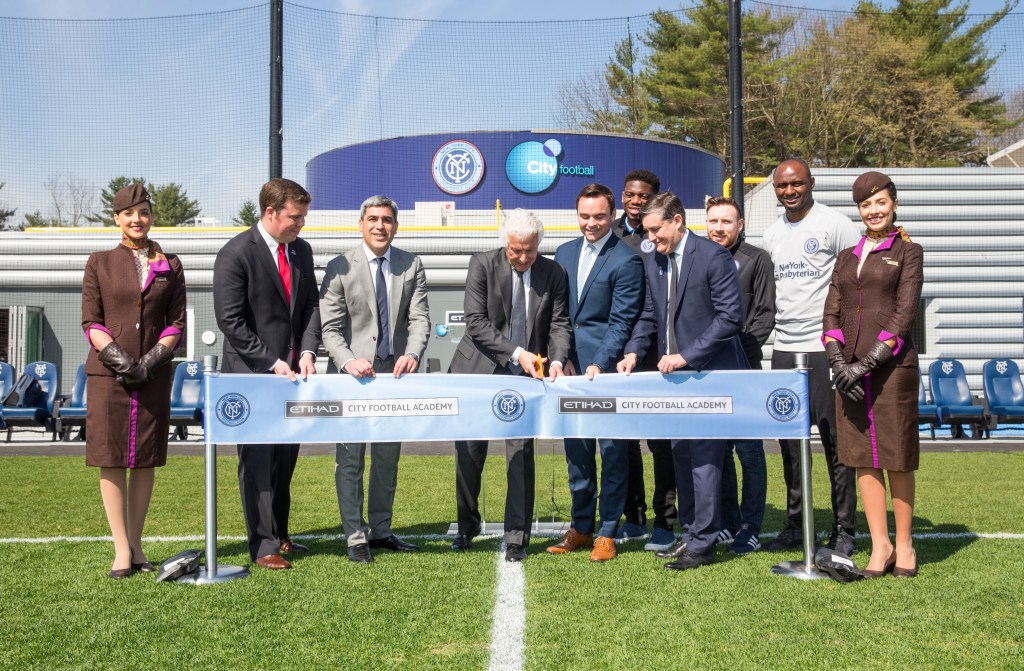 As several of NYCFC's higher-ups alluded to on Tuesday, their vision for the new facility won't be simply for the club, but also give the opportunity to other teams to practice in Orangeburg when they are in town.
Man City has already been scheduled to make a visit to the training ground in late July when the incumbent Premier League champions arrive in the United States for the International Champions Cup.
They'll face PL giants Liverpool on July 25 at MetLife Stadium, approximately 30 minutes from the NYCFC training facility.
PST then had an opportunity to speak to several players and staff members in an open media forum, so we decided to provide some of the most-notable takeaways from the discussions.
Patrick Vieira on links to Arsenal
"Who? Vieira said jokingly. "No. I'm sure you would know before I do. It's an honor, of course. It's Arsenal Football Club, and it's a big football club.
Vieira on how the club has been able to become more inclusive at the training ground
"When I was talking to Claudio about what we really wanted here we wanted our departments to interact with each other. We wanted to be more like a family. People can see each other. It's not too small, and it's not too flashy. You understand what I mean? You have what you need. There's nothing over the top that we don't need. Every single room makes sense. At the same time it's good, and it's simple. I really love this facility. There's nothing extra that we don't need."
President Jon Patricof on vision for pursuing a stadium
"This is not going to put our fans at ease. And nor should it. Listen, MLS is continuing to grow and the stakes are rising. The standards are rising. We're really proud of this facility, but this is what is expected of MLS clubs today. It's a huge milestone. It's important.In no way does it slow down our plans in pursuing a stadium. We have to and continue to press full speed on that front. I recognize that expectations are high. We are highly focused on it."
Technical director Claudio Reyna on having their own facility
"Manchester is still part of the group, so it's an extended home for us as part of the team. Also, in January the weather isn't great here. Not that it's great in Manchester either, but it allows us to send guys there and get some preparation ahead of the MLS season. But of course, what we didn't have at SUNY Purchase for December and January was a gym space. And if the field is in good condition then we can obviously use it. The players come earlier and leave later. They want to stick around, and they do extra work. It's very motivating for them. Since this will be our first offseason here, we'll see how the players use it, but I think a lot of them will be here once the season is over.
Goalkeeper Sean Johnson on setting the standard for other MLS sides
"I can't speak for the rest of Major League Soccer because I haven't been around to many club's training facilities, but what I can say is that from my experience this place doesn't compare to anything I've seen. For a player to have a place like this is amazing, and us as players don't take it for granted. We feel this is very special, and we want to make sure that we're doing our part and give back."
Midfielder Tommy McNamara on being from the Orangeburg area
"It's beautiful. We're very appreciative to have it. We're given everything we need to compete. We feel very grounded and settled here like we're at home. My parents live three miles down the road. My cousins, you could walk to their house from here. My sister grew up on those fields. It means a lot to me because this is literally home to me."
---
11 a.m./12 p.m. ET
It's impossible to pinpoint one specific highlight that created the best memory of the experience, but viewing the locker room and physically participating in training have to be high up on the list.
After sitting down for the interviews, we got to suit up just as NYCFC players would, went out to the pitch, and experienced a Vieira-led training session up close and personal.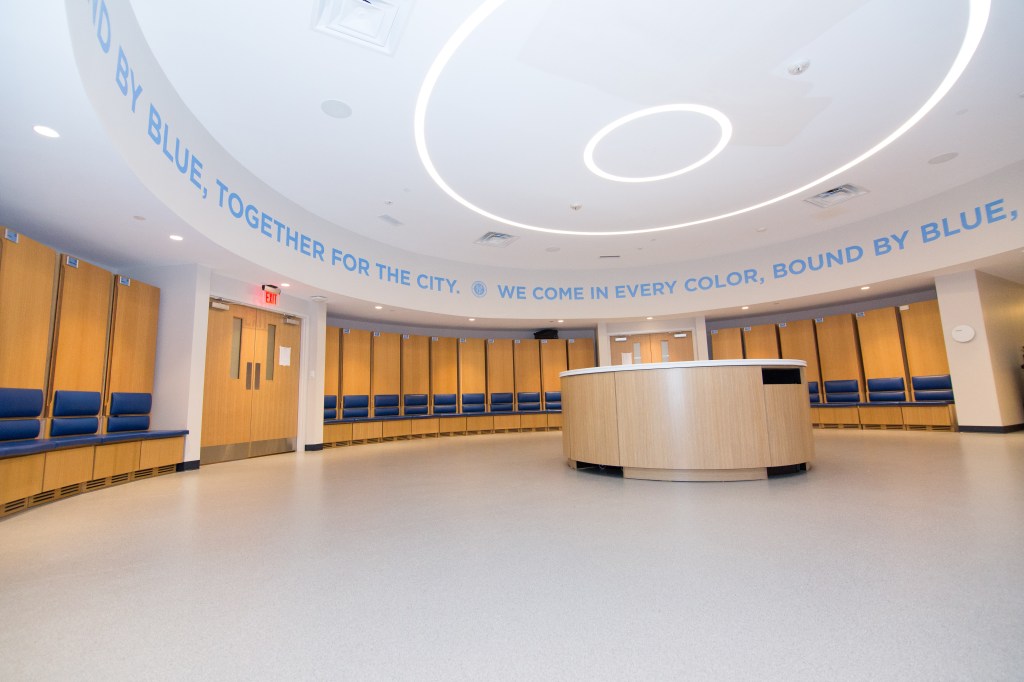 Before moving to the field, members of the media were given their own kits and changed in the locker room, which featured a unique twist on a traditional changing area.
The circular dynamic of the room is another measure of the team's willingness to create a welcoming atmosphere for its senior players.
That was something McNamara and Villa stated repeatedly during his interview sessions with the media, and they believe it is one of several reasons why the club's camaraderie has improved with the current group of players.
Then, it was time to hit the training room for several workout exercises to warm up, including leg lifts, several forms of dynamic yoga and box-jumping routines.
Once the warmups were over and everyone was loose, we went out onto the pitch to receive instructions from Vieira and the rest of his training staff. The former Premier League midfielder broke the session up into different groups to focus on certain drills, as the team would on a regular training day.
A communication drill kicked off the on-field display, as players passed the ball to one another in a small 10 yard by 10 yard grid.
Then, games of 3 versus 3 and passing drills designed to find the open player were implemented to get a better feel for the group of players.
Needless to say, t's very easy to see how difficult some of the exercises are…
---
1 p.m. ET
After a filling lunch back in the cafeteria, the final stop of the day brought us to the film room, where we had the chance to view some of the action from our on-field session.
Several members of NYCFC's coaching staff indicated the importance of these sessions, which normally takes place in small groups. Vieira stated that he has put an emphasis on the meetings to not only point out areas where his players can improve, but also to indicate something a particular player is doing well.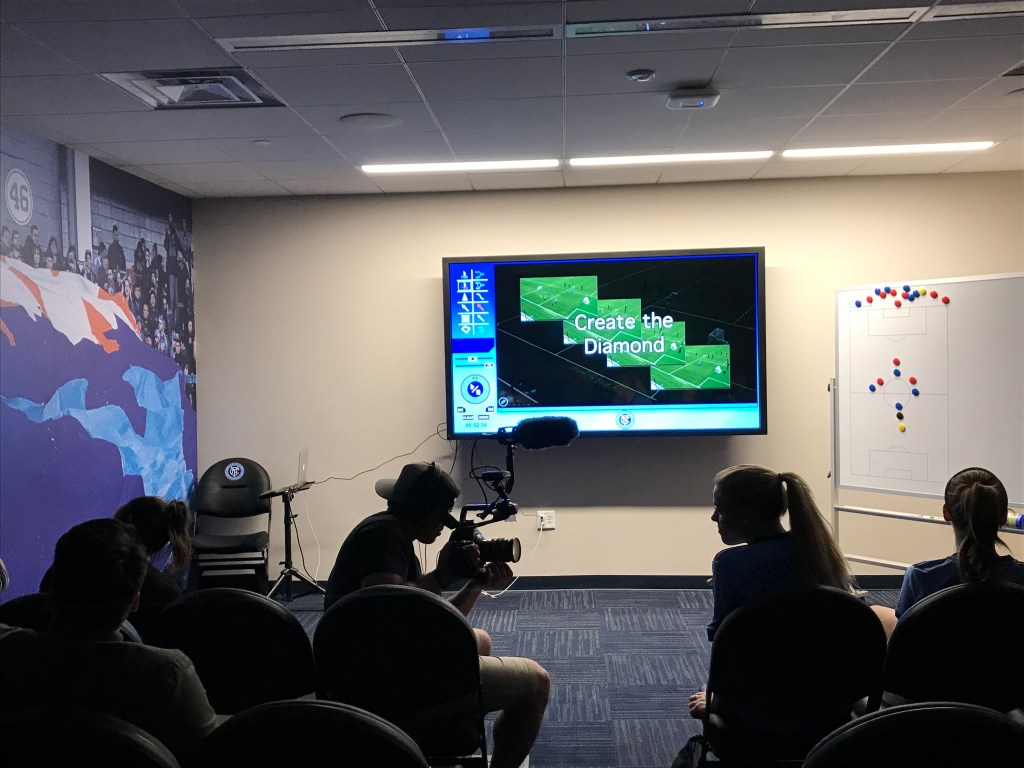 One person, in particular, who is often only caught behind the scenes for the club is Head of Performance Analysis, Daniel Fradley. Vieira suggested that Fradley has been an integral part in NYCFC's analytical approach, which has helped the club improve since the team's inception over three years ago.
On a regular day of training, NYCFC players have the opportunity to speak with Vieira, Fradley and other members of the staff about their individual play from their session on the pitch. This includes individual tactical approaches, as well as how the group as a whole should be performing as a unit.
---
Training evaluation
For about five minutes, there was a strong sense within myself that I could impress Vieira and the rest in attendance, but then I came the realization that I haven't played competitive soccer in years and this was a lot more difficult than I had anticipated.
To be perfectly blunt, the warmup exercises were tricky enough as it was, and that was only coupled by the fact that the on-field experience featured my very sloppy touches on the ball and several missed opportunities shooting on goal.
Straying away from my personal lack of soccer skills though, it's very easy to see why the NYCFC players enjoy their new facility so much.
As Vieira stated so succinctly, "The venue isn't too big and it isn't too small. It has exactly everything that we need."
Follow @MattReedFutbol