Major League Soccer is well into its season, and we return to the Twenty-Three as we also try to ease the gut-punching pain of Toronto FC's loss in the CONCACAF Champions League Final.
[ MORE: Real Madrid-Bayern preview ]
Apparently, they haven't overcome it, either…
Atlanta United
Beat Montreal, 4-1
Miguel Almiron is a special, special talent; The 24-year-old is building off his incredible debut season by blowing up the league to the tune of six goals and five assists in eight outings. Feel fortunate he's amongst our time zones for a while.
Chicago Fire
Drew at Toronto, 2-2
Bastian Schweinsteiger had a penalty kick saved by Alex Bono, but a found a way past the Syracuse backstop as the Fire rebounded from a 2-0 deficit at BMO Field to keep their CONCACAF Champions League wounds exposed to the elements.
What's troubling about Chicago's inconsistent start is just one clean sheet through seven matches; Yes, scoring is up, but Veljko Paunovic needs to sort out his back line even if Fernando Torres winds up coming to Illinois.
Colorado Rapids
Lost to Orlando City, 2-1
The Rapids have been hurt by having five of their first seven matches on the road, but don't let that be an excuse for poor passing. Colorado has to do better with the ball, connecting on a paltry 73.8 percent of their passes. That happens when you're chasing games and goals (and away from home, no doubt), but still… find a way.
No one wants to see the Rapids on their schedule, their 22 yellow cards tied for a league high and 15.1 fouls per game also pacing the field. Colorado only has two players with multiple goals (Dominique Badji has five and Joe Mason two).
Columbus Crew
Beat San Jose, 2-1
Only KC and NYCFC have had more of the ball than Gregg Berhalter's men, and now they are back to turning that 55 percent possession into goals. The Crew have four goals in two matches after scoring just once on a three-match losing streak.
FC Dallas
Lost at NYCFC, 3-1
Oscar Pareja's men fall from the rank of the unbeaten in just their second away match of the season. FCD has been remarkably good at winning 50-50 battles, and would've fared better than a two-goal loss had they not wasted a handful of very good chances.
DC United
Lost at Philadelphia, 3-2
Only Vancouver is averaging fewer shots per game than DC's 8.7, and the Black-and-Red was out shot a stunning 23-4. You're not going to hit that 50 percent success rate too often, and to burn it in a 3-2 loss is almost funny.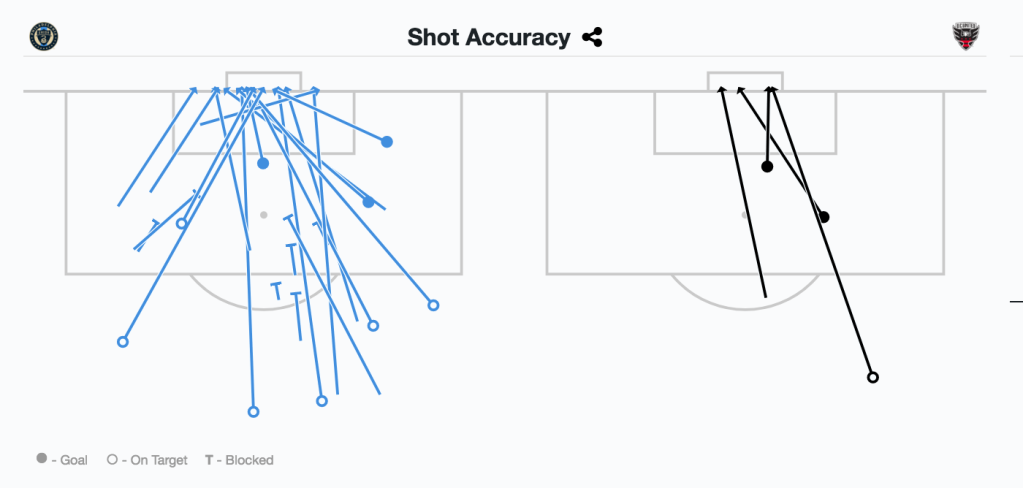 Houston Dynamo
Lost at Minnesota, 2-1
We knew Houston's attack would go as Romell Quioto, Alberth Elis, and Mauro Manotas went, but we're positive the trio was expecting a bit more help than its received so far. They've combined for nine goals and six assists, the rest of the team has six and four.
[ MORE: MLS Things — The Archive ]
LAFC
Beat Seattle, 1-0
Just three teams are averaging better than two points per game, and Bob Bradley's LAFC is among the trio following a stoppage time win at their shiny new home. We should've known they'd win…. they never lost at home.
LA Galaxy
Lost to New York Red Bulls, 3-2
Sigi Schmid's men are woefully inconsistent, and Zlatan Ibrahimovic just may lose his mind soon (and certainly deserves some of the blame this week).
But if he's going to keep making otherworldly passes like this, we're going to keep watching. Look closely at how he reacts to hitting this bit of gorgeousness… he knew. He knew.
Minnesota United
Beat Houston, 2-1
Rasmus Schuller. The 26-year-old Finnish midfielder leads the league in tackles per game with six, and rebounded from his worst match of the season to post nine in a 2-1 win over Houston that moved the Loons into seventh. Schuller's also second in the league in fouls committed (2.9) and has been dribbled past a good amount, but credit plenty of that to activity.
Montreal Impact
Lost at Atlanta, 4-1
The Impact have allowed 16 goals in four-straight losses, quite a change from the vibes after Remi Garde won consecutive 1-0 decisions over Toronto and Seattle (no easy wins!). Despite the score line this weekend, the Impact led late before falling apart. Troubling times. Spare a thought for Victor Cabrera, who has a league-best 5.1 interceptions a game and probably would appreciate not having to make so many.
New England Revolution
Beat Sporting KC, 1-0
Brad Friedel is defying all doubters in his first senior managerial gig, with one loss in seven outings following an opening day setback. The latest, a 1-0 win over Sporting KC, is among the more impressive.
New York City FC
Beat FC Dallas, 3-1
Atlanta might be on pace for the East's top spot, but did the Five Stripes have an international legend score his 400th goal this weekend, huh? David Villa, everybody.
New York Red Bulls
Won at LA Galaxy, 3-2
Of the players who really matter to Jesse Marsch's unit, only Bradley Wright-Phillips (33) is older than 25. RBNY keeps pumping out solid performances from players who made their names in the academy (Kyle Duncan, now on IR), in college ball (Florian Valot of Rider, then grown in USL), or both (Sean Davis and Alex Muyl). Model.
What's another fine sign of Marsch's brilliance? New York has five goals off set piece plays, a league-best figure. Here's a worrying number though: While the Red Bulls are playing the fourth-fewest long balls per game, and they are connecting on a league-worst 70.4 passing.
Orlando City
Won at Colorado, 2-1
Winners of five-straight, Jason Kreis' Lions have gotten to know each other. Maybe no one more than Yoshimar Yotun; The Peruvian has a goal or an assist in four of the five wins. Left back Mohamed El-Munir has also been a revelation. The Libyan national teamer is in the mix for a sneaky early season MLS Best XI.
Portland Timbers
BYE
Those ready to heap judgment on Gio Savarese's tenure as Timbers boss have been dismayed by a pair of wins. We know home cooking matters in MLS, and he's won both of those so far. Points in four of five, too.
Philadelphia
Beat DC United, 3-2
Ending a run of one goal in five games is good, and the three-goal performance was fit for their second win of the season. Philly isn't getting star turns from anyone, though Alejandro Bedoya is perhaps quietly having a decent season.
Real Salt Lake
Lost at Vancouver, 2-0
Mike Petke's men seem a perfectly average MLS side; They've won their last three at home, and dropped their last three on the road. But the clean sheet loss means RSL has scored just over a goal per game in a league which is feasting on goalkeepers.
San Jose Earthquakes
Lost at Columbus, 2-1
Consecutive road losses mean Mikael Stahre's men remain winless since Opening Day. It's hard to get a read on them, but this stretch against Portland, Minnesota, and Vancouver will tell us a lot.
Seattle Sounders
Lost at LAFC, 1-0
The Sounders have scored in two games despite Nicolas Lodeiro averaging a hardly real 4.2 key passes per game. Those are the only two matches in which they've gotten points. They've done it without Jordan Morris in the past, but it's not happening this year. Then again, a lot of Sounders are hurt and there's a "lost year" vibe coming from much rave green right now.
Sporting KC
Lost at New England, 1-0
The seven-match unbeaten run ends on the road against what is (probably) a pretty decent side, and there's no shame in that. Our own resident SKC expert says keep an eye on Khiry Shelton. From everything I've seen from Urena, this is a lofty and wonderful comparison for the forward.
Toronto FC
Lost CONCACAF Champions League final in PKs
Drew Chicago, 2-2
The MLS Cup Final hangover is a thing, as both TFC and Seattle are worst in the league at .67 points per game. This was a bad week for TFC, who built leads in two very different settings and couldn't seal the deal. Toronto came back from a quick deficit in the CCL final only to lose in penalty kicks, and then went ahead 2-0 against visiting Chicago before tossing that advantage aside in a draw.
Vancouver Whitecaps
Beat RSL, 2-0
The Caps rebounded from a three-match losing skid punctuated by a 6-0 beatdown against KC to win against the Utah set, but watch this three-match run for a possible hot streak. If Vancouver can topple Minnesota, Houston, and San Jose (only the Loons match is away), it can build some breathing room for the tougher stretches.