In his 22 years as Arsenal manager, Arsene Wenger has seen more than his share of talented players grace the field in an Arsenal kit.
From Thierry Henry and Robert Pires to Lee Dixon and Tony Adams, some of legends of the Premier League have spent some of their best years playing for Arsenal, leading Wenger to three Premier League titles and seven FA Cups.
No less than 222 players have played under Wenger, from the Invincible greats to one-time American youth product Frank Simek and the latest debutante, Konstantinos Mavropanos.
Looking back at the last 22 years, it's difficult to select just 11 players, but we at Pro Soccer Talk have done our best to select the defining best XI for Arsenal in the Arsene Wenger era.
---
Bench: David Seaman, Tony Adams, Bacary Sagna, Laurent Koscielny Freddie Ljungberg,  Gilberto Silva, Alexis Sanchez, Mesut Ozil, Sylvain Wiltord, Robin Van Persie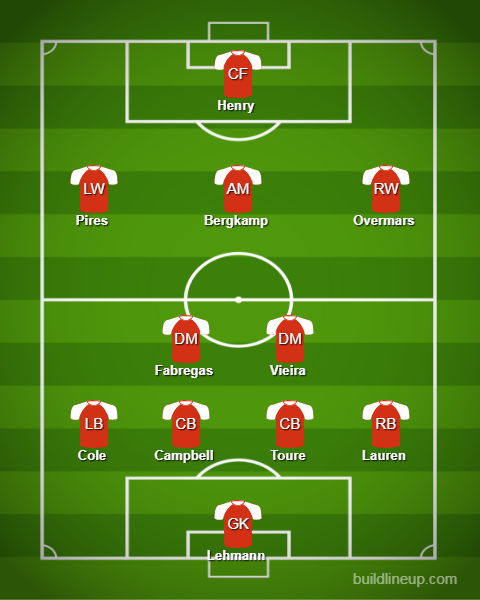 The core of the squad is made up of players from the Invincibles era, when Arsenal went 49 games unbeaten, including winning the 2003-2004 Premier League title without a defeat.
Goalkeeper: Jens Lehmann
The man who eventually replaced Oliver Kahn as the German National Team goalkeeper, Lehmann enjoyed a second wind with Arsenal after spending the first 15 years of his career mostly in Germany (outside of a year with AC Milan). Lehman saved Juan-Roman Riquelme's penalty kick to qualify for the 2006 UEFA Champions League final, though he was sent off early for a tackle outside of the box.
Left back: Ashley Cole
Although he left for greater glory with London rivals Chelsea in 2006, from almost his debut with Arsenal, Cole was one of the best left backs in the league, bombing forward on the attack but also skilled and pacey enough to get back and defend, especially in one-on-one situations.
Centerback: Sol Campbell
After making the move across North London, Campbell was a rock for the Gunners, leading them to the Champions League final as well as the Invincibles Premier League title. In a way, the hard-as-nails defender who could play out of the back was ahead of his time. If he had been playing today, he'd likely be valued as highly as Virgil Van Dijk.
Centerback: Kolo Toure
It's hard to remember but for a short time, Kolo was the more well-known Toure brother, as part of his impressive exploits for the Gunners. As with a lot of Arsenal players, Toure was plucked from the Ivory Coast for just around $200,000 and sold to Manchester City for $21.7 million. (And by the way, Wenger admitted he regrets missing out on signing Yaya, who was once on trial with Arsenal)
Right back: Lauren
Another rock solid defender who could also attack down the wing, Lauren played a crucial role in unseating Lee Dixon from the Arsenal lineup and leading the Gunners in their glory years. Lauren won two Premier League titles and three FA Cups.
Holding midfielder: Patrick Vieira
The Frenchman was the rock, the Dwayne the Johnson in midfield for the Gunners, and you can argue that without him Arsenal has never been the same. After he was signed for $4.5 million from AC Milan in 1996, Vieira went on to become Arsenal captain and the club's leader on and off the field, before departing for Juventus in 2005.
Central midfielder: Cesc Fabregas
Debuting at 16, Wenger's support for Fabregas allowed one of the best playmakers in the Premier League to blossom in front of our eyes. In the 2009-2010 Premier League season, Fabregas scored 15 goals and added 13 assists. After a slightly down year (three goals, 11 assists) by his standards, he moved to Barcelona, eventually winning the UEFA Champions League, despite just failing to break into the stacked midfield of Sergio Busquets, Xavi and Andres Iniesta.
Left wing: Robert Pires
The Frenchman's exploits caused oohs and aahs to fall out of the mouths of Arsenal fans as he dribbled through opponents at will, scoring the occasional goal as well to keep defenders honest. The Premier League Player of the Year in 2002, Pires was a core piece in Arsenal's success in the early-to-mid 2000s, but departed after the Champions League defeat.
Right wing: Marc Overmars
Winner of two Premier League titles, the Dutch winger displayed excellent technical ability in addition to his pace, making him a constant threat for defenders. After signing from Ajax, Overmars made more than 100 appearances for the Gunners before he left in a big-money move to Barcelona.
Trequartista/Second Sriker: Dennis Bergkamp
The Dutchman never had blazing speed, but he didn't need it. One of the greatest players to ever grace the Premier League, Bergkamp was at times impossible to defend, deftly making the ball go wherever he wanted and leaving defenders, and goalkeepers in his wake. Bergkamp spent his last 11 seasons as a professional with the Gunners, scoring 84 goals with 97 assists in league play.
Striker: Thierry Henry
Arguably the greatest player in the Premier League era for Arsenal – if not the whole league, Henry was an absolute revelation after Wenger signed him from Juventus and turned him into a striker. In eight seasons with the Gunners,  Henry scored 175 league goals with 74 assists, helping take Arsenal to two league titles and a Champions League final. He won the Premier League golden boot four seasons and was twice the player of the year.
Let us know who you'd have in your Arsene Wenger best Arsenal XI in the comment section below.