Getting to know Russia: The Russian national team have never got out of the group stage of a World Cup and have one won two of their previous nine games at the 1994, 2002 and 2014 World Cups.
[ LIVE: World Cup scores ]
When they competed as the Soviet Union they had better success, with a golden era from 1958-70 which saw them reach the quarterfinals three times and they finished fourth in 1966. In recent times they reached the semifinals of the 2008 European championships as they likes of Andrey Arshavin starred. For more history on Russia, click here.
[ MORE: Latest 2018 World Cup news ] 
---
What group are they in? Russia are in Group A alongside Egypt, Saudi Arabia and Uruguay. The hosts have been handed a pretty manageable group as they aim to make the Round of 16. Uruguay are the favorites but with Saudi Arabia the underdogs and Egypt relying heavily on Mohamed Salah rushing back to fitness, the hosts will fancy their chances, especially if they win against Saudi Arabia in the tournament opener. 
---
Game schedule – Group A – Full 2018 World Cup schedule, here 

Thursday, June 14: Russia v Saudi Arabia, Moscow (Luzhniki) 11am ET
Tuesday, June 19: Russia v Egypt, St Petersburg 2pm ET
Monday, June 25: Uruguay v Russia, Samara 10am ET
---
Projected lineup (4-5-1) – Check out the 23-man squad list in full
—– Akinfeev —–
— Fernandes — Ignashevich — Granat — Kudryashov —-
—- Samedov —-Kuzyaev—- Golovin —- Zobnin —- Zhirkov —-
—– Smolov —–
---
Star player: Aleksandr Golovin – The central midfielder is a star for CSKA Moscow at the age of 22 and he is Russia's greatest hope. A silky playmaker who loves to get on the ball and dictate Russia's tempo of play, Golokin has scored twice in 18 appearances for his country but is coming off his best goalscoring season for CSKA as he struck seven times (including a memorable free kick at Arsenal in the UEFA Europa League) in 2017/18. Golokin is the posterboy of Russian soccer and plenty of pressure will be on his shoulders.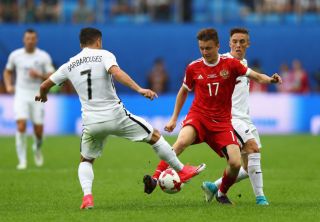 ---
Manager: Stanislav Cherchesov – An experienced manager who played for Russia at both the 1994 and 2002 World Cups, as well as Euro 1996, Cherchesov is a cautious coach. He has won five of his 19 games in charge of Russia after he signed a contract in 2016 through the World Cup. He believes in a team-first approach and has largely kept the same group of players together over the past two years. Cherchesov is a lively character who will try to inspire his squad to feed off the home support and seize the moment. He knows they have no real superstars but will be hoping a strong defensive unit will see them out of the group.
---
Secret weapon: Russia have something nobody else at the tournament will have: home support. Yes, it's a cliche, but we all now how big of an impact the home fans can have at a tournament. Look at South Korea making it all the way to the semifinals in 2002, Italy making the final in 1990, England winning it all in 1966 and France also winning the trophy on home soil in 1998. Russia aren't going to win this World Cup but their fans can carry them into the knockout rounds if they can grab four points in their games against Egypt and Saudi Arabia. Then, who knows? 
---
Prediction: Russia will try and keep things tight and have some clinical finishers in Dyzuba and Smolov, while Golovin will be their main hope in midfield. The hosts are up against it to make it out of the group but the biggest hope they can have is that Egypt's superstar Mohamed Salah isn't fit enough to make a huge impact and Russia can then sneak through behind Uruguay to make the last 16. Facing either Portugal or Russia in the last 16 means they will likely exit in the first knockout round, but getting out of the group stage would be a huge success for a team ranked 66th in the latest FIFA rankings.