Getting to know Portugal: The reigning European champions are one of the favorites to win the World Cup and with Cristiano Ronaldo leading their charge, you never know what they're capable of. The one thing we learned about Portugal during their shock success at EURO 2016 is that they're a team set up to do well in tournaments.
[ LIVE: World Cup scores ]
Portugal, at times, are truly horrible to play against with experienced defenders and a gritty under-belly which their manager Fernando Santos encourages. After winning their first-ever major trophy in 2016, Portugal have ended their drought for major success and they hope to have plenty of historic moments while Ronaldo is still around. For more on Portugal's history, click here.
[ MORE: Latest 2018 World Cup news ] 
---
What group are they in? Group B alongside Iberian rivals Spain, and their showdown in Sochi in the opening group game will set the tone as to how their tournament will go. Iran and Morocco are huge underdogs and with Portugal the reigning European champs and Spain favored to go far, it will be a huge shock if anyone other than Spain or Portugal make it to the last 16 from Group B.
---
Game schedule – Group B – Full 2018 World Cup schedule, here

Friday, June 15: Portugal v Spain, Sochi 2pm ET
Wednesday, June 20: Portugal v Morocco, Moscow (Luzhniki) 8am, ET
Monday, June 25: Iran v Portugal, Saransk 2pm, ET
---
Projected lineup (4-4-2) – Check out the 23-man squad list in full
—– Patricio —–
— Cedric — Pepe — Alves — Guerreiro —-
—- Bernardo Silva —- Carvalho —- Moutinho —- Mario —-
—- Ronaldo —- Andre Silva —-
---
Star player: Cristiano Ronaldo – The leading goalscorer and appearance maker in Portugal's history with 81 goals in 149 games is expected to step up once again. Ronaldo, 33, may well end his international career after this tournament but in recent interviews he is talking about playing until he is in his 40s. So maybe not… Whenever he does call it quits, there's no doubting that the five-time World Player of the Year will go down as one of the top five players in history. Ronaldo has led Real Madrid to European domination in recent years. Can he lead Portugal to world domination?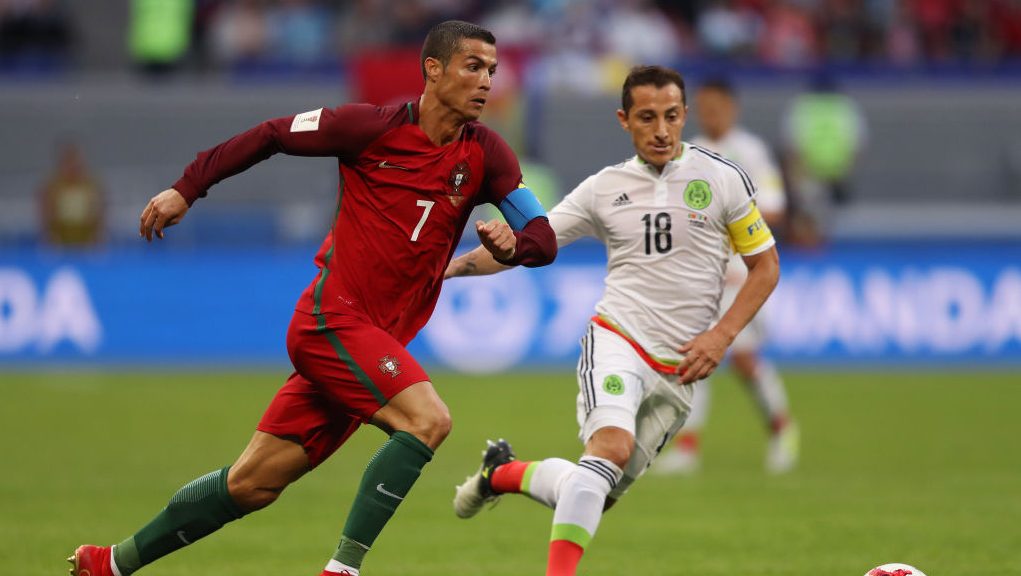 ---
Manager: Fernando Santos – A legendary figure after leading Portugal to success two summers ago in France, Santos is known as a defensive coach who sets his teams up to be tough to beat. Portugal certainly have been (they won nine-straight games in qualifying to reach the World Cup) and Santos not only sets his team up as a solid unit but allows his flair players to flourish in a fluid formation in attack. A composed character who is known to excel in man-management, Santos will have to use all of his nous to get this experienced Portugal side into the latter stages.
---
Secret weapon: Bernardo Silva – The playmaker finished the season superbly for Manchester City (two goals in his last four games) and that bodes well for Portugal. Silva took a while to settle when he arrived in the Premier League but he has adapted to the physicality and his silky skills are there for all to see. Silva will drift in from the right flank to link up with Ronaldo and he could be the unsung hero for Portugal this summer.
---
Prediction: Everything is set up very nicely for Portugal to make it to the last eight of the competition as they'll face Group A runners up or winners if they make it safely through Group B (they should breeze through alongside Spain). Ronaldo will no doubt seize the moment and if he stays fit then Portugal have a real chance of reaching the semifinals which would equal their best-ever finish at a World Cup. That surely has to be their aim and reaching the final would be a huge bonus.