Getting to know Argentina: No team is more dependent on one player (including Egypt) than Argentina.
With Lionel Messi, La Pulga has dragged a deteriorating Albiceleste side to three finals in three tournaments over the past four years. First it was the 2014 World Cup final, followed by successive Copa America finals, the latter one in the U.S. In all three finals, Argentina lost, and after the last one, Messi even "retired" for a few months before returning to the Argentina squad.
[ LIVE: World Cup scores ]
But due to the short-lived retirement and injury, Argentina got a sneak peak over the last two years of life without Messi. And it wasn't pretty. In CONMEBOL's brutal World Cup qualification, Messi played just ten of Argentina's 18 competitive matches. In those eight games he missed, Argentina recorded just one win, with four draws and two defeats.
With Messi in the lineup, Argentina won six games, lost just once and drew three times. Messi put the team on his back in a must-win trip to Ecuador, scoring a hat-trick last October in a 3-1 win.
[ MORE: Latest 2018 World Cup news ] 
---
What group are they in?
---
Game schedule – Group D – Full 2018 World Cup schedule, here

Saturday, June 16: Argentina v Iceland, Moscow (Spartak) 9am, ET
Thursday, June 21: Argentina v Croatia, Nizhny Novgorod 2pm, ET
Tuesday, June 26: Nigeria v Argentina, Saint Petersburg 2pm, ET
---
Projected lineup (2-3-3-2 (or a 4-1-3-2)) – Check out the 23-man squad list in full
—– Armani —–
                                                                       —– Fazio —– —– Otamendi—–
— Ansaldi  ———— Mascherano ——— Tagliafico—-
—- Pavon —- Banega —- Di Maria —- 
——- Messi ——- Aguero ——
---
Star player: Lionel Messi – The man who has been the star for Argentina for more than a dozen years heads into what could be his final World Cup, and certainly his final World Cup where he's in his prime. With La Pulga turning 31 this summer, he'll be leaving everything on the field to finally help Argentina over the hump and win a desperately-needed World Cup. After Barcelona were knocked out of the UEFA Champions League in the quarterfinals, Argentina fans and Messi fans around the globe will hope that he has the energy necessary to make another run to the final.
---
Manager: Jorge Sampaoli – Argentina's third coach since the 2014 World Cup, Sampaoli followed current Atlanta United manager Gerardo Martino and more recently, Edgardo Bauza, who was in over his head. Sampaoli is a disciple of Marcelo Bielsa's tactical system, featuring a high tempo, high-pressing system. Except, when Sampaoli has tried to implement that, his slow, rudderless defense has paid the price, with a 3-2 defeat to Nigeria and a 6-1 defeat at Spain. Hence, the new formation, a 2-3-3-2. Five defensive minded players and five attackers.
---
Secret weapon: Christian Pavon- The 22-year-old Boca Juniors winger has been a revelation in Argentina domestic soccer over the past two seasons, helping bring titles to La Bombonera. Just this season, Pavon has a goal and five assists in six Copa Libertadores matches as well as six goals and 11 assists in the league last season. The diminutive winger (he's listed anywhere between 5'5″ and 5'7″) will have to adjust to the physicality of Argentina's opponents, but on paper he's one of the most talented players under 23 in the world.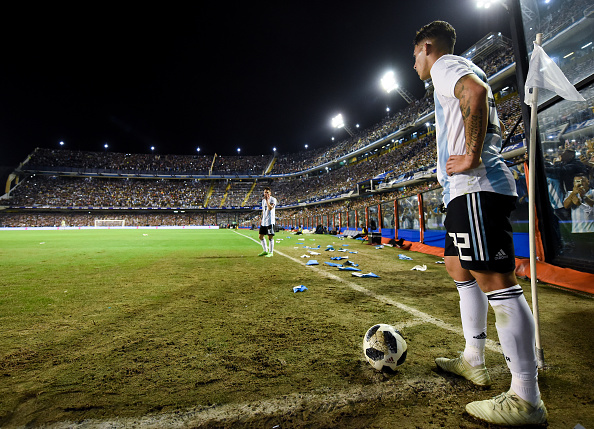 ---
Prediction: More than any Argentina team in the Messi era, this squad seems more dependent than ever on his individual brilliance, as the soccer-crazed nation has struggled to develop players along the backline. You can easily see Argentina not making it out of a tough group that includes Nigeria, Croatia and Iceland. At the same time, should Argentina win the group, they'd play the Group C runner's-up, which will likely be either Denmark, Australia or Peru, all winnable games. I think Argentina's run ends to Spain in the quarterfinals, the stress too much on Messi to constantly lead his team to victory without much else help.