Getting to know Iceland: The likely favorite of fans who's nations didn't make the World Cup around the globe, Iceland has proved over the past two years that its incredible performance at the 2016 European Championship was not a flash in the pan. This experienced side, which has essentially played together for the national team since 2012, won its World Cup qualifying group over World Cup group D mate Croatia, as well as Turkey and Ukraine.
[ LIVE: World Cup scores ]
Iceland proved its mettle as a defensive juggernaut, taking its chances on the counter-attack very well. The side features Premier League regulars Gylfi Sigurdsson (Everton), Johann Berg Gudmundsson and soon-to-be Premier Leaguer Aron Gunnarsson, the glue of the midfield. It certainly won't be easy – especially as Sigurdsson and others have battled injuries this season – but Iceland is looking to make more history by getting out of the group. It all begins with a massive first game against World Cup finalist Argentina.
[ MORE: Latest 2018 World Cup news ] 
---
What group are they in? Group D with Argentina, Nigeria and Croatia. Iceland's gift for becoming the smallest nation to qualify for a World Cup was one of the World Cup's most difficult groups, with any of the four teams likely to get out of the group. Iceland opens up with a massive game against Argentina, and then they'll have to face different tests against a young Nigeria side and a veteran Croatia squad.
---
Game schedule – Group D – Full 2018 World Cup schedule, here

Saturday, June 16: Argentina v Iceland, Moscow (Spartak) 9am, ET
Friday, June 22: Nigeria v Iceland, Volograd 11am, ET
Tuesday, June 26: Iceland v Croatia, Rostov 2pm, ET
---
Projected lineup (4-2-3-1) – Check out the 23-man squad list in full
—– Halldorsson —–
— Saevarsson — Arnason — Sigurdsson — Magnusson —-
—- Gunnarsson —- Hallfredsson —-
—- Gudmundsson ———- Sigurdsson —-——— Bjarnason —–
—– Finnbogason —–
---
Star player: Gylfi Sigurdsson – The Everton attacker had a pretty disappointing season in Merseyside after completing his deal to leave Swansea in August, following months of speculation over a move. But for his nation, Sigurdsson is the star of the show, and with Hallfredsson and Gunnarsson shoring up the defense behind him, Sigurdsson should have the freedom to express himself, move around the field and make late runs into the box, to score a special goal or two.
---
Manager: Heimir Hallgrímsson – The part-time dentist (seriously) took over as the full manager after Lars Lagerback left national team following Euro 2016. Hallgrimsson has carried on the momentum very well, guiding Iceland to its first World Cup. The veteran manager is a pragmatist and will attempt to have Iceland the most defensively organized team at the tournament. He emphasizes counter attacks and set pieces, so look for Iceland to strike in those ways.
---
Secret weapon: Johann Berg Gudmundsson – The Burnley winger was a major part of the team's incredible push to a seventh-place finish in the Premier League. Last season, Gudmundsson scored two goals and assisted on eight others from his spot on the right wing, and he'll be looking to play in dangerous crosses to Fingaboson or Sigurdsson in the box at the World Cup. If Gudmundsson can find space behind the defense, he can create great opportunities, giving Iceland a dangerous weapon out wide.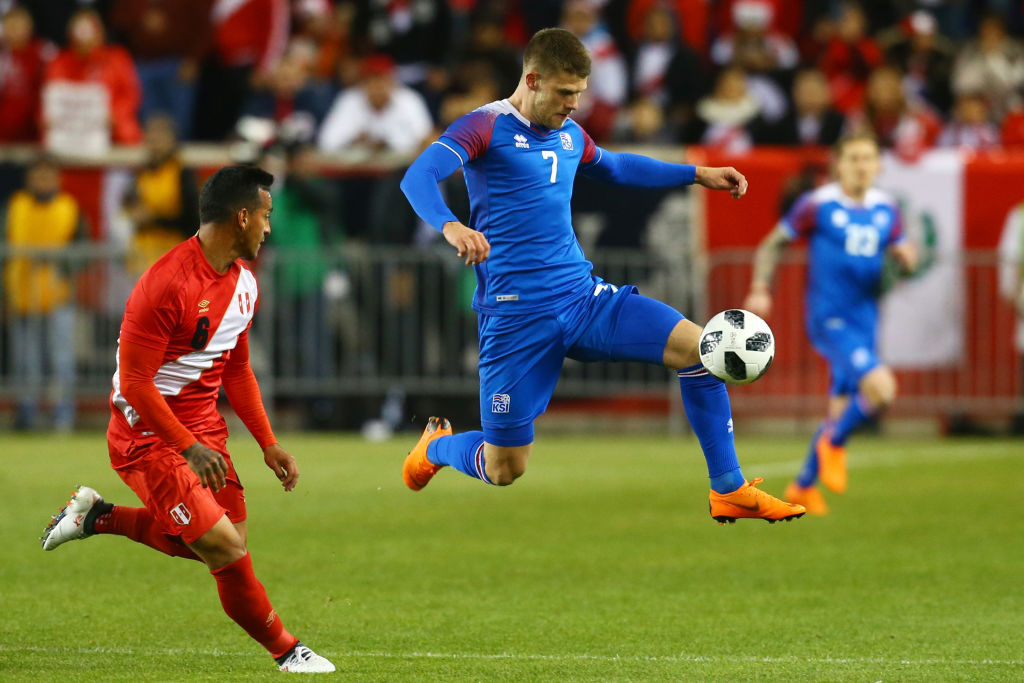 ---
Prediction: Iceland has never had an easy path to qualification and that didn't change at the World Cup draw. It will be a huge challenge for the tiny nation to advance out of the group, but one point or more against Argentina could really buoy the side and set them up for wins later in the tournament. I think they manage to get out of the group, making more history along the way. Áfram Ísland!