Omar Gonzalez might've planned to be doing promotional duty ahead of this summer's World Cup, but not solely as an observer of the biggest tournament in the world.
But Gonzalez, 29, and his United States men's national teammates fell short in their World Cup qualifying bid, losing in Trinidad and Tobago when a draw would've done the trick.
[ REPORT: Liverpool agree Fekir fee ]
Despite his own goal and a still bewildered disappointment in his voice, the Liga MX center back says he'll be watching and cheering for fellow CONCACAF nations when the tournament starts next week in Russia.
"I am Mexican, I've lived there now for three years and I have friends on the team, some of my teammates are on the team," said Gonzalez, who was born in Texas to Mexican parents.
"I have a friend who plays for Costa Rica, so I'm definitely not bitter. I'll be cheering them on and I hope they represent CONCACAF well. I'm looking forward to seeing Mexico hopefully get past the group stage and see how far they can go. My teammate Erick Gutierrez and my former teammate Chucky Lozano, I'm really pulling for them and I hope they have a good tournament."
Gonzalez was speaking to ProSoccerTalk on behalf of Clamato and their promotion of a michelada, a drink made when the tomato and clam juice drink is mixed with beer and spices (Gonzalez suggests hot sauce).
Like many of his veteran USMNT teammates, Gonzalez has not been called into national team camp since that fateful night at Ato Boldon Stadium. That evening saw him produce an own goal and the United States end a seven tournament run as World Cup participants.
[ MORE: Latest 2018 World Cup news ] 
That also loss cued up a number of big changes for U.S. Soccer. Bruce Arena resigned his post, and president Sunil Gulati did not run for another term. Carlos Cordeiro is now in charge of the federation, and the USSF has hired team centurion Earnie Stewart to help find its new manager.
Gonzalez is hoping things calm down a bit around the team.
"I think that we're in good hands," he said of the Stewart hire. "Everyone knows that change was needed. Change has happened, and now it's about moving forward."
As for his hopes of returning to the team — 29 is not old for a center back — Gonzalez looks forward to a chance for redemption, but is not expecting anything. What he would like to see is a little more organization, hunger, and commitment from the men who are called into the team.
"I just like for things to be running smoothly and when guys go into camps, they are there for the team, to wear their jersey with pride and get along with everyone. It doesn't happen all the time, but knowing what's happened with not qualifying and all the things that went wrong, it's in everyone's best interest to put everything behind themselves. When they do get together, it has to be all about the team and how they can come together to get the results they need to get.
"I'm liking the changes that are happening with the GM, and looking forward to a new coach, and seeing the direction they takes. I'm happy they are giving these young guys opportunity. I'm think they are moving in the right direction and I'm interested in seeing how it all comes to fruition, and I hope to still be a part of the group and do what I can to help the program and help the young guys if that's what I have to do, just whatever it takes."
Is he hopeful of a return to national team duty? Yes, but he's not necessarily expecting it.
"I'm at the point where I'm just hoping it does come at some point, but if it doesn't, I'm totally fine with that. I have to focus on my club play and get better every day. If I do happen to get a call-up, I'll be super excited and ready to go in and join the team. Until it happens, it's not going through my mind."
[ MORE: Juve signs Costa ]
It so happened that our conversation took place hours after a reported agreement to send Gonzalez from Pachuca to Atlas. Gonzalez says "nothing's done yet" regarding the proposed transfer.
"It's been all over the Internet, but either I'm going or I'm staying at Pachuca. Nothing is official."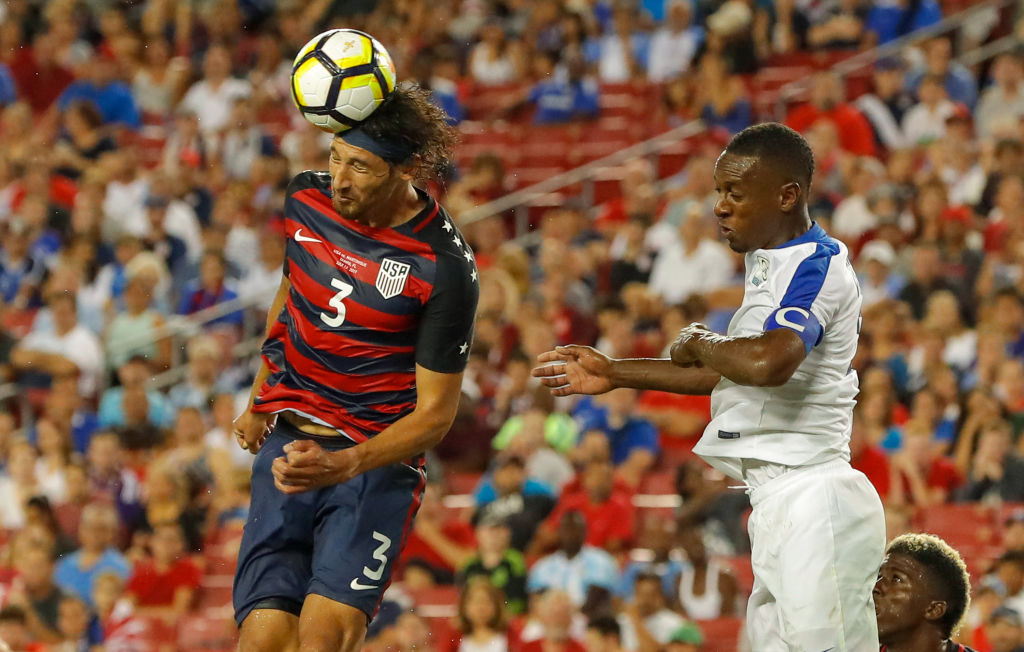 A product of Maryland, Gonzalez was the third overall pick of the LA Galaxy in the 2009 MLS SuperDraft. He was Rookie of the Year, won three MLS Cups and two Supporters Shields, and was in the league's Best XI in 2010, 2011, 2013, and 2014.
He transferred to Pachuca in 2016, winning the Clausura in his first season and then the CONCACAF Champions League in 2017.
The split season is the biggest difference between MLS and Liga MX, Gonzalez says, adding that the desperation is consistent.
"Both leagues are very competitive but the biggest difference for me is that every game is really tough," Gonzalez said. "Sometimes in MLS, the season is long and there are some games, you hate to say, but that don't really matter. You hit that period in May and April and the games just aren't that interesting. For Liga MX, there are two short seasons, two playoffs, you only have 17 games, and there's that stress that goes along with losing a couple of games and feeling the pressure from everywhere. Every game matters, and every game is a big game."
Would he like to see that in MLS?
"It could be fun to have that implemented but it's difficult because how big the U.S. is and the differences in how cold it can get and how hot it can get."
As for the World Cup, Gonzalez thinks the winner won't be coming from UEFA for the first time in more than a decade.
"I've been saying I want Brazil to win it. I feel really bad the way it ended in Brazil in 2014. They have a great team, and I think they can make a final and maybe finish this one off."