Getting to know Brazil: It's hard to believe, but nearly two years ago, Brazil was on the outside looking in. After getting shelled 7-1 in the embarrassment at home, Brazil's FA ignored the pleas for modernization and a progressive approach, instead deciding to appoint former player and manager Dunga. Through the first six rounds of qualification, it was sitting outside the World Cup places, with just two wins in that span. A disappointing Copa America Centenario was enough to give Dunga the boot, which gave current Selecao coach Tite the chance to turn things around.
[ LIVE: World Cup scores ]
And that's exactly what Tite has done. The veteran Brazilian manager, who spent time in Europe studying managers and how they get the best out of their players, led Brazil on an incredible run, winning nine straight and becoming the first team to qualify for the 2018 World Cup. Unlike Dunga, Tite has gotten the best out of Brazil's squad, including quality performances from Neymar, Casemiro, Gabriel Jesus, Willian and Paulinho. Now, with the wind at their backs, Brazil is looking to win a record sixth World Cup title, and avenge the shock defeat to Germany.
For more on Brazil's history, click this link.
[ MORE: Latest 2018 World Cup news ] 
---
What group are they in? Group E with Switzerland, Costa Rica and Serbia. It's a group with three decent opponents but there's no reason with the talent Brazil has, that it shouldn't be running away with the group and emerge as winners in all three matches.
---
Game schedule – Group E – Full 2018 World Cup schedule, here

Sunday, June 17: Brazil v Switzerland, Rostov 2pm, ET
Friday, June 22: Brazil v Costa Rica, Saint Petersburg 8am, ET
Wednesday, June 27: Serbia v Brazil, Moscow (Spartak) 2pm, ET
---
Projected lineup (4-3-3) – Check out the 23-man squad list in full
—– Alisson —–
— Danilo — Thiago Silva — Miranda — Marcelo —-
—- Paulinho —- Casemiro —- Fernandinho —–
Willian —— G. Jesus —— Neymar
---
Star player: Neymar – Who else? The superstar winger missed the final three months of the league season for PSG but still managed an insane 19 goals and 13 assists in 20 league matches, as well as six goals and three assists in the UEFA Champions League. Neymar scored on his return to the Brazilian side last Sunday and scored on a beautiful solo move, but there are questions as to his fitness after missing so long with a serious ankle injury. Brazil goes as Neymar goes.
---
Manager: Tite (pronounced Chee-Chee) – Unlike some managers in Brazil, Tite was afraid to admit that he didn't have all the answers and spend time in Europe learning from the world's best coaches. After taking over a struggling Brazilian side, he led them on a nine-game winning streak as the side breezed through qualifying. He's figured out all the right buttons to press to get the best out of his side, and Brazil – based on talent and form – are certainly one of the favorites at the World Cup thanks to him.
---
Secret weapon: Paulinho – It's hard for the world's most popular team to have any players considered a "secret," but let's go with Paulinho. The central midfielder failed to make an impact at Tottenham and it appeared his career was on a tailspin. Paulinho cashed in on his European adventure at the time for a massive contract in China, but reunited with his former coach – Tite – from Brazilian club Corinthians, Paulinho returned to his best for the Selecao, which ended up helping get him to Barcelona. Paulinho is an energetic box-to-box midfielder, who has a knack for making late runs into the box and scoring goals, but he can also defend deep and provide cover to the backline. With wingbacks that love to bomb forward, Paulinho's role will be very important at the World Cup, ensuring that the defenders behind him aren't left stranded.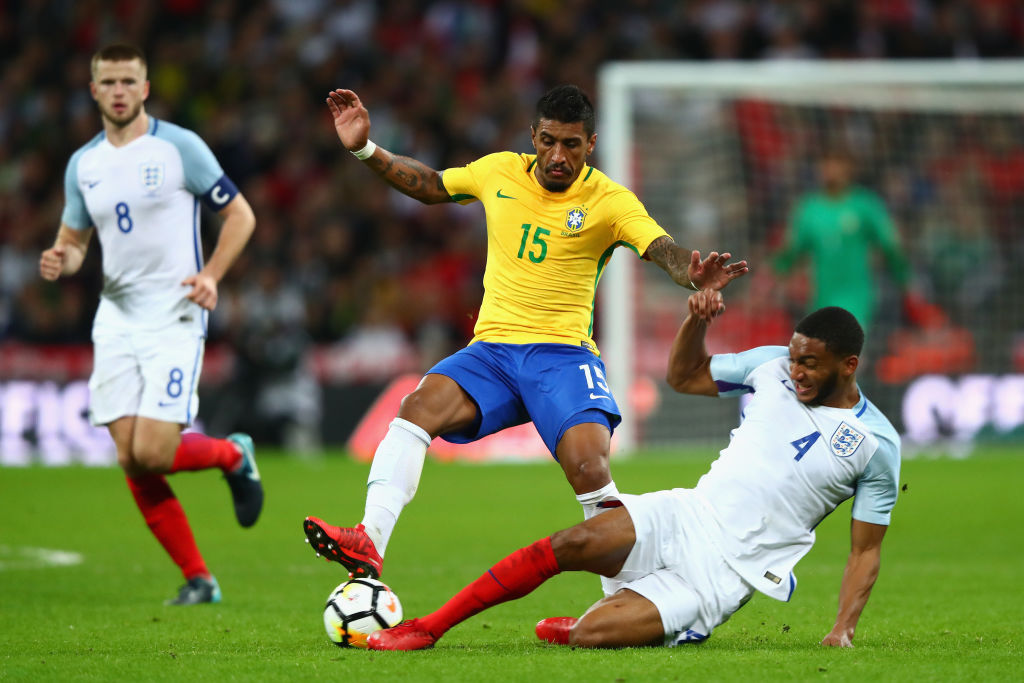 ---
Prediction: Combined with a manageable group and a decent draw, Brazil has every chance of making the World Cup semifinals again, and this time, winning the whole thing. If Neymar is back to full fitness and can continue scoring goals at a record pace for the national team, there's no reason why Brazil can't win. Brazil should make it at least to the semifinals, and we think they'll go all the way and lift the FIFA World Cup trophy.