Getting to know South Korea: Perennially full of promise and potential, South Korea have reached the knockout rounds of the World Cup just once in the three tournaments held since they were joint-hosts in 2002. Back on their continent, the Taegeuk Warriors haven't lifted the Asian Cup since 1960.
[ LIVE: World Cup scores ]
While they're not contenders to lift the World Cup trophy in Russia, something of a golden generation spearheaded by Son Heung-min (Tottenham Hotspur), Hwang Hee-chan (Red Bull Salzburg) and Lee Jae-sung (Jeonbuk) would have tagged South Korea favorites to advance to the round of 16 from most other groups, but as luck would have it, they've been drawn into a doozy of a quartet.
[ MORE: Latest 2018 World Cup news ] 
---
What group are they in? Group F, with the defending World Cup winners, Germany; CONCACAF's best, Mexico; and one of the toughest defensive units at this year's tournament, Sweden. Like the Swedes, it'll be an uphill battle from start to finish to get our of the group stage for just the third time ever (2002, as a host nation, and 2010).
Game schedule – Group F – Full 2018 World Cup schedule, here

Monday, June 18: Sweden vs. South Korea, Nizhny Novgorod, 8 a.m. ET
Saturday, June 23: South Korea vs. Mexico, Rostov, 11 a.m. ET
Wednesday, June 27: South Korea vs. Germany, Kazan, 10 a.m. ET
---
Projected lineup (4-4-2) – Check out the 23-man squad list in full
—– Kim S-k —–
— Lee Y — Jang — Yun —Park —
— Lee S-w — Ki — Jung W-y —  Lee J-s —
—— Hwang —— Son ——
---
Star player: Son Heung-min – Tottenham's Korean star scored 18 goals across all competitions this season (12 in the Premier League, 4 in Champions League, 2 in FA Cup) and enters this week's tournament with the weight of an entire nation resting on his shoulders. Technically proficient brilliant, Son will likely drop deeper than his forward partner Hwang Hee-chan, charged with both scoring and creating.
---
Manager: Shin Tae-yong – The 49-year-old is tactically flexible, swiftly switching from a 3-5-2 to a 4-4-2 based on matchups. He'll match wits with two of the game's best in Joachim Loew and Juan Carlos Osorio, perhaps needing three points from one of those two games to have any hope of finishing second.
---
Secret weapon: Lee Jae-sung – 25 years old and a superstar in the K-League, Lee could very well find himself linked with a move to one of Europe's top leagues should he show up and show out at the World Cup. He'll carry a hefty load of responsibility in terms of chance creation, largely from wide areas.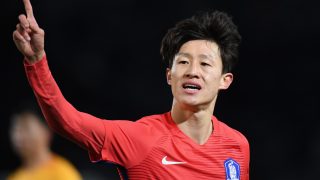 ---
Prediction: Again, much like Sweden, the clearest path to finishing second and advancing to the knockout rounds is as follows: beat Sweden, draw Mexico, take a narrow-margin defeat against Germany, and hope Mexico get hammered by the defending world champions, opening the door for a goal-differential decision. A slightly better outlook than Sweden, but only slightly.