Getting to know England: It's been 28 years since England last reached the semifinals of the World Cup, but — and stop me if you've heard this before — this might just be the year the Three Lions reclaim their place as one of the world's very best.
[ LIVE: World Cup scores ]
For the first time this decade, injuries to key players aren't a problem. For the first time this decade, the stars appear to be held to the exact same standards as everyone else on the roster. For the first time in nearly two decades, the squad is young (average age: 25.6 years old), ambitious, cohesive and full of ideas. For the first time in a very long time ever, expectations are extremely low and these Three Lions will outperform what is currently thought possible.
[ MORE: Latest 2018 World Cup news ] 
---
What group are they in? Group F, where they're second favorites to finish first, with an outside shot at beating Belgium to the top spot. That England-Belgium matchup will likely determine first place on the final day of the group.
Game schedule – Group G – Full 2018 World Cup schedule, here
Monday, June 18: Tunisia vs. England, Volgograd, 2 p.m. ET
Sunday, June 24: England vs. Panama, Nizhny Novgorod, 8 a.m. ET
Thursday, June 28: England vs. Belgium, Kaliningrad, 2 p.m. ET
---
Projected lineup (3-5-2) – Check out the 23-man squad list in full
— Pickford —
— Walker —— Stones —— Cahill —
— Dier —
— Trippier —— Alli ——  Henderson —— Rose —
— Kane —— Sterling —
---
Star player: Harry Kane – 30 goals in the Premier League, plus another 11 in the Champions League and FA Cup — 2017-18 was the first time Kane surpassed the 40-goal mark in a season, but not the first time he'd come close (35 last season). Since becoming Tottenham Hotspur's main man in the 2014-15 season — just after the last World Cup — he's scored 135 goals in 187 appearances across all competitions (105 in 139 in the PL). Arguably the best no. 9 in the world, the next month could be Kane's arrival to super-duper-stardom.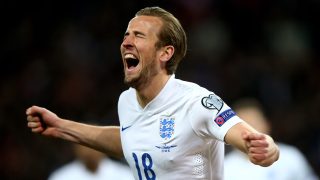 ---
Manager: Gareth Southgate – The former England defender (57 caps) has been in charge since Roy Hodgson departed post-EURO 2016, and guided the Three Lions to an unbeaten qualifying campaign, with draws away to Slovenia and Scotland. The 47-year-old has been pretty consistent in playing a back-three, affording an extra body in midfield and typically deploying a partnership up top rather than a lone figure.
---
Secret weapon: Raheem Sterling – It's a bit rich to call a player who's coming off of a 18-goal, 11-assist season (in the PL; 23 and 12 in all competitions) a "secret" weapon, but with all the attention Kane's getting — and rightly so — it feels like Sterling's something of a forgotten man. His versatility and ability to operate in all different areas of attack — wide right as a winger; wide left as an inside forward; through the center as a second striker off a bigger man in Kane — make him the perfect piece to shift around the field when Southgate looks to change shape.
---
Prediction: The round of 16 is the bare minimum expectation, and they'll get there, at which point it's all about the matchup in the knockout rounds. Finishing second means a likely meeting with Germany in the quarterfinals, while winning the group would likely set up a battle with Brazil for a place in the semifinals.