The World Cup is all about moments – moments of triumph, moments of heartbreak, moments of relief and weight lifted. On Tuesday night in Saint Petersburg, as Argentina secured a knockout round spot with a thrilling win over Nigeria, one moment stood above them all.
Not Lionel Messi's first 2018 World Cup strike, a masterpiece of movement and high-speed ball control woven by the world's most brilliant goal craftsman. Not Marcos Rojo's winner, a life-changing howitzer launched from the most unlikely right boot.
No, the lasting image was beleaguered Argentina manager Jorge Sampaoli heading down the tunnel alone immediately after the final whistle, leaving his players to celebrate the triumph without him on the field.
[ MORE: Latest 2018 World Cup news ]
His disappearance was beautifully symbolic of his World Cup performance leading the tournament's most disappointing blue blood (that is, until Germany faceplanted its way to group stage elimination) considering he had hardly bothered to show up in the first place. Argentina is set to take on France in the knockout stage not because of Sampaoli, but in spite of him.
Chile's 2015 Copa America knight errant has somehow become Argentina's floundering jester with absurd lineup choices and tactical experiments that would make even Jurgen Klinsmann cock his head in confusion. Sampaoli has proven so clueless at the helm that a group of senior Argentine players even reportedly attempted a full-on coup, desperately pleading with FA chairman Claudio Tapia not for Sampaoli's dismissal, but simply for control of the starting lineup. That reportedly fell short, but it proved to the world the former Sevilla boss is on an island.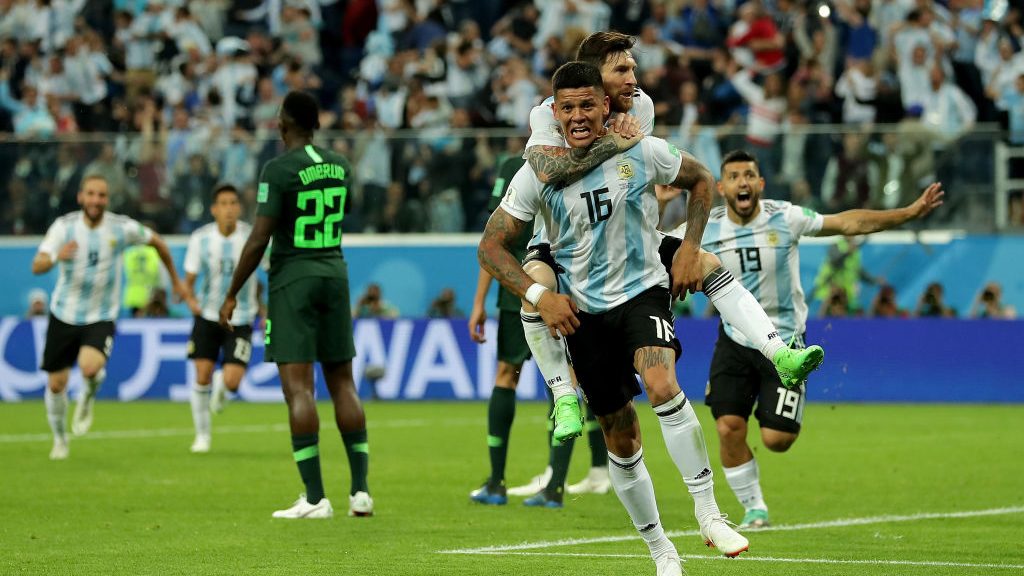 The biggest and most glaring issue for Sampaoli's squad selections have been the midfield, where he has proven utterly lost. In Argentina's opening game against Iceland, Sampaoli started international veteran Javier Mascherano alongside fellow deep-lying midfielder Lucas Biglia in a central midfield pivot that proved redundant, leaving Lionel Messi on an island further up the field. With Manuel Lanzini injured in the buildup to the tournament, Sampaoli turned to little-known Independente playmaker Maximiliano Meza on the wing opposite perpetual international dud Angel Di Maria, leaving Messi completely isolated with the creative load on his shoulders. Meanwhile, electric Juventus striker Paulo Dybala, passing wizard Ever Banega, and midfield link Giovani Lo Celso were left to contemplate their thoughts among the substitutes. Argentina dominated Iceland in every facet of the game, but, as they have on many occasions throughout the last few years, produced no end product.
[ LIVE: World Cup scores ]
While that result was disappointing, it provided Sampaoli with all the answers he needed to make changes for the better moving forward. 34-year-old Mascherano looked a step behind the play, and partnered with Biglia the midfield was static. Yet the boss failed to draw from the fountain, sprinting in the opposite direction completely. Instead of benching Mascherano (admittedly a bold move to make with a team leader) and introducing Lo Celso and Banega to patch the holes and give Messi some creative help, he threw common sense to the wind with the incomprehensible decision to press Croatia into oblivion.
Not only did Sampaoli's tactics fail miserably, his team selection proved he learned nothing from the first 90 minutes. He left Mascherano in and paired him with Enzo Perez, another static midfield duo. He sat Di Maria and replaced him with an even more confusing wing pairing of Eduardo Salvio and Marcos Acuna. Instead of withdrawing Max Meza, he pushed him even higher up the pitch in a creative yet undefined role. He started a back three that included full-back Nicolas Tagliafico chosen over Roma standout and natural center-back Federico Fazio, who was ranked by Squawka as the 6th best defender in Serie A this past campaign. The result was a gloriously chaotic mess as Luka Modric carved Argentina to bits on the counter. Here's the Sparknotes version: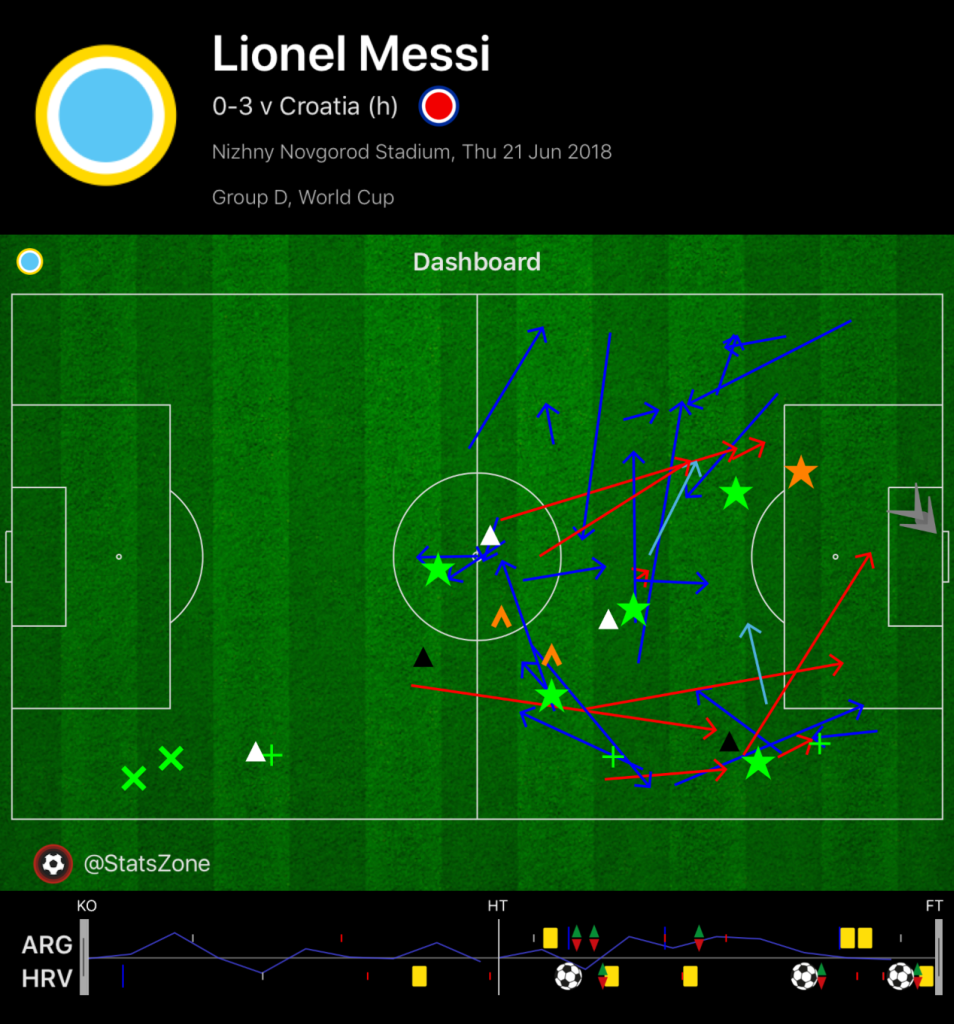 Lionel Messi was completely and utterly wasted. Arguably the world's best player had one shot on goal, which was blocked. He completed two take-ons in the attacking third. He created two chances. Meanwhile, Croatia sliced Argentina's midfield to pieces on the counter, as Mascherano again had a miserable showing and the rest of the players were too scattered to make a difference. Willy Caballero made another mistake in goal, and the makeshift back three was torn to shreds.
With Argentina staring down the barrel of group stage elimination, Sampaoli was given a vote of confidence from management and turned in another flop in a do-or-die scenario against Nigeria. The 58-year-old scrapped the back three and deployed Manchester United bruiser Marcos Rojo into central defense, again leaving Fazio on the bench. He organized a flat 4-3-3 with Mascherano behind two central midfielders, which admittedly was better than anything he flung onto the pitch in the previous two games. He gave Ever Banega a deserved start, but Mascherano again made a fool of himself on multiple occasions, complete with blood streaming down his face. He continued to utilize Perez, who put in a laughably useless shift on the wing with 25 of his 32 passes backward or square despite living on the same side as Messi. Di Maria came back into the team and was again invisible. Sampaoli handed perennial punchline Gonzalo Higuain the start up front in favor of the insubordinate Sergio Aguero, and he did what he's come to do best – send one to the moon in a huge moment down the stretch. All this while Dybala, Lo Celso, and Christian Pavon rotted on the bench, while Mauro Icardi laughed himself silly on the couch at home.
Nobody has seen their stock plummet quite like Jorge Sampaoli this World Cup. In a tournament full of moments – ones on the biggest stage that shape our image of players and coaches more than any others in the game – Sampaoli has managed to dismantle his reputation from Copa America hero to World Cup goat. No, this Argentina team isn't very good, but it certainly isn't this grotesque.
Messi ended up on the shoulders of Rojo after the defender's magical moment against Nigeria, and he hugged every teammate and staff member on the pitch after the final whistle. Truthfully, it should have been the other way around, because the magical maestro has willed his team to the knockout stage despite the repeated failures of his manager, and that truly is a feat worthy of recognition. Jogi Löw certainly made mistakes with Germany en route to their massive failure, but it also felt as if he still possessed a talented roster that simply didn't gel. Argentina – unlike Germany – is still kicking this summer, but because of the boss; they're still around in spite of him.