Our staff pulled togethers its thoughts to head into the final four rounds of the 2018 World Cup in Russia.
[ MORE: Knockout round schedule, bracket ]
1) Which nation's stock rose the most following the opening round?
Joe Prince-Wright: Probably Croatia, closely followed by Sweden. They both looked solid and have game changers. Belgium also impressed and if you scratch Mexico's final group game then they were superb. Overall, lot of teams stepped up and delivered when it mattered most.
Nicholas Mendola: Count me among those leaping onto the Croatia bandwagon (as long as I can stay within safe distance of the Belgian version). Coming out of, let alone dominating, that group is remarkable. It took three distinctly different battle plans, and each was executed to near-perfection.
Andy Edwards: I would say it's Croatia, given how dominant they were in group play, but what we saw in each of England and Belgium's first two games was too impressive to ignore. They went from "fun team, but that's it" to "they're good enough to win this thing", at least in my mind.
Kyle Bonn: Croatia looked fabulous in the group stage as Luka Modric ran the show in midfield. They may not be a favorite to win the tournament all of a sudden, but they could absolutely do some damage in the knockout round. Favorites beware, Croatia means business.
Matt Reed: I'd say without a doubt it has to be Sweden. You're talking about a country that took a lot of flak for not bringing Zlatan Ibrahimovic to the World Cup, and not only have they not missed him, but he's barely been mentioned. They took Germany to the dying seconds, and looked quite convincing in their matches against South Korea and later Mexico. They are one of the most compact teams defensively in the tournament, and the draw has opened up very nicely for them.
Dan Karell: Probably Belgium. I would have said Mexico but the shocking 3-0 defeat to Sweden really dampened things and was a well-timed wake up call for El Tri. But Belgium has looked dominant and clinical enough in all three of its group stage matches, and even after making a ton of changes against England, the Red Devils still won. With de Bruyne and Lukaku in fantastic form, I don't think they can be stopped. Honorable mention goes to the aforementioned Mexico, Croatia and Sweden, who won its group including Germany and Mexico. It's not pretty, but they find a way to win most of the time, and would have drawn Germany if not for Toni Kroos' heroics.
2) Which favorite is the favorite's favorite: Brazil, France, Spain, or other?
JPW: Brazil. They're stacked going forward and solid defensively. Great balance in the squad with Casemiro and Paulinho in midfield protecting an experienced and dependable back four. Neymar is getting better every single game and Coutinho, Willian and Gabriel Jesus will deliver goals.
NM: I like France's path post-Messi.
AE: This is 100 percent a cop out, but there is no favorite. There's either a fatal flaw in each squad's makeup, or they looked completely disinterest and uninspired in the group stage. For that reason alone, the knockout rounds should be unbelievable drama.
KB: Brazil has to be the overwhelming favorite at this point, with Germany out. Spain has defensive issues to solve under new management.
MR: Spain has their moments of weakness in the group stage, but I think getting through Group B really toughened them up and made them realize there's no more time for lazy mistakes. They've got a solid draw in their favor, and the experience to get back to another World Cup final.
DK: I guess Brazil? But I also am now predicting Brazil to lose to Mexico. Classic trap game, and I think Mexico matches up well, with the speed of Layun and Lozano against Fagner and likely Felipe Luis, with Marcelo possibly out due to a shoulder injury.
3) Which dark horse will make the longest run: Denmark, Sweden, or Switzerland?
JPW: Sweden. I think they have the nous to find ways to win games and collectively they're tough go break down. The only issue is whether they can take their chances. Andreas Granqvist can't keen scoring PKs you know…
NM: The Switzerland-Sweden winner, and I'm tabbing the Swiss to edge their Round of 16 rival.
AE: Sweden, because they can defend and frustrate the best attacking sides like nobody's business
KB: The question isn't who I think is the best team of the three (Denmark) so I will go with Switzerland, since Denmark unfortunately matches up with on-fire Croatia. Switzerland looks like a complete team, if not a dominant one, and Xherdan Shaqiri brought his A-game to the World Cup. Look for Switzerland to make some noise and challenge England in the quarterfinals.
MR: Sweden has the defensively capabilities to hold their opponents, so I like them to get to at the quarterfinals, where a date with England or Colombia would be quite the intriguing battle.
DK: I think Sweden can make it to the World Cup semifinals. Defensively they are beasts, and they will be hard to break down. If Emil Forsberg or Ola Toivonen can find a way to score, Sweden can muck it up and win 1-0 to keep advancing.
4) What percent chance do you give Mexico of beating Brazil?
JPW: 25%. They have to replicate their display against Germany to have any chance of getting by Brazil. Mexico will play on the counter and this could suit them but there's no doubt they need to have a perfect gameplan and execute it 100%. Over to you, JCO.
NM: 25 percent. El Tri can do the job on defense, but their history against Brazil plus the accompanying fifth-game specter means it's hardly more than a puncher's chance.
AE: 45 percent. Brazil's lack of a midfield will ultimately be their undoing.
KB: Their press worked wonders against the German midfield, but Paulinho and Casemiro are a different story. They won't have success with the press, and they can't out-possess Brazil, so Mexico will have to play on the counter. It isn't out of the question, but it's a long shot. I think Mexico gets a 20% chance to win at best.
MR: After what I saw against Sweden on the final group day, my opinion of Mexico changed drastically. It's not out of the question considering the talent in the squad, but El Tri looked uninspired in their last match. I'll give them a 25% chance of getting past Neymar and Co.
DK: 50 percent? I think it's certainly possible, for the reasons I said above. Brazil isn't 100 percent, Neymar is crying after beating Costa Rica, clearly the pressure to win is getting to him. And without Dani Alves and (maybe) Marcelo, Brazil are a bit weaker in defense along the wings, which is where Hirving "Chuky" Lozano and Miguel Layun thrive.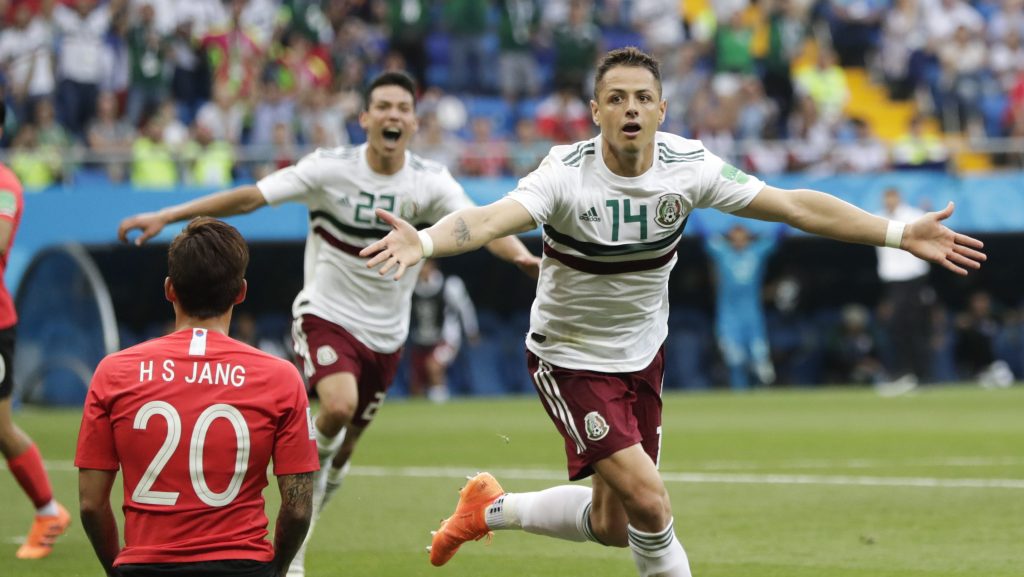 5) Is Croatia the "real deal?" Can they make a run to the final?
JPW: I'm not sure they will get to the final but a semifinal berth is definitely in them. Potentially coming up against Spain in the quarterfinal round will be their toughest test and I'm not sure they're solid enough defensively to stop Costa, Isco, Silva and Co. Modric has been brilliant and deserves to lead Croatia to at least the final four.
NM: Yes. Quoting myself from above, "Coming out of, let alone dominating, that group is remarkable. It took three distinctly different battle plans, and each was executed to near-perfection."
AE: Absolutely. Everything that Brazil's midfield is not, Croatia's midfield is. And more. Too much of the world's population is about five years late in crowning Luka Modric the best midfielder in the world, but at least they caught on at some point.
KB: Yes they are the real deal. No, they cannot make a run to the final. Croatia would need to get through both Spain and England to reach the promised land, which I do not believe is something they could do. While they could potentially beat Spain if Sergio Ramos and company aren't on their game, but winning both those matches would be too tall a task.
MR: Yes. Their midfield is the best in the tournament for me, and more importantly they've done a tremendous job limited their opponents to chances in front of their own goal. If they get past Spain in the quarters, I honestly won't be surprised if they win the whole thing. Croatia is such an underrated team, and I love them from front to back on the depth chart.
DK: Croatia is certainly a terrific team. With Ivan Rakitic and Luka Modric in midfield, it's a team that can control the tempo and heartbeat of the game, which will certainly lead to goal-scoring chances for Mario Mandzukic and Andrej Kramaric. I think they can make it to the quarterfinals, but they may struggle against a stronger Spain squad.
6) Which player outside of Messi/Ronaldo are you most excited to watch in the knockout rounds?
JPW: Probably Harry Kane. I want to see if he can keep finishing clinically to lead England to the latter stages. It's all lined up for him to be a hero. Can he deliver?
NM: Romelu Lukaku. His chemistry with Eden Hazard, the rooting subplot delivered by his Players' Tribune post, and his status as a finishing monster on a wildly-talented dark horse combine for something beautiful.
AE: Harry Kane. If England can get to the semifinals, it'll almost certainly be because he reached double-digit goals.
KB: I have loved watching Luka Modric run the show for Croatia so far, and Sergej Milinkovic-Savic lived up to the billing, but in my mind the most exciting player left in the tournament has to be Marcelo. I believe Marcelo is one of the top five best players in the world, and is Brazil's most valuable asset. That's right, more than Neymar. Marcelo is the best left-back in the world, and is an absolute joy to watch play. I hope Brazil makes a deep run so he can go to work.
MR: Isco has been one of the best players in the tournament for me, and I just love what he offers Spain in the attacking third. His vision reminds me of one of his aging teammates, Andres Iniesta. He has a knack for scoring as well. He's got everything you want in an attacker, and could be the engine of the Spanish midfield for many years to come.
DK: Kevin De Bruyne. He can really cement his legacy – like Andres Iniesta did in 2010 – as one of the world's premier midfielders with a run to the World Cup final.
7) Who are your semifinalists?
JPW: France v Brazil. Spain v England.
NM: France vs. Brazil, Spain vs. Colombia.
AE: France, Belgium, Croatia, England
KB: England is just such an impressive squad, and they did exactly what they needed to do against Belgium to secure a less challenging path through the bracket ("easier" is not the right world choice in that situation, no team left at this stage is "easy"). Gareth Southgate continues to push all the right buttons, and their squad is deep enough to withstand any injuries or yellow card suspensions. Brazil is the favorite and should reach the semifinals no problem, I don't see them struggling with Belgium, who I am still not sold on yet. France is here by default, as long as they don't stumble against Portugal again as demons from Euro 2016 linger. I'm not impressed by France, but neither Argentina or Portugal poses enough of a threat in my mind. Finally, Spain reaches as well after shoring up the defensive issues and topping Croatia, who runs out of steam.
MR: Give me Belgium and France in one half, and Spain and England in the other. I had Spain and Belgium before the tournament so I'm riding that to the final, with the Spanish hoisting their second World Cup.
DK: Belgium, France, Croatia and Colombia
8) How did the performances of Panama and Costa Rica affect your perception of the USMNT's failure? How often did you contemplate the USMNT during the group stage?
JPW: I thought all three CONCACAF teams would struggle before the tournament, so not too much but it did hammer home just how poor USMNT was in qualifying. I've contemplated the USA's absence quite often actually, especially seeing Hirving Lozano ripping it up. That should've been Christian Pulisic.
NM: I've thought about the USMNT far less than I expected. There's been a freedom associated with watching a USMNT-free tournament, and I've adored this World Cup. That said, Keylor Navas gave Costa Rica their Tim Howard vs. Belgium game in a loss to Brazil, while Panama looked like a team that only got to the World Cup on a goal that never crossed the line. That part, I admit, brought the U.S. to mind a bit.
AE: Very little, if at all. The World Cup is for the 32 teams that qualify; it's meant to be enjoyed for what it is, and for who is there. We had seven months to rue what happened in qualifying, and we'll pick right back up in a couple more weeks, but for now, it's the furthest thing from my mind.
KB: As much as I don't want to project CONCACAF's performance in this tournament onto the USMNT, as the transitive property is a dangerous game, but I couldn't help it. Watching Panama struggle so mightily left me crying out for more answers as to how in the world the United States failed to deal with such a weak opponent. I'm wildly disappointed not just with the confederation as a whole, but the entire United States performance over the last two years. Bruce Arena has projected blame on just about everyone, but watching Panama only makes me shake my fist at him and others culpable even more.
MR: It was definitely frustrating seeing the CONCACAF teams struggle at times, but given the way the USMNT was playing heading into the tournament and the roster that they would have likely put out, it was for the best they weren't in Russia. I'm not convinced they would have advanced out of any of the three groups that featured CONCACAF teams, so we'll try this thing again in four years when Qatar hosts.