The World Cup has reached the quarterfinal stage – the point in the competition where no slouches are left, all the pretenders have packed their bags, and only the truly cohesive squads remain. We've seen some barnburners, some defensive grinders, and plenty of exciting moments.
With just eight teams left, there will be plenty of key matchups in each game for pundits to dissect, white boards to draw, and coaches to highlight. Here are a few of those battles that each team must work around.
Uruguay vs. France – Edinson Cavani vs. Samuel Umtiti and Raphael Varane
France will get its opportunities to score goals, of that there is no doubt. Diego Godin leads one of the most gritty back lines remaining in the big dance, but Kylian Mbappe has already shredded enough defensive units to know that he will provide France chance to take.
With that in mind, the true test will come on the other end of the pitch. France's defensive unit has been shaky, while Uruguay's attack is banged up. Cavani came off injured in the dying minutes of the 2-1 Round of 16 victory over Portugal, while Luis Suarez was reportedly injured in Uruguay training. Can they test the French central defenders enough to keep up with the high-powered France attack? They may be forced to play in from the flanks, where France is the weakest. Lucas Hernandez has been surprisingly solid, but aside from scoring a wonder goal against Argentina, young Benjamin Pavard has been mediocre at best. That may be Uruguay's best chance to score.
Brazil vs. Belgium – Philippe Coutinho and Willian vs. Belgium midfield
Brazil defensive midfielder Casemiro is out thanks to picking up his second yellow card of the tournament in the previous match, so that may very well leave his midfield partner Paulinho on an island.
[ MORE: Tite's biggest tactical test comes in Casemiro's absence ]
That's not where we're focused on here. No, we're looking in the other direction. With Brazil likely to maintain a significant portion of the possession, They will look to build their attack through the midfield where Japan exposed a serious weakness in the Belgian setup. In the first half of their Round of 16 matchup, Japan ran the ball straight down Belgium's throat, with only Axel Witsel covering the back line. It worked. After halftime, Roberto Martinez brought on Marouane Fellaini to shore up the midfield, plus Nacer Chadli to help give the Japanese something else to think about, and it shifted the tide of the match.
So who will Roberto Martinez start in midfield against Brazil? If Witsel and Fellaini are paired from the opening whistle, it may nullify Coutinho's influence and put pressure on Willian, who has had an underrated tournament thus far. If Witsel is by himself, Coutinho may have a field day.
Sweden vs. England – Emil Forsberg vs. Kyle Walker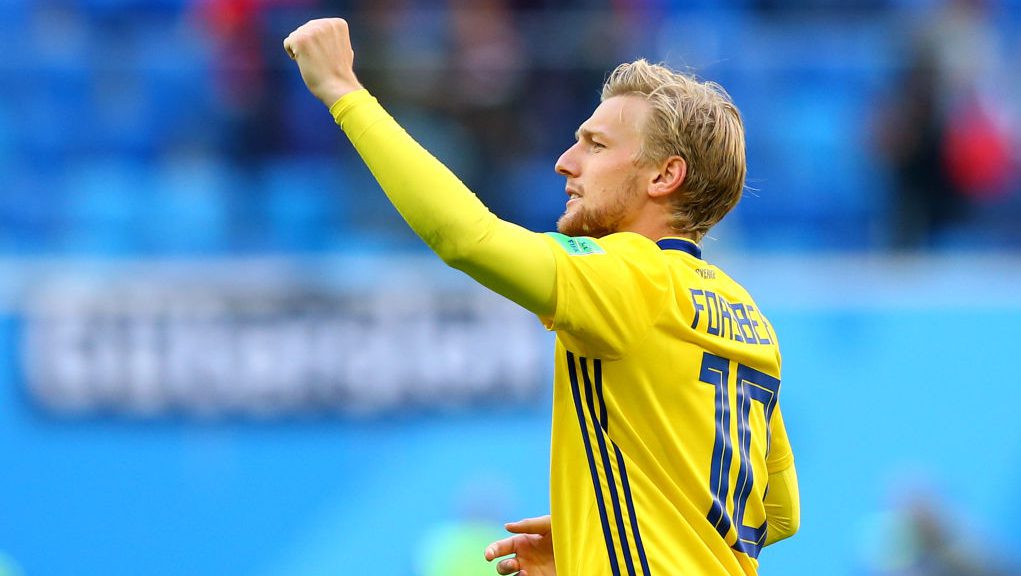 Is this a matchup we could see in the Premier League this coming season? Emil Forsberg has seen one of the tournament's biggest breakout performances, and he could be on the radar for a summer switch. He plays on the left wing, the same side as Walker's assignment as part of the back three.
Walker has been impressive in his center-back role, but has slipped up at times. It hasn't cost England dearly yet, but could Forsberg make Gareth Southgate pay for his experimentation on the biggest stage? Sweden's shape and structure have been incredibly impressive so far in Russia, and if they can keep Harry Kane and company at bay, one goal may decide the match, and Forsberg's movement and creativity will be critical for Sweden.
Russia vs. Croatia – Roman Zobnin and Daler Kuzyaev vs. Luka Modric and Ivan Rakitic
Croatia's midfield is being hailed as the best of the remaining World Cup teams, and they have carved up defensive shape after defensive shape. Croatia has beaten Nigeria, Argentina, Iceland, and Denmark so far, all teams known for their ability to lock down the center of the pitch.
Luka Modric has deserved the Golden Ball noise he's getting to this point, but Ivan Rakitic has been the secret weapon, pairing with Modric flawlessly moving forward. If Russia is going to win this match, they won't be able to just bunker in and earn a 0-0 draw. They will have to open up to score, and that means keeping Modric and Rakitic locked down despite the additional space. Zobnin and Kuzyaev performed fabulously against Spain, but were aided by Fernando Hierro's static tactics. Can the inexperienced duo – just 26 caps between the 24- and 25-year-old pair – repeat the performance against the tournament's best midfield tandem?