For the 11th time in as many years, Chelsea has a new manager.
It seems like a large number for a club that has had as much success as it has; because it is.
[ MORE: Hazard hints at Chelsea exit, has "preferred destination" in mind ]
Maurizio Sarri has officially taken over with the Blues following Antonio Conte's sacking, and the new Italian manager has already helped the club ensure it will have one of the best (if not the best) midfields in the Premier League thanks to his first signing.
Former Napoli central midfielder Jorginho has joined the Stamford Bridge side to form a formidable partnership in the middle of the park alongside French superstar N'Golo Kante.
It's that relationship amongst the two ball winners that could really propel the Blues into another gear, after the club had its moments of struggle last season after Nemanja Matic's departure for Manchester United.
[ MORE: Belgium tops England for best finish in team's WC history ]
Now, several names in the attack have been rumored to be nearing moves away from Chelsea, including Eden Hazard and Willian, which would clearly be a devastating blow to Sarri's plans in his first season in charge.
Both Hazard and Willian are sure-fire starters under any manager, but that is of course assuming that they remain with the club ahead of next month.
As the squad is currently constructed, the Blues are missing a traditional number 10 attacker that sits behind the striker, although Hazard has the freedom to roam throughout the pitch as necessary.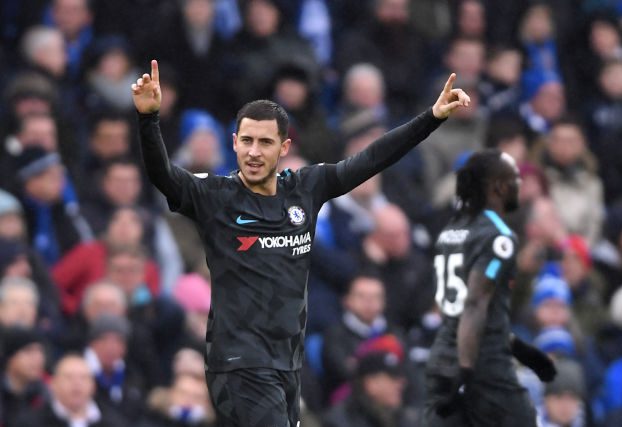 That will likely leave a third slot open in the midfield if Sarri aims to use a traditional 4-3-3, and it could very well go to Ruben Loftus-Cheek, who comes back from a loan spell at Crystal Palace last season.
Loftus-Cheek is a bit more of a creative player than a Kante or Jorginho, however, he possesses the size and physicality necessary to track back defensively when needed, which gives Sarri flexibility in his tactical makeup.
Meanwhile, striker Alvaro Morata's future with the club remains unknown as well, with recent reports suggesting that Sarri could aim to bring in Argentina international Gonzalo Higuain in a straight swap of players.
Behind Morata sits Olivier Giroud, who struggled in much of his time with the Blues over the latter half of the 2017/18 campaign, while Tammy Abraham has become an intriguing prospect for the Blues as well.
It remains to be seen, though, if Abraham will get a crack with the first team this season or be sent out on loan once again.
With less than a month until the start of the PL season, Sarri has his work cut out for himself, after bringing in a positive player to bolster the club's midfield with Jorginho.
Defensively, there are still some questions, particularly in regards to how the back line will align itself.
Conte's three-back system will likely dissolve following his exit, as Sarri employs a traditional four-back setup similar to what he used in Serie A.
Cezar Azpilicueta and Marcos Alonso are almost certainties at the two outside back positions, while centrally the club boasts a solid amount of depth.
Gary Cahill remains in the fold, along with David Luiz, however, the Brazilian will likely have to battle with Andreas Christensen and Antonio Rudiger for a starting role.
Christensen was sturdy for the majority of 2017/18, and given his budding stardom, it's likely that Sarri will put his confidence in the young defender early on.
Below, Pro Soccer Talk takes a look at who will likely start for Chelsea under Sarri's new regime.
---