More often than not, in the modern game, high-stakes tournament soccer games are played in a cagey, cautious manner with teams afraid to risk elimination, believing that the negative pitfalls of conceding goals often outweigh the reward of creating chances on the offensive end.
The 2018 World Cup final was not that. Mostly. I think.
Croatia and France matched up in Moscow, Russia to determine who would be engraved into soccer immortality on Sunday, and fans were treated to undoubtedly one of the weirdest games ever played on such a grand scale. We've had 72 hours to digest the final result, and it seems to make less sense the longer one chews. Six total goals were scored over the 90 minutes, and France scored four of them. Yet, every piece of postgame analysis and every statistical scan of the match tells us just how wildly absurd that is.
[ MORE: Schedule for PL teams on US tours ]
First, Croatia dominated France in every attacking statistical category. Croatia out-passed France 440-198 and out-possessed them 65.5-34.5. They out-passed France in the attacking third 99-28 and in the penalty area 14-5. They created 11 chances to France's 4. They attempted 14 shots to France's seven. Six Croatians completed more passes than anyone on the French team.
Farther than any one particular number the statistical review could bring you, here is one image that speaks louder than any words or numbers can: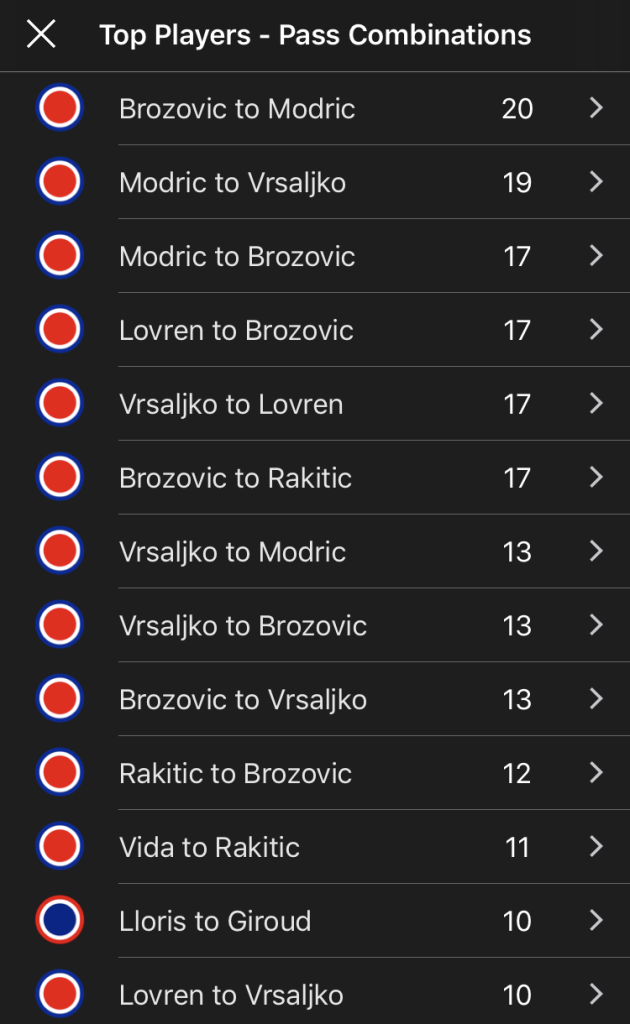 Not only did the Croatians wipe the French off the passing leaderboard, but only one French combination appears on the list – goalkeeper Hugo Lloris to striker Olivier Giroud. In one word: HOOF.
To reinforce this point, the French attempted 55 long balls to Croatia's 33. Upon closer inspection, we find an even bigger discrepancy. Of the French long balls attempted, only four of them were square across the pitch. Almost all of them were vertical. Meanwhile, over half the Croatian long balls were attempted square across the pitch, meaning they were used to switch flanks and shift possession, not to launch forward and bypass the midfield. Visual evidence: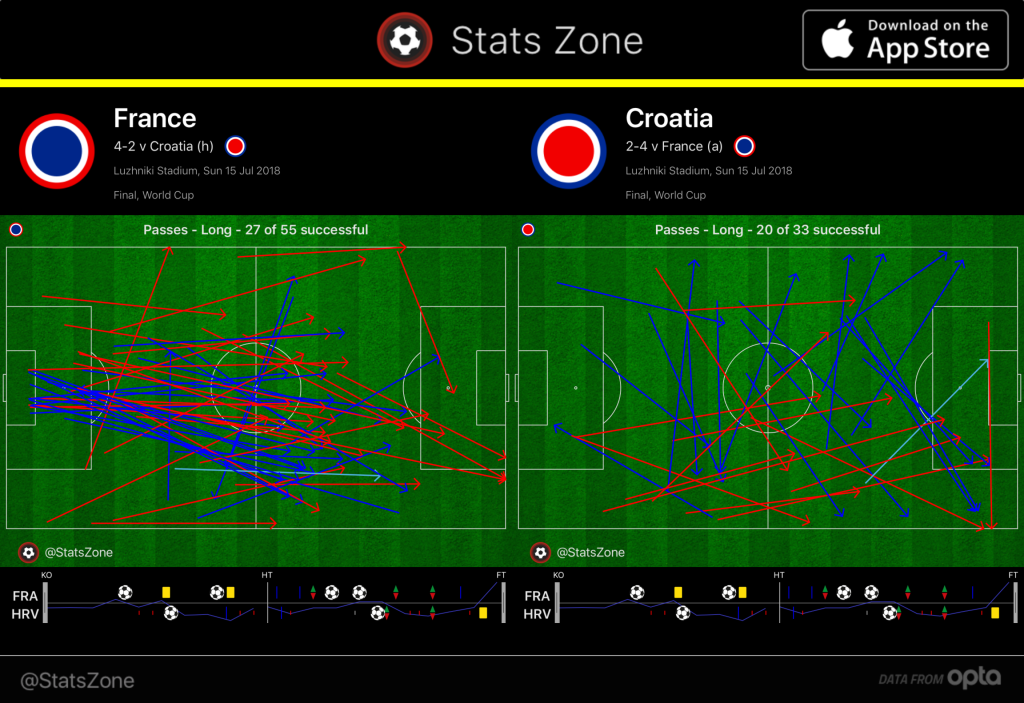 When you really think about it, this tactic is not terribly surprising. France knew that Croatia possessed one of the best – if not the best – midfield in the entire World Cup field with Luka Modric spearheading the more box-to-box style of Ivan Rakitic and defensive cover Marcelo Brozovic. Bypassing that trio was a relatively straightforward tactic, and it allowed France to utilize their strength of pace and aerial prowess more effectively. Still, it's striking to see a team loaded with such sheer talent utilize a tactic more often reserved for less talented underdogs taking on the Goliaths of the world.
Still, it worked. Or did it?
Maybe the most jarring statistic from this game:
Expected goals isn't the greatest tool to summarize a single 90-minute outcome, since it is a statistic far better deployed over a much larger sample size than a single match, but it remains stunning that France generated just 0.3 xG in this contest. They created almost nothing up front. Their two open-play goals both came on speculative shots from outside the box that slid by a hapless Danijel Subasic who failed to even challenge the attempts. Pogba's shot generated a 0.07 xG, while Mbappe's carried just a 0.03 xG. Still, France put six of its seven shots on target and didn't miss the frame once, and that persistence paid off as Subasic was uninspired.
Croatia high-pressed France early, and that early turbo produced one of the more stunning results of the entire tournament: it neutralized the world's best defensive midfielder and potentially most valuable formational cornerstone N'Golo Kante. The 27-year-old rock completed just eight passes – two of them were forward, while just one landed in the attacking half of the pitch – it went square. He was 1/3 tackling, including a failed tackle through the middle and one in France's own penalty area. He had just four ball recoveries, his second-lowest mark of the tournament. He committed three fouls, drawing a yellow card (that, in fairness, was extremely harsh). With Kante now timid playing on a yellow, he was yanked before the hour mark, and France finished with a 63% pass completion rate, by far their lowest of the tournament.
Kylian Mbappe, meanwhile, was unquestionably France's best outlet as he has proven all tournament. His bursts of energy continually troubled the Croatians, nearly punishing them for their forward-thinking mindset on a host of occasions. The Young Player of the Tournament was the best player on the pitch, despite Croatia's perceived dominance on the ball. He was aided by Paul Pogba's brilliance, with the Manchester United midfielder feeding Mbappe continually with deliciously weighted through-balls.
And yet, the difference in this match came down to defending and, quite frankly, luck. As Caley implies in the tweet above, simply put, Samuel Umtiti and Raphael Varane outplayed Domagoj Vida, who had been one of the best center-backs in the tournament prior to the final. While Croatia passed France out of possession, their only good chance was the Mandzukic goal on the Lloris howler, which carried a huge 0.54 xG value. Take that goalkeeping mistake out, and Croatia generated just 0.7 xG throughout the entire match.
[ MORE: Every PL kit for 2018/19 season ]
In short: the best chance on either end came on a goalkeeping mistake from a Golden Glove contender.
The luck factor played a huge role as well. France's first goal was entirely generated via luck, with Griezmann drawing a phantom foul leading to a Mario Mandzukic own-goal with Pogba offside, carrying an extremely unfortunate deflection past a wrong-footed Subasic. That left Croatia chasing the game, although they seldom looked truly rattled. Still, France was able to defend in numbers with the lead, and that helped alleviate some pressure brought on by the high Croatian press.
None of this is to diminish France's achievement and accomplishment, which ranks among the best in history. In the end, France manager Didier Deschamps favored pragmatism over flair, and he delivered the goods. He molded his team to his players rather than the other way around, a rare approach in today's game of tactical nuances. It is almost better that France prevailed despite the adversity it faced, rather than prevailing with such dominance that it avoided facing adversity at all. Still, the duality of the statistical analysis juxtaposed with the actual result presents us with one of the more wild and nonsensical soccer games ever played in such a high-stakes environment, and the fans are the real winners.