Borussia Dortmund is taking its talents to our shores this summer, and ProSoccerTalk had a chance to speak to the club on its efforts in America and back home in the Bundesliga.
[ MORE: Pulisic rips up Liverpool ]
Naturally, American fans are very interested in anything Christian Pulisic, and PST is very interested in how a club like BVB goes about marketing one of the first internationally recognizable U.S. teen stars (or at least the first of serious consequence since Landon Donovan).
Near hat tricks market themselves — Pulisic had two goals and played a huge part in the third as Loris Karius parried his shot right to Jacob Bruun Larsen — but there's plenty more to our discussion with BVB marketing director Carsten Cramer.
ProSoccerTalk: BVB is a gigantic club with a huge fan base already here, but the growing interest of the American market is clearly ripe to become someone's new favorite club. How do you balance the need to cater to both on a trip like this?
Carsten Cramer: "You described it well and with the right words. We know about the interest of Americans in football generally, and we also know that a club like Borussia Dortmund which is a little bit different from the other big clubs and seems to draw the attention of American people as well. If you know these two characteristics of the American market, it's a kind of logical consequence that a club like Dortmund which has internationalization as very important for growth, makes a decision to come to the U.S. after traveling three years in a row to Asia. Christian Pulisic is one of the Top 11 in our team. Although we had a difficult season, he played a good one. He's now 19. He's at the right age to lead and run this team for the U.S. visit."
PST: How would you compare traveling to the U.S. with Pulisic to heading to Japan with Shinji Kagawa?
CC: "It's always good if you have a player from the market. They are definitely a door opener. It's a kind of similar situation. Christian has become one of the superstars in American soccer and he made his first steps in football, so it might be a little bit different to Shinji Kagawa who had made his first steps in Japan."
PST: We're sure the club has seen a bump in interest from American audiences. Is there a way to measure the impact he's had, especially as BVB battles for new fans?
CC: "We are a powerful club but we are definitely not comparable with the Real Madrids and Manchester Uniteds, so they are even bigger. But we do have very very attractive door opener, who makes it easier to meet people, especially the young generation. In the young generation, football has a higher relevance. If you have one of their generation wearing a black and yellow shirt, it gives us a deeper and more intense impact than without him. We analyze the digital reach, the followers when we present to the American public.
"It's the frosting on the cake. The cake is always delicious if it's a black and yellow one, but if you can taste the black and yellow one including Christian Pulisic, it's an awesome cake."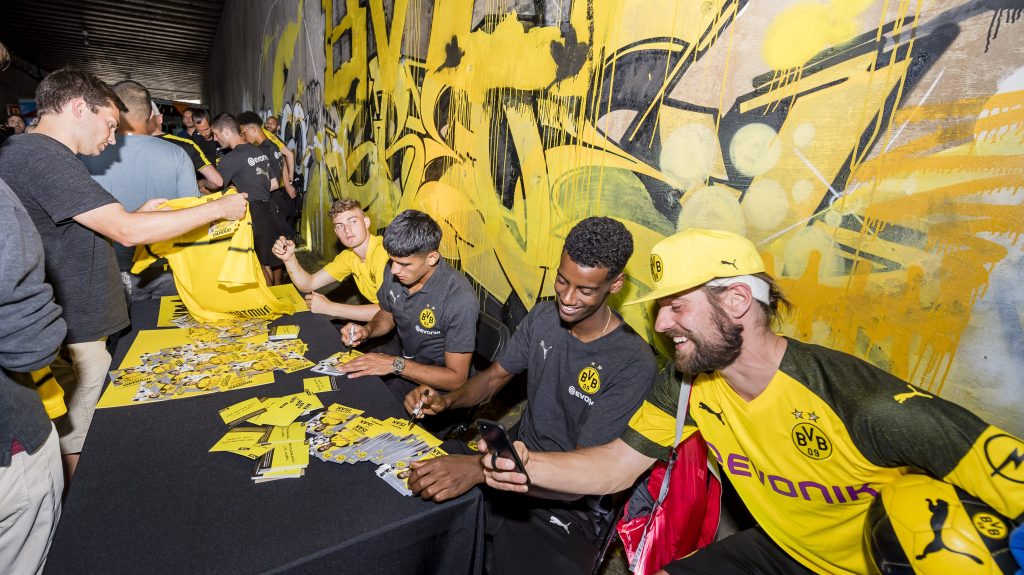 PST: The black and yellow of Dortmund has a bit in common with the sports teams of Pittsburgh, where you'll play this week. Does the club have a lot of say in where they play as part of the ICC?
CC: "For us it was important when we agreed in the ICC that we play in the more Eastern parts of the states. We started with LAFC for the opening of Banc of California Stadium. Then we said we don't want to go to the West Coast again and if it would be possible we'd love to go to Chicago because of a big German community and many many Polish people.
"Chicago was naturally seeded, than Charlotte is attractive because there are many German business there. And then they offered Pittsburgh and we said that's cool because there's a side of parallelism between the city history of Pittsburgh and Dortmund. Both have an industrial background like steel and coal, and Pittsburgh has the black and yellow, and is not that far from where Christian's from in Hershey."
PST: You have another interesting international addition in Jadon Sancho, formerly from Manchester City. Correct me if I'm wrong, but there hasn't been a British player on Dortmund for some time and it doesn't happen a ton in the Bundesliga. What does that say?
CC: "He's the first one from the island we took, but he's one of many many young players who's fully convinced that Dortmund is the right club for his stage of their career.
"The reputation we do have is we build stars, we never buy stars. We build them, we make them, we develop them. The education of young talented players is one of the core pieces of Borussia Dortmund."
"It was not difficult to convince Jadon. After one year of playing for us, he saw he could trust us. He's a very talented guy and he can commit that the step to Dortmund was the right one. He's the first one from the UK, but he was one of many Europeans who see they have an opportunity to play for the club."
PST: This may be a goofy question, but what's the focus of your job domestically? It doesn't seem like a historically-big Borussia Dortmund needs to do a ton to prop itself up in Germany, so what's critical to the marketing of BVB?
CC: "First of all, our core business is football. Marketing is just an appendix. We have a very simple job. We have to clean the window. We have to put in the window what makes people want to open the door and come into the Dortmund store. We have nice talented attractive players. The only job we have is presenting Borussia Dortmund as authentic, as credible as possible. Then marketing is very easy. Don't tell them an artificial story. Make the players touchable, accessible. Give the people the feeling that we are really interested, that there is no big distance between the supporters and us, and you may have seen when we arrived at the public terminal at the Chicago airport. That's our marketing. The more people we can attract, the more hearts we can gain, the more successful our marketing activities have been."