With respect to the possible addition of Jack Grealish, Tottenham Hotspur is betting big on previous years worth of squad construction in its bid to finish Top Three for the fourth-straight Premier League season.
It's no one in, no one out for the North London side this season, at least it is with two days left in the transfer window. And while Spurs have done a fine job building up depth from within and without, matching their previous heights seems a fairly wild proposition.
WATCH LIVE: Transfer Deadline Day show, August 9 at 11 a.m. ET on NBCSN and online via NBCSports.com 
Forget for a minute that Spurs first two matches could see them severely short-handed — Mauricio Pochettino claims he won't start just returning World Cup stars that aren't match-fit — and Tottenham is counting on its two-deep, to borrow an American football term.
Will they regret it? Good question.
It can be head-spinning for a Spurs supporter to take a look at the summer. Consider that Pep Guardiola claimed the days of big buys were over, only to break Man City's transfer record via Riyad Mahrez. Jose Mourinho is angry that United hasn't landed more of his targets, despite buying Diogo Dalot and Fred. Chelsea added Jorginho, Arsenal flipped its defense, and Liverpool bought every available player on Earth.
Spurs did last season well, winning a brutal Champions League group with Borussia Dortmund and Real Madrid. They finished third in the Premier League and ran to the FA Cup semifinals before losing to Manchester United.
And Pochettino did a fine job working his depth last season, sometimes taxed a bit by injuries. Eighteen players played 18 or more times, with four more playing eight-plus matches.
Let's say Toby Alderweireld and Danny Rose leave, while Grealish arrives in London from Aston Villa. Pochettino gets a number of players, including Lucas Moura and Davinson Sanchez, who will have more comfort in his system.
Yet remember the 2017-18 table.
2. Man Utd — 81 pts
3. Spurs — 77 pts
4. Liverpool — 75 pts
5. Chelsea — 70 pts
6. Arsenal — 63 pts
Spurs had the benefit of Liverpool and Arsenal playing in European finals, and both the Gunners and Chelsea were largely underachievers with monumentally screwy managerial situations.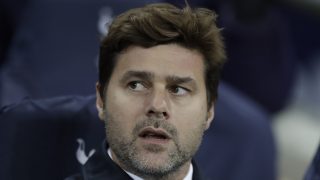 And here's how it shook out for Spurs in head-to-head matches against their Top Four rivals:
Man City – loss at home, loss away
Chelsea – loss at home, win away
Man Utd – loss away, win at home
Arsenal – loss away, win at home
Liverpool – win at home, draw away
That's 13 of 30 points, and the same team coming back. Perhaps United slips, and maybe City, too. Or maybe there's better home comfort, and Spurs erase gaps.
But with nine World Cup semifinalists adjusting to a late vacation and a number of relatively affordable players waltzing to other clubs — See: Xherdan Shaqiri, Alfie Mawson, Max Meyer, Alireza Jahanbakhsh — could Spurs be made to pay dearly by a spate of injuries, at least compared to their rivals? Ask Liverpool of last season, and take a look at how they spent their offseason.