MLS and Liga MX unveiled on Thursday the brand new trophy which will be awarded to either Toronto FC or Tigres at the conclusion of this month's inaugural Campeones Cup at BMO Field.
[ MORE: New USMNT head coach to be hired by end of 2018 ]
The Campeones Cup, which beginning on Sept. 19 will be sought after by the respective reigning champions of the two North America leagues, "is made of silver and gilded with 24-karat gold leaf, featuring a petal harvesting an iconic gold one, representing the partnership between the two leagues as well as the North American bragging rights on offer for its winner."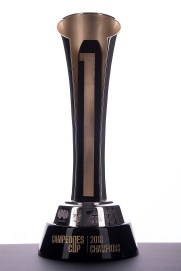 The trophy stands nearly 20 inches tall, over 6.6 inches wide, and weighs more than 21 pounds. It was designed and produced by metalsmith Jose Juan Marmolejo of a Mexico-based company, Izta Galerias.