International breaks, they bring out the wild posts. Bear with me.
Fine margins.
Liverpool was 3W-3D-2L in the Premier League when it replaced Brendan Rodgers with Jurgen Klopp in 2015. It had needed penalty kicks to outlast Carlisle United in the League Cup, and drew Bordeaux and Sion 1-1 in an uninspiring start to life in the Europa League. A 1-1 draw against Romelu Lukaku and rivals Everton was too much, and Rodgers was out.
[ PL ROUNDTABLE: The story so far ]
The managerial change happened this time three seasons ago, and certainly would've had some parallels if Manchester United did not rebound from its 2-0 deficit to beat Newcastle United on Saturday. United now has 13 points (Rodgers' Reds had 12), and did not survive the League Cup penalty kicks against a lower division side (Derby County). Its win over Young Boys in the Champions League was solid, the home draw to Valencia disappointing.
Shoot, when Klopp was hired he called himself The Normal One, so of course there are differences. Liverpool spent wildly in the previous summer, acquiring pieces which remain a part of their successful squad. Roberto Firmino, Joe Gomez and James Milner as highlights, with Nathaniel Clyne, Christian Benteke, and Danny Ings something else.
United didn't really back Mourinho this summer. Fred, Diogo Dalot, and Lee Grant the only arrivals. But Mourinho also hasn't really given United what Klopp has given Liverpool: A consistently affable manager who plays the PR game better than most.
This isn't to argue that anyone would or should choose Mourinho over Klopp at this stage of the game, but the numbers alone don't really scream out, "Smell ya later, Jose!"
Jurgen Klopp at Liverpool: 166 matches, 88W-46D-32L, +157 GD, 1.87 ppm
FA Cup final loss, Europa League final loss, UCL final loss
Jose Mourinho at Man Utd: 131 matches, 79W-27D-25L, +121 GD, 2.02 ppm
League Cup win, Europa League win, FA Cup final loss
And head-to-head, Mourinho's Man Utd has one win and three draws in four against Klopp's Reds.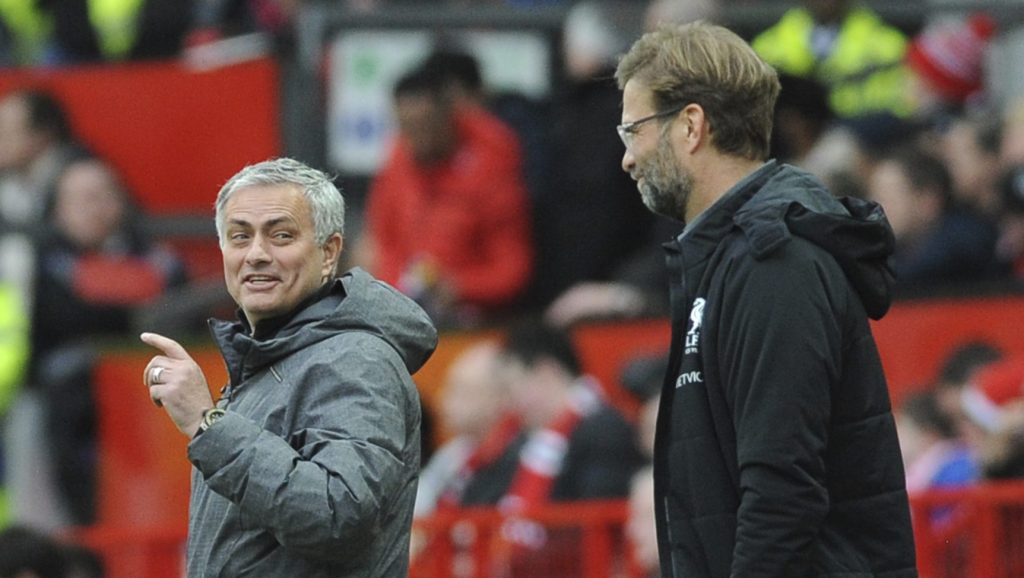 Now, of course, Liverpool rivals Everton didn't go and rewrite the Premier League record books during that time like Man City did, and the Europa League is not the Champions League. So that matters.
Really Mourinho is reaping what he's sown in terms of not giving a rat's behind about what he says to the media (while also caring very much about his public perception).
We know he's much better to the players than his reputation suggests, still it gets labeled "throwing players under the bus" when he calls them out. For others, it's no problem (Klopp rightly laid blame at Sadio Mane and Roberto Firmino after the loss to Napoli, but got the benefit of the doubt).
Maybe in the time of Brian Clough, being something like the Special One was much more forgivable. But like players in the pre-Internet era, managers were far less replaceable.
The fine margins of wins and losses are a little less fine when you've curried some favor with the fans and, well, anyone. If and when Klopp hits the skids at Liverpool, he's going to be fine. Again, deservedly so. Because he's got a better handle on life than Mourinho, who just hasn't read that infamous bumper sticker: Don't be a jerk (I changed a word).
I'm pretty sure this post was a long and perhaps convoluted way to argue that it isn't necessarily the time to move on from Mourinho. The Red Devils haven't done him any favors in terms of selling players he doesn't want around, which certainly cannot help but amplify the tumult in the room.
Theoretically, maybe Paul Pogba's gripes fall on deaf ears if those ears don't belong to an Anthony Martial that Mourinho almost certainly wanted to move.
And maybe this is just the early downswing of a long season that will move upward once Alexis Sanchez and Romelu Lukaku start firing.
This is United's next six matches, and Mourinho's going to get the proverbial ink to write his own obituary or laudatory plaque. Sacking him now asks the interim man or new boss to sink or swim. Giving Mourinho two weeks to prepare for the run makes a lot more sense given his history in manufacturing results.
Chelsea away
Juve home (Ronaldo to boot!)
Everton home
Bournemouth away
Juve away
Man City away
Here goes everything.