Santiago Solari will be sitting in the manager's chair for Real Madrid following the firing of Julen Lopetegui, but he was an All-Region NCAA Division III player before he was a Champions League winner with 11 caps for Argentina.
We're sorry, we better clarify: Solari was a second team All-Region player at Richard Stockton College in Pomona, New Jersey, behind his teammate Pete Schneiders.
[ MORE: Solari prepares Real ]
The story, of course, is much deeper than this, and there are few better suited to share it than former Stockton coach and current Northwestern boss Tim Lenahan, who has moved from coach to lifelong friend of Solari.
Despite the shared first name with the character from "Goal!", Santiago Solari was a major talent before his parents bonded with an American coach and sent their son to American college for a year.
Solari's uncle, Jorge, was the manager of the Saudi Arabia national team for the 1994 World Cup, and his father was on the staff. Before the side went on to the Round of 16 in the most memorable tournament in Green Falcons history, they prepared for the tournament in New Jersey.
Santiago had a special role in the preparation for the tournament, part of a U-19 team which trained against the first team. It wasn't difficult for Lenahan to spot his talent, but there wasn't really any recruiting involved. This was a World Cup, and a job.
"I was a part-time coach and a full-time IT guy," Lenahan told ProSoccerTalk on Tuesday as his Wildcats prepare for a Big Ten tournament match against Ohio State on Nov. 3. "I took a leave from my job to work at the camp."
The player and his parents grew close with Lenahan, and the Saudi Arabian staff asked Lenahan to accompany them on their tournament run. The Green Falcons nearly knocked off the Netherlands before beating Belgium and Morocco and losing to Sweden in the Round of 16.
"I got to know his mom and dad really well," Lenahan said. "His mother mentioned sending him to school at Stockton and told me, "This is my life and blood," in Spanish before she left. Sure enough a couple of weeks later I get a letter from his dad."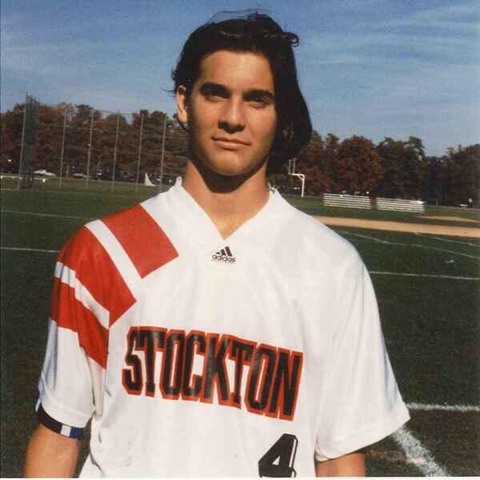 His bio in the Stockton College history book reads, As a freshman, Solari tallied eight goals and 15 assists for 31 points. He was named NJAC Rookie of the Year, NJAC All-Conference First Team and NSCAA All-Region Second Team. With Solari in the lineup, Stockton posted a 15-5 record and earned an NCAA Tournament berth.
Solari's 15 assists were the second-best single season in Stockton history, behind teammate Schneiders. Solari was 17 years old, and Lenahan says he opened up the field for his teammates.
Pretty solid list of accomplishments, before you take into account the whole Champions League thing. Solari went 90 minutes for Real in the club's 2002 UCL triumph over Bayer Leverkusen, giving him a European crown to go with two La Liga titles, and he'd thrice win Serie A with Inter Milan.
Through that time and into the present, Solari has stayed in touch with his friend Tim. Before the proliferation of broadcasts over the ocean, Lenahan would get phone calls and videos from Solari to hear about the latest match. Sometimes he'd come home to an amusing answering machine message.
Lenahan saw Solari score for Atletico Madrid against Real, then plenty more when Solari left relegated Atleti for its crosstown rivals.
In fact, Lenahan has Solari jerseys from both sides of the rivalry in his office.
"I'd love telling this story for 20 years, and breaking out the picture of us holding the Champions League trophy," Lenahan said.
To be fair, who wouldn't?
Lenahan says he trades messages with Solari about once a week, and that he offered congratulations for this new, big coaching gig earlier this week. He often jokes that Solari wouldn't have made his first team debut for River Plate at 19 if it wasn't for him.
"It would've happened at 18," Lenahan said. "I don't think he got better here but he definitely grew here. I read somewhere that he said, 'It opened up my head'."
It's an understatement to say Lenahan has fared well since his days at Stockton, producing 11 NCAA Tournament teams at the Division I level between Lafayette (two) and Northwestern (nine).
And Solari isn't Lenahan's only connection to El Clasico stars (Solari scored the lone Real goal in a 2004 loss to Barca). A chance invitation he extended to a Northwestern player led to a documentary called, "Messi and Me."