There was, let's say, consternation in USMNT circles when Tyler Adams was not included in the Starting XI against England, and more when the Yanks fell 3-0 at Wembley to England's second-choice stars.
Interim coach Dave Sarachan, who's done a fine job all things considered, deprived U.S. supporters of the chance to watch key pieces Christian Pulisic, Weston McKennie, and Adams together in their senior shirts.
[ MORE: Netherlands wins, Germany relegated ]
It probably wouldn't have made much of a difference. Adams was decent in his limited action, but Wil Trapp wasn't a nightmare in captaining the squad. But it does show that the side still has a question of who fits in their peak 11.
Let's start with the "no one's debating this unless they're Bruce Arena" aspect of this: Christian Pulisic, Weston McKennie, Adams, John Brooks, and Zack Steffen are no doubters. DeAndre Yedlin is very close to a no-doubter despite bad performances in his last two caps, and Bobby Wood makes the cut because Josh Sargent is yet to get any real first team experience at Werder Bremen and Jozy Altidore's just completed an injury-riddled 2018.
Zack Steffen
DeAndre Yedlin — XX — John Brooks — XX
Christian Pulisic — Weston McKennie — Tyler Adams — XX
XX — Bobby Wood
Who fills those spots?
CB2 — Geoff Cameron is still probably the best America has aside from Brooks, though Aaron Long has impressed and Matt Miazga has put in more good performances than bad for the club and country. Walker Zimmerman is on the up, too.
LB — Haha. Haha. Hahahahahaha. The endless question of American soccer purgatory. There's hope that Antonee Robinson will continue to progress at Everton (currently on loan at Wigan) but the only other options are sincerely veteran: Eric Lichaj, Justin Morrow, and believe it or not Edgar Castillo (I am conveniently leaving out sueno, Jorge Villafana, in that he's rarely impressed me at the international level).
Maybe we need to go to a back three.
LM — Neither Julian Green, Kenny Saief, nor Tim Weah have shown the diligence in tracking/marking to outwardly lay claim to this, and there aren't a ton of true left midfielders who could lay claim to this. Could we cheat a little and use Kellyn Acosta here? Maybe…
ST2 — Is Josmer healthy? This is still Altidore, then, but the best beyond him are either young and unproven or also injured (Jordan Morris, Sargent, Andriya Novakovich). Weah could also be played here if he's not used at left mid.
Have your answers? Cool, well we are taking our own advice and going for a back three. Let's fill those blanks after this photo of Harry Winks and Tim Weah.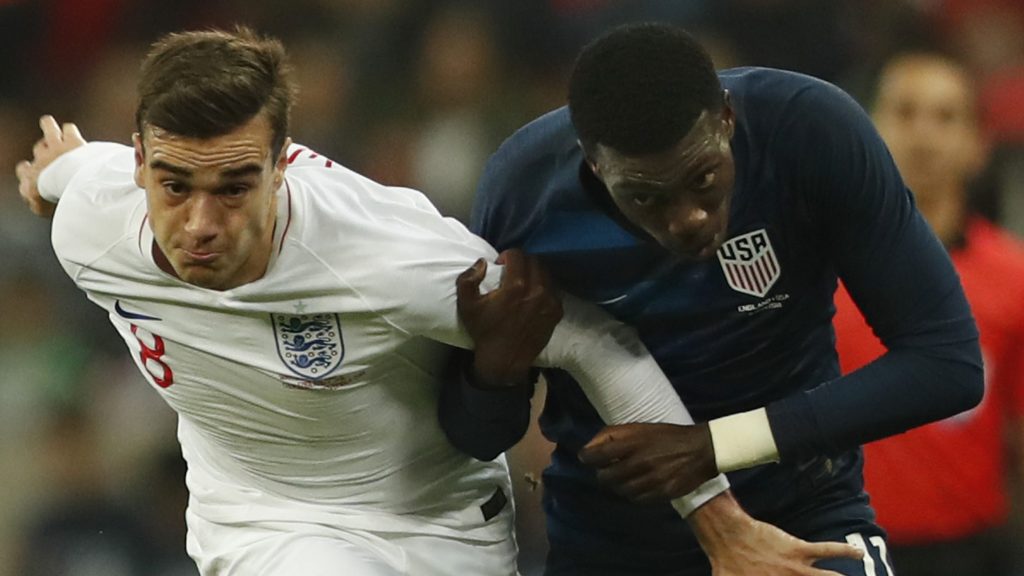 Zack Steffen
John Brooks — Matt Miazga — Aaron Long
DeAndre Yedlin — Weston McKennie — Tyler Adams — Kellyn Acosta
Christian Pulisic — Bobby Wood — Tim Weah
Bench: Ethan Horvath, Danny Williams, Wil Trapp, Josh Sargent, Kenny Saief, Walker Zimmerman, Eric Lichaj.
Is that squad qualifying for a World Cup? Yes. Is it hanging with Mexico? Probably not, but that's why we lean on the hope in room for growth in a young team.
Now since we've gotten to the meat of it, let's then imagine the USMNT's XI should the side not have embarrassed itself by not qualifying for the World Cup. How many names would be different?
In that instance, it would not have totally torn itself up over the past 13 months. Yes, it would've given the kids a chance, but names like Geoff Cameron and Jozy Altidore would not have been largely ignored by whoever's been in charges. Wins would've still mattered quite a bit.
So while all these men wouldn't have necessarily been called up this week to face England and Italy, here's an XI of players who are likely the Yanks' very best chance of winning a do-or-die match right now (And yes, we know Geoff Cameron is playing center mid for QPR at the moment. And don't laugh: 30-year-old winger Fabian Johnson is contributing fairly regularly for the No. 2 team in the Bundesliga).
I'll save you the everpresent comment of "Oh, man, (insert Jozy or Bradley here), enough with that. It's over." There, I said it for you. Now let's get back to theoretical, right now, win or go home match.
Zack Steffen
DeAndre Yedlin — Geoff Cameron — John Brooks — Justin Morrow
Danny Williams — Michael Bradley
Christian Pulisic — Weston McKennie — Fabian Johnson
Jozy Altidore