Did the UEFA Champions League quarterfinal draw go a long way toward clinching Liverpool's first Premier League title?
In a world without Manchester City as its main rival for the throne, you'd have to say probably.
[ MORE: Analyzing the draw ]
Liverpool's drawing of Porto takes the trickiest part of its league run-in and makes it a lot more palatable. Instead of drawing one of five extra challenging clubs to sandwich around a home league date with Chelsea, the Reds will get arguably their best possible challenger.
And while you could say that Man City would prefer Spurs over at least four of their six other possible draws, beating the same team thrice in eight days while chasing your first Champions League title is… not easy.
Here's how it all looks now for the Top Six: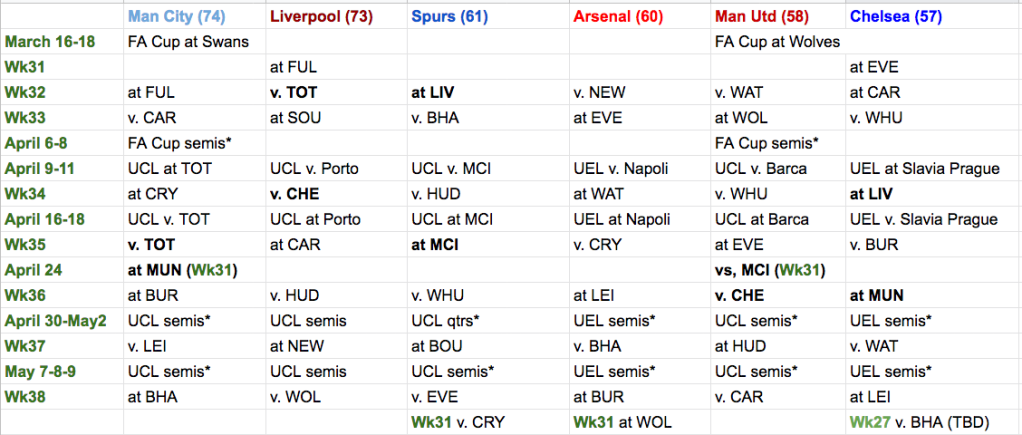 First impressions:
Ole Gunnar Solskjaer will be tested. Wow. If Manchester United can weather April, then maybe OGS should get a 10-year deal. The margins are so thin in the race for the Top Four, and United is a weekend FA Cup win away from this being their April: at Wolves, FA Cup semi, home Barca, home West Ham, away to Barca, at Everton, home Man City, home Chelsea. At least a lot are at home?
Spurs and Man City's European and Premier League ambitions run through each other. Pochettino and Pep matching tactical wits three times over 8 days in two competitions is a fascinating managerial match-up, but could hit both teams hard. Who do you fancy? We know City won't sacrifice one league for the other.
Chelsea and Arsenal favorites for 3rd and 4th? While Arsenal will hate its draw of Napoli in the Europa League, both UEL contenders will look at their schedules with some favor. Chelsea is especially happy that its draw of Slavia Prague, who it will not overlook, allows it some flexibility with the Liverpool league fixture sandwiched in between.
Liverpool should probably win the league. While there's no guarantee that Man City will drop points, the Reds really shouldn't. The drawing of Porto allows the Reds their best opportunity to focus on Chelsea in the league. Should Jurgen Klopp negotiate a home clean sheet win over Porto in the first leg, even better for their title odds.
Here's how I think they finish:
Liverpool (95 points)
Man City (94)
Chelsea (82)
Tottenham Hotspur (82)
Arsenal (80)
Manchester United (76)