Christian Pulisic has gone three Premier League games without seeing the field. An unused substitute again at Stamford Bridge as Chelsea topped Brighton 2-0 on Saturday, the 21-year-old told NBC Sports that his lack of playing time is "very frustrating" and that "it is tough for me right now."
Frank Lampard is under no obligation to play the American despite his hefty $73 million price tag on the move from Borussia Dortmund over the winter. With that in mind, it's time to take a look at the performances of his competition at Chelsea and determine whether the Blues boss is making the right decision in keeping Pulisic on the bench.
There seems to be at least four other attacking players above Pulisic in the depth chart: Experienced international wingers Willian and Pedro, and youngsters Mason Mount and Callum Hudson-Odoi. Here's a closer look at each player's season so far.
Mason Mount
The 20-year-old England youth international has exploded onto the scene this campaign, forced into the rotation due to Chelsea's transfer ban. He has taken his chance marvelously, proving a massive threat to opposition defenses on the ball. The sample size is still small, but Mount is currently rated as WhoScored's 14th best player so far this season with an impressive 7.45 rating. He has delivered three goals thus far, and has produced over two key passes per game and just under two successful dribbles per game.
Lampard has begun to deploy Mount more centrally, pairing him in midfield with Ross Barkley and allowing him to venture forward. He created three chances against Brighton last time out and won the penalty that saw Jorginho put Chelsea in front just after halftime. There is no doubt that in his current form, Mount should be starting every match for Chelsea at this point, and Pulisic can have no qualms about sitting behind the fellow youngster.
Pedro
Since arriving from Barcelona in 2015, Pedro has been a versatile player that has seen significant time under a host of different Chelsea managers who have all noticed his value. Playing as a true winger, a central creative force, or a wing-back in various formations, Pedro has been able to contribute in a number of ways.
This season, Pedro has been of decent quality. He started slow against Brighton last time out but ended up with a solid overall performance, testing the goalkeeper a few different times and creating opportunities for his teammates. Still, that was his first league appearances since August and he was withdrawn for Hudson-Odoi after an hour. Lampard doesn't seem to fully trust the Spaniard. His appearance in the lineup against Brighton instead of Pulisic was probably the most surprising given his lack of playing time thus far, but he proved a valuable asset.
Willian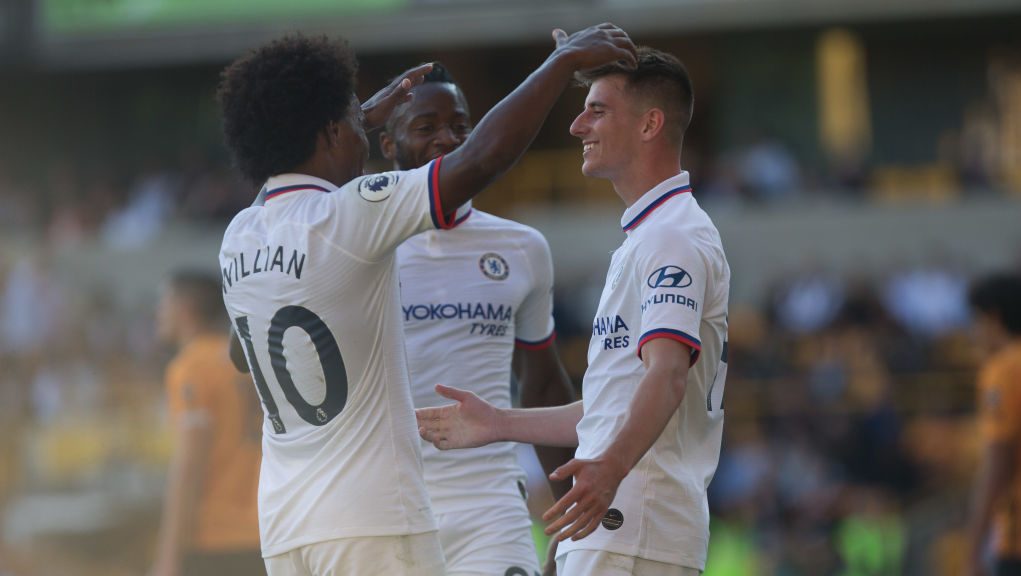 While a hamstring problem carried over from summer international duty limited him early in the season, the 31-year-old Brazilian has seen significant playing time over the last month. Racking up three straight 90-minute showings in a row in league play, Willian is a trusted servant for Frank Lampard early on. Unfortunately, it's somewhat difficult to determine why.
Aside from the demolition of Wolves in which he was brilliant, the performances have been quite spotty for Willian thus far. While his passing accuracy is 80 percent this season, a closer look shows a host of square passes well outside the box that inflate that total. Against Brighton, Willian added little creativity, especially in the first half when Chelsea as a whole struggled to produce much of anything. Still, he came away with the game's second goal, a tight-angled strike out of basically nothing that was deflected in and punished poor one-on-one marking and even worse goalkeeping.
Another key part of Willian's game is his defensive contributions which often can neuter his overall attacking threat. He came away from the Brighton with four completed tackles on the right flank, an impressive total for a winger. A look at his performance in the loss to Liverpool shows he was pinned back by his defensive duties for much of the game, and when he did get forward he was unable to produce much, completing just two of his six attempted passes in the penalty area and failing to come away from the match with an official chance created. Willian is a good squad player, but he hasn't exactly dazzled in the early going. His fans will say he's never been a dazzling player, and that's a fair retort.
Callum Hudson-Odoi
Just having returned from an Achilles injury, the 18-year-old is clearly a fabulous talent. With the Blues having rejected Bayern Munich's advances. There's a feeling of obligation to play Hudson-Odoi now that Bayern has been rebuffed to confirm the club's commitment to his future. Still, there's a reason he sees the field. In 30 minutes against Brighton, he picked up an assist and proved valuable defensively, completing two tackles in two attempts and completing 21 of 24 passes. It wasn't an inspiring passing chart, but Chelsea was playing with a lead the entire time.
Plenty remains to be seen here how he gets on after returning from injury, but as a huge talent that has already broken into the England senior squad, there's little reason to think he won't see a lot of the field.
The verdict:
This is a difficult one to analyze as aside from Mason Mount, there are plenty of question marks remaining among those in front of Pulisic on the depth chart. Willian and Pedro are older, experienced players who don't light up the field but managers love them for their dedication to the team effort and game plan, while Hudson-Odoi has plenty to prove on his way back from injury but figures to be given the chance to do so.
Given the unknowns, there's no reason to think Pulisic can't work his way back up the ranks. Chelsea is clearly committed to youth this season, and there is plenty of incentive to develop Pulisic into a regular contributor given his promise, his age, and the club's financial commitment. Eventually, it's logical to think Willian and Pedro will be phased out in favor of the younger attacking players.
Let's also remember, Christian Pulisic isn't the only good player struggling for time at Chelsea. Jorginho has proven an improved asset at Stamford Bridge, while Kante has also struggled with injury, the improved play of Jorginho has enabled Lampard to be careful with the French midfielder, confirming Kante missed the Brighton squad with a hamstring problem that left Chelsea to be cautious. Had Jorginho not been playing so well, Kante may have been risked.
While it's natural to panic over Pulisic's small workload early on – and certainly frustrating for the player given his phasing out at Dortmund at the hands of Jadon Sancho – it's not time to push the big red button. Lampard has clearly told Pulisic to improve his training, and nobody but the team knowns what goes on there. All we can judge is what happens on the field, and until someone at Chelsea struggles greatly and deserves to be replaced, it's tough to see a way back in for Pulisic in the short-term.