Leicester City sits second place in the Premier League table in mid-November, eight points back of a historic Liverpool position.
Since winning the title, Leicester City has finished 12th, 9th, and 9th and suddenly are challenging for a Champions League place yet again. The simple fact that the Foxes have managed to sustain considerable top-flight success over the course of the last six seasons might be even more impressive than their lightning-in-a-bottle title run.
While there are a few holdovers from the title-winning campaign, like goalkeeper Kasper Schmeichel and striker Jamie Vardy who stand out among the crowd, there has understandably been considerable turnover from that title team. Midfielders N'Golo Kante and Danny Drinkwater were sold for significant sums of money, as was winger Riyad Mahrez. Both members of the center-back partnership Wes Morgan and Robert Huth put together are 35 years old (Morgan is still with the club but has logged just 28 Premier League minutes thus far).
In now are rising stars like Wilfred Ndidi, Ricardo Pereira, Ben Chilwell, and Youri Tielemans, looking to write their own place into Foxes history.
So, naturally, we thought it fitting to compare the two sides. In another universe where Liverpool doesn't dominate the Premier League landscape in record-breaking fashion, could this current Leicester challenge for a title? The only way to find out is to pit them against the squad that did. Here we go.
---
GOALKEEPER – Kasper Schmeichel (15/16) vs. Kasper Schmeichel (19/20)
Now 33 years old, Kasper Schmeichel has become one of the faces of Leicester City. Fans adore his leadership and calming presence, and respect his dedication to the club. But how does he stack up now against the likes of his younger self? With five clean sheets in 12 appearances under Brendan Rodgers this season, Schmeichel is up to his old tricks. Among qualifying goalkeepers, Schmeichel ranks second in the league in overall score according to SofaScore's rating system, and has has managed to do so without facing a ton of shots – Leicester City has conceded the fourth-fewest xGA according to UnderStat.com.
So how does that stack up to the legendary title-winning season of 2015/16? That year, Schmeichel recorded 15 clean sheets in 38 league appearances, one behind Petr Cech's 16 for the league lead. He had the fourth-highest saves per goal conceded total in the league at 2.8, behind just Cech and a pair of goalkeepers with higher volume in Vito Mannone and Fraser Forster.
VERDICT: DRAW – Schmeichel is up to his old tricks, and has kept his level of play high through the years. Leicester City still has a rock between the sticks.
CENTER-BACK – Wes Morgan/Robert Huth (15/16) vs. Caglar Soyuncu/Jonny Evans (19/20)
Wes Morgan and Robert Huth built an unlikely center-back partnership at Leicester City. A former Chelsea youth product, Huth was on his fourth club after spending six years at Stoke City toiling in the middle of the Premier League table. Morgan, meanwhile, had been a career Championship player, with the previous campaign his first in the top flight. Together, they logged a massive 6,570 Premier League minutes en route to a defensive performance that saw them concede just 36 goals in 38 games, one off the league's stingiest defensive output. By April, the two led the top-four defenders in blocks, and both appeared in the WhoScored's top 15 for center-back ratings at season's end.
Today, an equally unlikely circumstance has led Leicester City to the league's best defense. 23-year-old Caglar Soyuncu has developed into one of the best young center-back prospects in the league next to experienced former Manchester United defender Jonny Evans. Thanks to that pair, Leicester City is one of just two teams to have conceded a single-digit goal total through 12 matches alongside Sheffield United. Soyuncu ranks 3rd in WhoScored rating among CB's with at least 7 appearances, while Evans is 11th, and the former is a beast in the air and pressures with accuracy. Also, he can dribble?
VERDICT: SOYUNCU/EVANS – While Wes Morgan and Robert Huth will live in club lore, the longevity potential for Soyuncu/Evans and their underlying statistics prove they are far more than a one-hit-wonder and can be a massive asset for this club moving forward.
FULL-BACK – Christian Fuchs/Danny Simpson (15/16) vs. Ricardo Pereira/Ben Chilwell (19/20)
One of the more under-heralded fan favorites of the 2015/16 title team, Christian Fuchs is another that will live on in club lore. He was energetic and a lively presence in the dressing room. Along with his full-back partner Danny Simpson, both players were seemingly on the decline before coming to Leicester – Fuchs had made 16 and 25 league appearances in his final two season at Schalke before being shipped out, while Simpson had lost his starting place at Newcastle two years prior and spent a season in the Championship with QPR before Leicester City gave him another shot at the Premier League. Somehow, things clicked under Claudio Ranieri and the two took off, providing both defensive cover and overlapping contributions moving forward.
With Fuchs a bit-part player and Simpson off at Huddersfield Town, they have been replaced by two of the best full-backs in the Premier League. Ricardo Pereira was the second-best right-back in the league behind Trent Alexander-Arnold last season according to WhoScored, while Ben Chilwell has earned a regular spot on the England national team.
VERDICT: Pereira/Chilwell – Fuchs is an absolute fan-favorite and Simpson's revival was stunning to behold, but like the current center-back pairing Pereira and Chilwell have the longevity to serve the club for years or become valuable assets, and the two have already earned personal accolades the previous duo would not have achieved.
DEFENSIVE MID – N'Golo Kante (15/16) vs. Wilfred Ndidi (19/20)
This is one of the most fascinating player comparisons in recent soccer memory. N'Golo Kante's rise to become one of the best defensive midfielders in the world, earning PFA Player of the Year in 2016/17 and finishing 8th on the Ballon d'Or list for 2017. Kante was the most important player on the title-winning squad – quite simply, Leicester City doesn't win the title without Kante leading the league in tackles per 90 (4.7) and interceptions per 90 (4.2). His ability to halt opponent counters in their tracks was mind-numbing.
And yet, Leicester City's only gone and produced his clone.
Wilfred Ndidi leads the league in interceptions per 90 minutes and is second in tackles behind tackle machine Aaron Wan-Bissaka. At just 23 years old, the Foxes are staring another N'Golo Kante in the face, a player who many believed – rightly so – was a once-in-a-generation type midfield product.
VERDICT: N'Golo Kante – while Ndidi is a massively promising player who is producing another season like Kante's in 15/16, it will be hard to top one of the most legendary performances of the past decade, one backed up by Kante's rise to stardom over the past few years.
CENTER MID – Danny Drinkwater (15/16) vs. Youri Tielemans (19/20)
Danny Drinkwater has flopped since his move to Chelsea, but don't let that cloud your memory of his performance as N'Golo Kante's midfield partner. Drinkwater was massively important to Leicester City during the title run, scoring two goals in 35 league appearances and assisting seven more, providing a dynamic presence in midfield to both calmly hold possession and provide dangerous moves forward. Still, admittedly being next to Kante made Drinkwater look better, and that proved true through the rest of his career.
Tielemans, on the other hand, is putting up numbers of his own that prove he's his own player outside of any lift he gets from being slotted next to Ndidi and James Maddison. His passing percentage is way up from his days at Anderlecht and Monaco, and while he still struggles with turning the ball over on occasion, his heavy volume (55 passes per 90, 13th among non-defenders) and key passes (1.8 per 90, 17th in the league) suggest Tielemans has settled into an important role with the club.
VERDICT: Tielemans – While Danny Drinkwater was important to Leicester City's run, his peripherals suggested Chelsea probably should have been more careful with its money. Tielemans has made significant strides since his disastrous time at Monaco and has become an important cog in midfield.
ATTACKING MID/WINGER – Riyad Mahrez/Marc Albrighton vs. James Maddison/Ayoze Perez (19/20)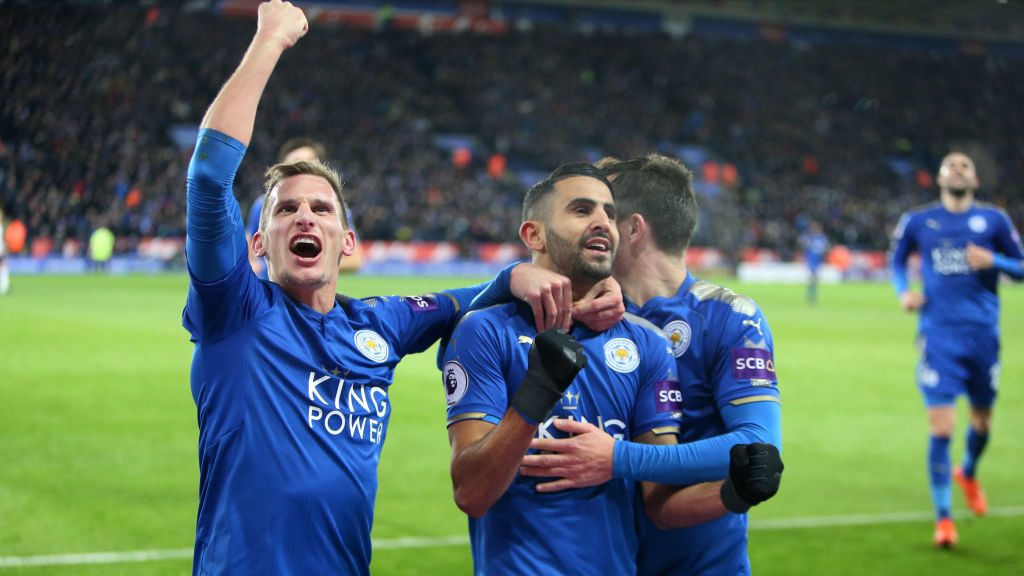 Riyad Mahrez's road to becoming Leicester City's record sale was at times a bumpy tale, but there were no higher highs than he had in the 2015/16 title run. The Algerian international became a Premier League sensation with his 17 goals and 10 assists, doing it all for the Leicester City attack. He produced an xG of 11.88 for himself, with a silly goal conversion rate on top of that. In addition, he set his teammates up for a nearly equal 11.45 xA total, picking up 20 big chances created and dribbling successfully at a rate of 3.5 per 90 minutes. By contrast, Mahrez's wing partner Marc Albrighton is a mostly forgettable player for casual fans, but he was massively important in other ways. Playing in every single Premier League match that season, Albrighton helped keep the shape and offered a more rigid foil to Mahrez's marauding, with Fuchs overlapping on the left.
This season, James Maddison is the standout attacking player for the Foxes, with the 22-year-old developing into a key contributor up front. The youngster is eighth in the league in key passes per 90 minutes, and he himself is ripping off over three shots a game, with four league goals already to his name. Still, Maddison could be creating more – with 23 shot assists on the season so far, only two have qualified as "big chances" according to SofaScore. Ayoze Perez has not quite brought the explosiveness we saw in his Newcastle days over to the King Power Stadium, but his three-goal haul is also proving important early on.
VERDICT: Mahrez/Albrighton – while this duo was sorely one-sided, the season Riyad Mahrez had for Leicester City that title-winning campaign was an attacking display for the ages. Maddison is an extremely solid future asset contributing at a high level for such a young age, but he still has distance to cover to reach the heights of Mahrez that fateful year, who finished as the highest rated player in the entire league according to WhoScored.com.
STRIKER – Jamie Vardy (15/16) vs. Jamie Vardy (19/20)
Alongside Schmeichel, Jamie Vardy is the face of Leicester City. His out-of-nothing story makes him special to Leicester City fans, and his goalscoring prowess has been critical to the club ever since they were promoted to the Premier League. Vardy has made a career of scoring out of nothing – his top-flight career has seen him score 91 goals, a massive +11.5 differential over his 79.5 career xG.
Yet, a closer look provides a fascinating underscore of the evolution of the 32-year-old's career. This season, in just 12 matches, Vardy has bagged 11 goals on an xG of just 5.19, meaning nearly 6 of that +11 career differential has come just this campaign. The Foxes striker is taking just two shots per 90 minutes, and yet has scored on nearly half of them – absolutely astronomical conversion numbers that are surely unsustainable, even if Vardy's career has been built on exceptional finishing.
While those numbers are surely inflated by the relatively small sample size of 12 matches this year, they aren't all that different from the title-winning season. That campaign, Vardy took 115 shots – 3.28 per game – and scored on 24 of them, and his 0.19 xG per shot is quite close to the 0.21 he is putting up this season. Most interesting, he scored 18 of those 24 goals with his right foot, a variance which has evened out this season as Vardy becomes more competent with his off side – four goals with his right, four with his left, and two with his head.
VERDICT: 15/16 Vardy – This season's Jamie Vardy just isn't shooting at the volume you'd expect from a striker of his finishing caliber, and he needs to find a higher volume if he wants to keep up the ridiculous goal conversion rate that will surely regress towards the mean.
BENCH – Leonard Ulloa/Shinji Okazaki/Andy King (15/16) vs. Demari Gray/Harvey Barnes/Hamza Choudhury (19/20)
It is impossible to discuss the epic season Leicester City had in 2015/16 without talking about Leonard Ulloa and Shinji Okazaki, who combined came off the bench 30 times in league play and were often called upon to rescue points. Andy King became a club icon as a Leicester City youth product who fans took a liking to, brought off the bench 16 times himself to close a game down.
Brendan Rodgers has Demari Gray and Harvey Barnes at his disposal to inject life into a game, while Hamza Choudhury is a talented young player who has shown flashes of being able to do the job himself should anything happen to Ndidi. Still, Grey – who was a member of that title-winning squad – has not become the star many thought he would a few years ago and Barnes is still showing his age at 21 years old. The group has yet to become true super-subs and Rodgers has been somewhat forced to run with his main group – five players have played every minute of this Premier League campaign so far (Schmeichel, Soyuncu, Evans, Vardy, Pereira) while another (Tielemans) is has seen just seven minutes of rest.
VERDICT: 2015/16 – It felt like every time Ranieri called upon the cavalry, they would deliver in the given situation. Gray has yet to develop into the player many believed he would years ago, and Barnes is still a raw product.