Who is the most underrated player in MLS? MLS stars weigh in, but who's your pick?
MLS Week 1 preview: Sounders vs. Revs, Timbers vs. RSL headline First Kick weekend
It's here. It's. Finally. Here.
The 2015 Major League Soccer season kicks off today. Then there's more MLS action on Saturday. Followed by more MLS on Sunday. This is what our lives are going to be like for the next nine months. Learn it, live it, love it.
[ MORE: All of PST's MLS previews for 2015 ]
MLS returns with a bang-up schedule of games for First Kick weekend as all 20 teams are in action, highlighted by the following matchups.
Seattle Sounders vs. New England Revolution (Sunday, 9:30 pm ET, Fox Sports 1)
Could it be a preview of the 2015 MLS Cup final? It's obviously too early to tell (unless you're the PST staff), so as far as Week 1 of the regular season goes, we'll enjoy this one for what it is certain to be: entertaining, attacking soccer played by two of the league's most formidable attacking units.
Obafemi Martins is poised to score a ton of goals this season (17 with 13 assists last year wasn't enough) and put his name in the MVP race once again. Clint Dempsey (15 and 10 in 2014) and Lamar Neagle (9 and 9) figure to give the Revolution backline plenty of trouble, as well. Juan Agudelo returns to the Revs, who were missing only a consistent goalscoring center forward in their run to MLS Cup 2014. Lee Nguyen (18 goals, 5 assists) and Co. will be left to fill the void left by the absence of Jermaine Jones (hernia surgery).
Prediction: Sounders 2-1 Revs
Portland Timbers vs. Real Salt Lake (Saturday, 10:30 pm ET, MLS LIVE)
Neither team made a ton of major moves in the offseason, which would lend itself to a fast, functional start for both sides to begin the season, if not for a number of key injuries. Will Johnson is out the first few weeks of the season, if not the first month, so a heavier workload falls on the shoulders of Diego Chara, who's more than capable of picking up the slack. Diego Valeri (11 goals, 14 assists in 2014) will also miss a few games, and it remains to be seen whether Darlington Nagbe can replace the Argentine's production.
Joao Plata was a revelation for RSL last year (13 and 6), but a broken foot in preseason means he's out until the summer. Javier Morales can ease the pain of losing Plata's creative work, while Sebastian Jaime needs to strike up a fruitful strike partnership with Alvaro Saborio even more quickly now.
Prediction: Timbers 2-2 RSL
[ MORE: Now that it's happening, MLS's 20th season is sure to be the best one yet ]
Orlando City SC vs. New York City FC (Sunday, 5 pm ET, ESPN2)
Two expansion teams set to play in front of 62,000 fans inside a sold-out Citrus Bowl. Welcome to MLS, Orlando, be sure to bring the ruckus just like this every single week and we'll gladly have you back again and again.
The MLS debut of Kaka, David Villa and Mix Diskerud. Need more? OK, one of these teams is likely to make the playoffs in a somewhat weakened Eastern Conference. Since the season hasn't even started yet, we can pretend this game is going to decide which team is playing in November.
Prediction: Orlando 1-1 NYCFC
Vancouver Whitecaps vs. Toronto FC (Saturday, 6 pm ET, MLS LIVE)
Perhaps no player will be under more intense scrutiny in 2015 than Jozy Altidore. Having made the switch back to MLS, he was, predictably, greeted by the "Couldn't hack it with the big boys, huh, Jozy?" crowd. A goal or two in his TFC debut should buy him a few weeks of silence.
The Whitecaps are probably going to be the most entertaining MLS team to watch this year (again). Pedro Morales will be in the MVP conversation come the end of the season. Kekuta Manneh is always going to be exciting, if unpredictable. The midfield is as solid as could be with Matias Laba and Gershon Koffie. Octavio Rivero, 23-year-old forward, is the wild card. If the 'Caps find someone to put away all those chances, they'll be a nightmare.
Prediction: Whitecaps 2-3 TFC
[ FOLLOW: All of PST's MLS coverage | Standings | Stats | Schedule ]
Sporting Kansas City vs. New York Red Bulls (Sunday, 7 pm ET, Fox Sports 1)
Two teams largely rebuilt during the offseason, but trending in very different directions. Sporting KC gutted the middle-third of their roster and upgraded on every level of the field. Luis Marin takes over in goal; Ike Opara (broken ankle) returns in defense while Jalil Anibaba makes for a solid backup; Roger Espinoza returns from Wigan and is joined by Bernardo Anor, who's poised for a big year in KC; Krisztian Nemeth could be the second consistent scoring option Sporting needed behind Dom Dwyer.
Meanwhile, the Red Bulls lost Thierry Henry (10 goals, 14 assists in 2014) and Tim Cahill, while adding Sacha Kljestan and Felipe Martins. The sense is that's not enough to replace Henry's genius, but for the first time in a long time, Jesse Marsch's bunch might be a better functioning unit than they were before.
Prediction: Sporting KC 1-0 Red Bulls
LA Galaxy vs. Chicago Fire (Friday, 10 pm ET, UniMas)
The defending champions get things started Friday night, kicking off the 20th MLS season. Landon Donovan has retired, leaving a massive hole in the Galaxy attack (10 goals, 19 assists in 2014), but don't worry, Bruce Arena will fix it one way or another because that's just what he does.
Frank Yallop, on the other hand, needs a fast start to his second season in Chicago after finishing ninth in the East last year. Visiting the defending champs on opening day isn't typically a recipe for success, so we'll be wishing Frank and his troops, new Designated Player Shaun Maloney included, all the luck we can give.
Prediction: Galaxy 2-1 Fire
Now that it's happening, MLS's 20th season is sure to be the best one yet
Now that the 2015 Major League Soccer season is officially happening and starting on time — yes, they worked out a new Collective Bargaining Agreement — you no longer have to temper your excitement for the 20th season of MLS.
What's that? You say you're not excited for the upcoming MLS season? First off, shame on you. Secondly, let's see if we can give you a few reasons to get excited and really give the idea of becoming an MLS fan a shot this year.
[ MORE: All of PST's MLS previews for 2015 ]
More. New. Stars.
David Villa, Kaka, Sebastian Giovinco, Frank Lampard and Steven Gerrard all join the league this year. While Landon Donovan and Thierry Henry may have left the game for good after the 2014 season, MLS finds itself with no shortage of names to display in bright lights upon the marquee every Friday, Saturday and Sunday, from March to December.
A North American league has North American stars.
It's one thing to spend big money on foreign stars just to create a buzz and garner attention in other parts of the world, but only so many players of that caliber are willing to come to MLS. The rest of the league, outside the 10 or so world-class players, needs to not be roster-fillers, but possess a certain level of star power themselves. And so many do.
Could, say, Clint Dempsey, Lee Nguyen, Graham Zusi, Gyasi Zardes or Chris Wondolowski be considered world-class to a fan of most any European giant? Of course not, but they're legitimate MLS stars. And whatever you think that means — I'm talking to you, the MLS sucks crowd — they put star performances week in and week out, leaving fans and unbiased onlookers alike, saying, "Wow."
Oh yeah, Jozy Altidore, Juan Agudelo, Mix Diskerud, Brek Shea and Sacha Kljestan are all part of the league, too, joining the likes of Dempsey, Michael Bradley and Jermaine Jones, to name a few.
[ FOLLOW: All of PST's MLS coverage | Standings | Stats | Schedule ]
The league is growing. Still.
Without New York City FC and Orlando City SC, 2015's expansion duo, we wouldn't be able to watch Villa, Lampard, Diskerud or Kaka play on these here shores every week. So, thanks to you, newbies.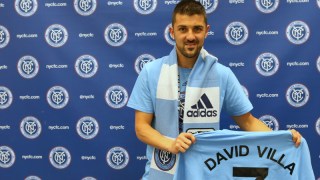 There's also Atlanta and a second team in Los Angeles set to join in 2017, and they'll surely splash the cash on superstars of their own, adding to the embarrassment of riches MLS currently claims. If David Beckham can ever get his Miami project off the ground, look out, because he's probably still got a few friends in the game.
The rest of the world is taking notice.
Just last month, MLS and British broadcast behemoth Sky Sports announced a four-year deal to air a number of MLS games in the UK each week. On Thursday, MLS and European broadcast company Eurosport announced a similar four-year deal to show MLS games across Europe.
Not only are European countries sending MLS their players, but they're also consuming the product, while will only raise MLS's profile abroad, which will only draw more players to the league. It's a not-so-vicious circle of soccer.
If it's good enough for the rest of the world to take notice, then it's good enough for all of us, too. Besides, if you live in the United States or Canada, it's your domestic league. If you care about the sport in either country, the best thing you can do is support the local product.
2015 MLS season preview: Real Salt Lake
Qualified for MLS Cup Playoffs every year since 2008
In 2014, finished 3rd in Western Conference
Knocked out by LA Galaxy (5-0) in conference semifinals

[ MORE: All of PST's MLS previews for 2015 ]

Key player: Alvaro Saborio

60 goals in 113 MLS appearances, including 37 in 63 over his last three seasons. It's near impossible to find a striker in MLS that can match Saborio's consistent contributions. Only problem is, he averages 22 appearances per season, mostly because of a checkered past of injuries and partly because of Costa Rican national team call-ups. This year, the difference between 30 starts and 20 starts for Saborio in 2015, is the difference between RSL continuing their playoff streak and missing out for the first time since 2007.

Other names to watch: Javier Morales, Sebastian Jaime, Kyle Beckerman and Chris Schuler

[ FOLLOW: All of PST's MLS coverage | Standings | Stats | Schedule ]

Head coach: Jeff Cassar

The job Cassar did in year one, keeping RSL from missing a beat after Jason Kreis departed for New York City FC, was Coach of the Year-worthy work. The system, the ethos, the identity of the club didn't change and they were successful for it. Now, Nat Borchers, Ned Grabavoy and Chris Wingert, three long-time starters, are gone. Can Cassar now make RSL his own, rather than continuing where Kreis left off?

Outlook for 2015

It felt wrong to do it, but I've got RSL on the outside of the playoffs, looking in. That said, so much of the West's playoff picture revolves around the Portland Timbers. The ceiling for Portland feels so much higher than the likes of RSL, Vancouver and others, but the floor is rock-bottom low. With RSL, we always know what we're gonna get, so it's always feel like such a "safe" pick.
2015 MLS season preview: LA Galaxy
Three MLS Cup championships in last four years (2011, 2012, 2014)
Defeated New England Revolution, 2-1 (ET), in 2014 MLS Cup final
Qualified for MLS Cup Playoffs every year since 2009

[ MORE: All of PST's MLS previews for 2015 ]

Key player: Robbie Keane

I know, it's pretty obvious to call the defending MLS MVP the Galaxy's "key player," but with the retirement of Landon Donovan (10 goals, 19 assists in 2014), it's up to Keane (19 and 14) and Co. to insure the impact from the loss of the league's all-time leading scorer and assist provider is minimal.

Other names to watch: Gyasi Zardes, Juninho, Omar Gonzalez and Robbie Rogers

[ FOLLOW: All of PST's MLS coverage | Standings | Stats | Schedule ]

Head coach: Bruce Arena

Other than finally winning CONCACAF Champions League (in its current format), there's nothing left for Arena to achieve in his legendary coaching career. At this point, the challenge for Arena becomes, "How many times can he rebuild/reinvent the Galaxy and continue to win championships?" Donovan's departure means yet another chance to do just that. This time, the challenge will be to integrate Steven Gerrard, who arrives in July, into a team that's already won three MLS Cups in four years.

2015 outlook

The playoffs are a birthright for the Galaxy, and despite the continued turnover, Arena is the master of rebuilding on a short timeframe, meaning they'll be in the playoffs and a real pest to knock out in November.