Every team in every sport in the world has what's known as a "championship window" — the period in which the heart of its roster competes in the collective prime made up of a number of individual careers.
[ FOLLOW: PST's MLS season preview coverage ]
One of the keys to successful team-building is assembling a cast of players whose careers are ready to peak at roughly the same time — in soccer, ages 26-31 are generally thought of as a player's most  years — so as to convert the group's collective talent into championships. This is, of course, much easier said than done.
Given Major League Soccer's…unique… roster rules, regulations and mechanisms, there's one other avenue by which teams — one in particular, actually — have built MLS Cup-winning squads throughout this decade: the Designated Player — most typically an aging veteran who, in his day, was of such quality that he's still able to dominate MLS into his mid- to late-30s, though that generalization is quickly changing in recent times.
[ MORE: Western Conference preview | Eastern Conference ]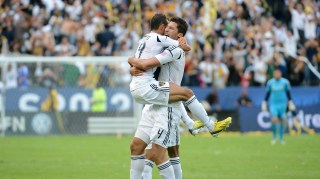 The team about which we're speaking is, of course, the LA Galaxy. Between 2011 and 2014, the Galaxy won an unprecedented three MLS Cups in four years. 2015's playoff failure signaled the end of that particular squad's championship window, though — in large part due to MLS's cumbersome roster rules and regulations — thus the winter of 2015-16 was one of many changes for Bruce Arena's bunch.
However, the Galaxy don't rebuild the way most MLS teams do, so much as they reload every few years. Recently departed are Galaxy stalwarts and cornerstones Omar Gonazlez and Juninho (casualties of the salary cap and allocation money and target allocation money and so on and so forth), paving the way for an offseason of wildly spending other people's money (doing as the Galaxy do).
[ MORE: The PST staff fearfully predicts the 2016 MLS season ]
So now the Galaxy find themselves in a familiar position: with all their chips sitting in the middle of the table, going for broke.
Nigel de Jong will anchor the Galaxy midfield in 2016, providing the kind of defensive cover to the backline that Steven Gerrard simply couldn't upon arrival in August. Massive improvement. Jelle Van Damme will ably replace Gonzalez's physical presence and aerial dominance in the heart of defense, at less than half the price. Marked improvement. Ashley Cole will assume the starting left back job and attempt to prove he's still got something left to give despite a disastrous spell at Serie A side Roma, thus Robbie Rogers moves to right back. This might go bust.
[ MORE: MLS roundtable — discussing the hot topics of MLS 2016 ]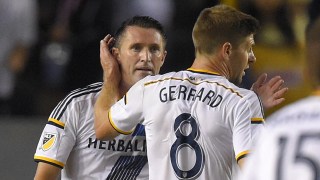 Further investment was made to reward and retain winger/forward Gyasi Zardes, making him, essentially, the Galaxy's seventh DP (Gerrard, De Jong, Van Damme, Cole, Robbie Keane and Giovani dos Santos will all pocket more than the $457,500 DP threshold (whether through traditional MLS compensation, or lucrative contract buyouts from Italy). Average age of the above listed players: 31.1 years, and only rising as the season wears on (without Zardes and Dos Santos, it jumps to 33.6). Not exactly in their primes, despite the magnitude of their respective careers, are they?
That said, it's still the greatest collection of individual acclaim (and perhaps a bit of talent, still) that MLS has ever seen. If there's a coach in the league capable of carefully massaging this squad through the spring and summer months and bringing it to a boil once the playoffs arrive in the fall, it would have to be someone who's won five MLS Cup, three Supporters' Shields, a U.S. Open Cup and guided the U.S. national team to the brink of the World Cup semifinals — his name is Bruce. Next winter will almost assuredly bring about another major overhaul, but for now Arena's set to face perhaps the toughest challenge of his illustrious career over the next eight months.