The results of PST's Big American Soccer Survey are in, and our staff will be walking through the results of thousands of votes in a series of posts this week.
We didn't realize you could acronymize it to BASS, or else we would've done it sooner. Today's BASS questions deal with lower leagues and pro/rel.
[ MORE: All Big American Soccer Survey posts ]
Before we get to the results of three intriguing questions regarding domestic soccer, let's talk a bit about the mercurial nature of our blossoming-if-haphazard soccer country.
Do you want a team, or do you want a culture?
Those ideas aren't mutually exclusive, but too often the expectation that starting one will ignite another turns out to be foolhardy.
We're in the Wild West of American soccer right now, make no mistake about it, and the frontier is far from settled.
That's unavoidable in a country so big, with travel costs so high, where the most established league is a whopping two decades old and support is far from traditional.
[ MORE: Premier League Weds. preview ]
American soccer tends to lean on its success stories, and understandably so. Portland, Seattle, and Kansas City are among myriad wonderful tales for a nascent culture.
But support is so much more than one set of fans, or players, or an owner. Look no further than Rochester, where an annual playoff team in a soccer specific stadium has suffered under the weight of unsatisfied MLS expectations.
Or San Francisco, a one-and-done champion of the NASL.
Or Austin, which failed to support a USL team but is emboldened at the idea of getting another city's MLS team.
Or Dayton. Or Wilmington. San Antonio Scorpions. Atlanta Silverbacks.
(We're going to conveniently leave out the teams dropped into a city by a league in order to battle for a market because this is America and we just need Borussia Butte competing for market share with Montana Monterrey United).
Each of these "failures" has a story, and we're not naive enough to pretend each falls on one reason. Some American cities, accustomed to having the best example of any particular spot in their region via the NBA, NFL, MLB, or NHL, simply won't support a league which wouldn't rate in the Top 20 — or way worse — on a global scale.
We like to blame leagues more than anyone which is insanely easy given the closed structure of every league and the highly-magnified nature of Major League Soccer as a torch holder. Sometimes it's deserved (the handling of Columbus, the handling of Columbus, as well as the handling of Columbus). Other times, probably not.
[ MORE: All #SaveTheCrew news ]
It would take a much longer post than this to figure it all out, and much brighter minds than mine. In fact, one of our biggest flaws as a soccer community is pretending to unveil a universal fix inside of one big lightbulb.
If we had to proffer some easy fixes, they would be this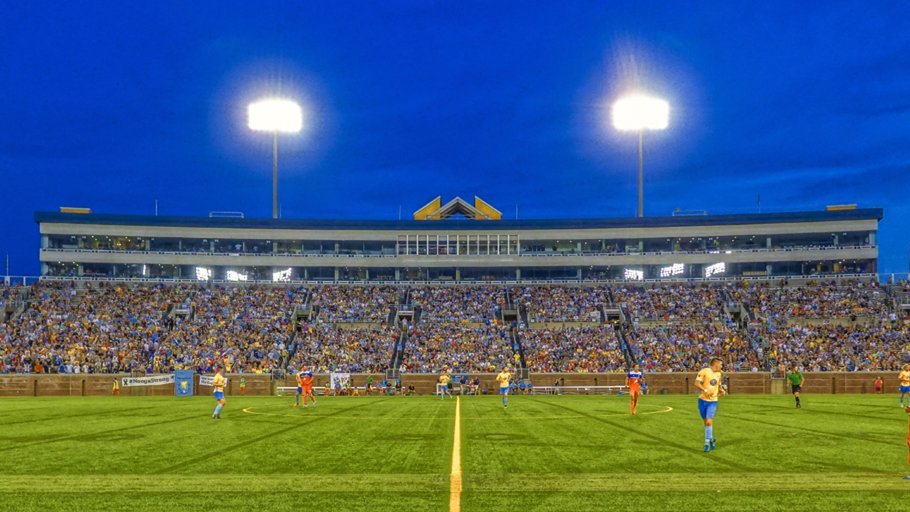 — Support your local club. I don't simply mean by buying tickets, though that certainly helps, but by allying with the cause of improving support in your area. It might seem odd to be a group of four friends starting a supporters' group for your third- or fourth-tier club, but the team will love it and your enthusiasm just might make someone else come back for seconds. Believe us, we've heard the arguments about quality of play, etc., but at some point desire for the development of our culture starts at home. Look at Chattanooga (right), Detroit City (at top), and even Sacramento for this. Look at Columbus while it's being tortured, too, and look it in the eye. Maybe MLS wouldn't have given Columbus a market had the league started up today, but it did 20 years ago and we're fairly sure the business isn't hemorrhaging money and the fans haven't quit on the idea of the Crew.
Detroit is really an incredible example, and it's pertinent as MLS entertains expanding to the city with an organization which isn't Detroit City FC. Full disclosure: I've run a club which has staged a derby with DCFC, and I've watched the Motor City outfit go from "Detroit should have a soccer team" to "I bet we could fund restoring a neighborhood stadium and sell it out" to defying critics about what's possible for a fourth-tier (for now) club. And without as much first hand knowledge from this writer, Chattanooga's growth predates DCFC's story with some striking similarities. If either club's ownership was unable to move forward, I have no doubt their fan bases would rally to keep the clubs alive.
— Support your local soccer-first organization, too. If there's a group running a program in low-income areas or aiming to elevate the quality of youth soccer without demanding $4000 per player and the pipe dream of maybe being seen by FC Porto's North American marketing director (then maybe look into whether they do good work with donations, or if the donations make sure the "technical director" has a nicer house).
So to the questions, which show an appetite for the game at all levels and a desire to move toward an open model. And again, this demands you support your local club, because the idea that Major League Soccer is going to ask its owners to risk their investment dipping into a lower tier is improbable. We're not saying we wouldn't love it. And we're not saying we won't keep asking for it. But change in American hierarchy, especially when it comes to big money, takes a lot of work and lobbying.
Yes, I realize I've glossed over the pro/rel part in one paragraph, but let's be very, very real here: You entered this discussion with a very pointed opinion on promotion and relegation in America. The results of the survey say most of us want to see it, but I couldn't convince supporters it's a bad idea or detractors that it's necessary. I will say this: It'd be great if leagues found a way to make it work despite the massive travel costs that would multiply a successful team's path upward. With loads of respect for the idea and how successful the open pyramid is in other countries, few if any have to deal with the gigantic landscape of the US of A (let alone several Canadian teams as well).
According to our voters: