Must read preface: For several years on my own site and then on a Western New York soccer blog, I gave prospective fans of the Premier League a guide to choose a team. In no way do I claim to give anything other than an opinionated overview that I believe to be a fair representation of clubs whose history far outlives even my fandom of the beautiful game. And as time goes on, this is less and less a necessity. We are talking about the biggest league in the world, after all.
[ MORE: 2018-19 PL season preview hub ]  
I received continued requests for an updated version of this guide during last season's wild Manchester City ride, and the fact remains that people need to know what they are getting into, as I know personally of a fan or two now attached to insufferable clubs. 'They' had no idea that their love for a brown ale or clever nickname would lead to a lifetime of supporter misery. And now 'they' have got to twice watch their beloved club, massive as it is, flub its way to the second tier. Again, just what I've heard from 'them'.
I almost always advocate choosing a club that isn't already a giant because that's my background as a proud Buffalonian, but do what feels right. Maybe you're a Lakers or Patriots fan who enjoys feeding off the hate of others. By all means, continue onward!
So without further ado, I submit to you my 2018-19 beginners guide to selecting a Premier League team. For each team, we'll let you know which Americans are on their team — if any — who their fans tend to hate, and give a very loose comparison to American professional teams.
1. Arsenal
Last championship: 2003-04
Years in Premier League: 27/27
Nickname: Gunners
Location: London
American players: Gedion Zelalem
Biggest rivals: Tottenham Hotspur, Chelsea, Manchester United
Comparison: New York Giants, Los Angeles Dodgers
The good news, if you choose Arsenal, is that you'll have so much company. Arsenal is the most-supported team in these here United States of America, and their passionate fan base is almost impossible to miss. They have a massive celebrity supporter base, too, from Idris Elba to Prince Harry, Steve Earle to Jay-Z, there's a bountiful group of fancy fans.
There's some magic to the club, for sure, and it's been some time since the Gunners were a genuine contender for the crown. With a new coach for the first time in ages, plenty of high-flying attackers, and status as second-best to their long-time rival Tottenham, there's intrigue at Arsenal and a new fan wouldn't be a bandwagon jumper.
2. Bournemouth
Last championship: Never
Years in Premier League: 4/27 (Return: 2015-16)
Nickname: Cherries
Location: Bournemouth, Dorset
American players: Emerson Hyndman (on loan to Hibernian)
Biggest rivals: Southampton
Comparisons: Arizona Cardinals, Tampa Bay Lightning
Eddie Howe has done with this club to get them to the Premier League and keep them there is amazing. Chairman Jeff Mostyn kept the team from administration with his own money, and engineered one of the biggest rises in English soccer history. They've legitimately invested in players, and are yet to succumb to expectations of eventual relegation.
Plus, the South Coast seems like a lovely place to visit, and heir crest is a man heading the ball incorrectly, unless of course the Cherries player is clearing the ball backwards from danger. Which, good on him. Safety first.
3. Brighton and Hove Albion
Last championship: Never
Years in Premier League: 6/27 (Return: 2017-18)
Nickname: Gulls
Location: Falmer, East Sussex
American players: None
Biggest rivals: Crystal Palace
Comparisons: Winnipeg Jets, Los Angeles Rams

Decades of irrelevance nearly saw the club dip into the fourth-tier and, perhaps, serious trouble of disappearing into the abyss. Their rise back to the Premier League is nothing short of inspiring, and manager Chris Hughton's steady hand has been key in building a base for something special. Now with strong goalkeeper Mathew Ryan, fearsome attacker Pascal Gross, and one of the most intriguing young talents in the world (Alireza Jahanbakhsh), the Gulls are a sneaky good pick to become a PL mainstay.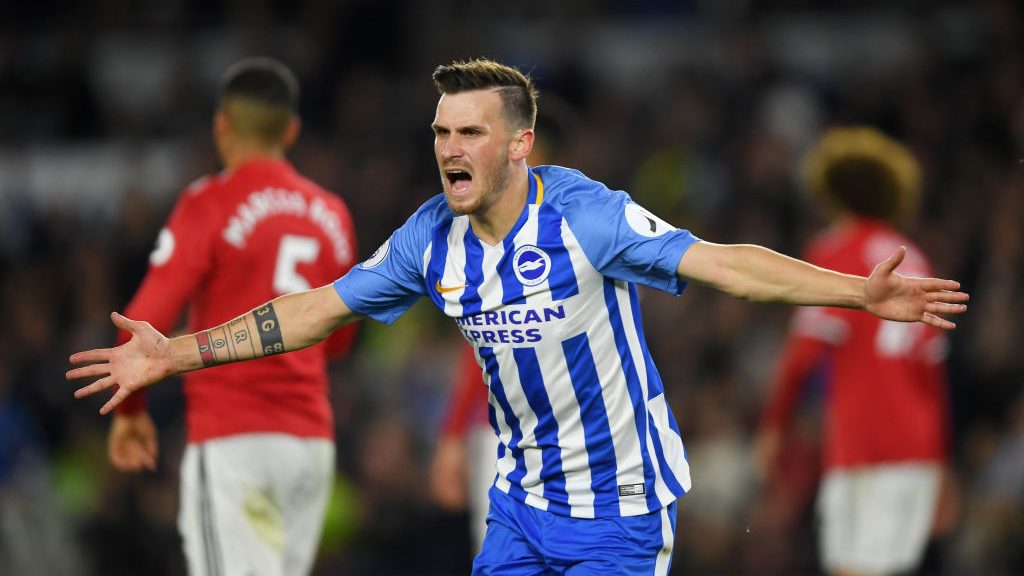 4. Burnley
Last championship: 1959-60
Years in Premier League: 5/27 (Return: 2016-17)
Nickname: Clarets
Location: Burnley, Lancashire
American players: None
Biggest rivals: Blackburn Rovers, Preston North End
Comparisons: Pittsburgh Pirates, Calgary Flames
Manager Sean Dyche is legitimately terrifying, and the Clarets are in the midst of perhaps their greatest adventure after punching way about their weight in order to qualify for the Europa League.
Burnley is still not a favorite to stick around the Premier League for long, but those odds become shorter and shorter with every passing year (especially with the UEL run). That's lovely stuff. Joe Posnanski wrote a story on Burnley the last time they were promoted. It was called "David and Goliath and Burnley". Read it here.
5. Cardiff City
Last championship: Never
Years in Premier League: 2/27 (Return: 2018-19)
Nickname: Bluebirds
Location: Cardiff, Wales
American players: Backup goalkeeper Chris Konopka
Biggest rivals: Swansea City, Bristol City
Comparisons: Ottawa Senators, Miami Marlins
The Premier League was deprived of one of the best rivalries in sports when Swansea City was relegated in the same season that Cardiff climbed into the top flight. The only Welsh club in the league, Cardiff is owned by eccentric owner Vincent Tan (who once found it wise to change the team's primary colors to red because he felt it contained more power. That didn't pay off). Manager Neil Warnock has promoted loads of clubs to the top flight, but it will be a minor miracle if the Bluebirds survive in their second bid for PL safety.
6. Chelsea
Last championship: 2016-17
Years in Premier League: 27/27
Nickname: Blues
Location: London
American players: Matt Miazga (on loan to Nantes), Kyle Scott (on loan to Telstar)
Biggest rivals: Arsenal, Tottenham, West Ham, Fulham, Millwall
Comparison: Los Angeles Lakers, Washington Redskins
A simply massive club with loads of accolades and glory — not to mention a combustible, deep-pocketed owner in a big, big city — Chelsea's players again failed a title-winning manager when they slipped out of the Top Four under Antonio Conte last season.
New boss Maurizio Sarri has a treasure trove of talent at Stamford Bridge, and the Londoners have as good a chance as anyone to compete for titles and cups on a year-in, year-out basis.
7. Crystal Palace
Last championship: Never
Years in Premier League: 10/27
Nickname: Eagles, Glaziers
Location: London
American players: None
Biggest rivals: Brighton & Hove Albion, Charlton Athletic, Millwall, Wimbledon
Comparisons: Toronto Raptors, New Orleans Saints
Palace is a truly intriguing option due to incredible fans and their status as a real working-class London club. Plus, the Eagles have flair and work rate in their club. Exceptional talent Wilfried Zaha has stuck around for another season, and manager Roy Hodgson is a respected statesman of the game. It only takes one broadcast of a home match, and a pregame chorus of "Glad All Over" complete with a freaking eagle flying onto the pitch to inspire you to think Palace could be the club for you.
8. Everton
Last championship: 1986-87
Years in Premier League: 27/27
Nickname: Toffees, The School of Science
Location: Liverpool
American players: Antonee Robinson (on loan to Wigan Athletic)
Biggest rivals: Liverpool
Comparison: Boston Bruins, Denver Broncos
Everton gives you the ability to back a team with proud history, and a team involved in one of the best rivalries in sports (The Merseyside Derby with Liverpool). The team has not been afraid to spend to bring exciting talent like Gylfi Sigurdsson and Richarlison, and also possesses one of the heroes of England's World Cup run in goalkeeper Jordan Pickford. The additions of Yerry Mina from Barcelona and loanee Kurt Zouma from Chelsea mean the Toffees may be primed to surge high up the table, and the club is one that prides itself on its status in the community, too. A lot to like here.
9. Fulham
Last championship: Never
Years in Premier League: 14/27 (Return: 2018-19)
Nickname: Cottagers
Location: West London
American players: Tim Ream, Luca De La Torre
Biggest rivals: Chelsea, QPR, Brentford, Crystal Palace
Comparisons: Chicago Bears, Nashville Predators
This one's easy: Fulham is located in London, and counts two of its best all-time players as American in the forms of Clint Dempsey and Brian McBride. It currently has two American players, is owned by NFL owner Shahid Khan, and was once dubbed Fulhamerica for its many U.S. talents (including Carlos Bocanegra, Eddie Lewis, Kasey Keller, and Eddie Johnson). Plus, stadium quirk alert: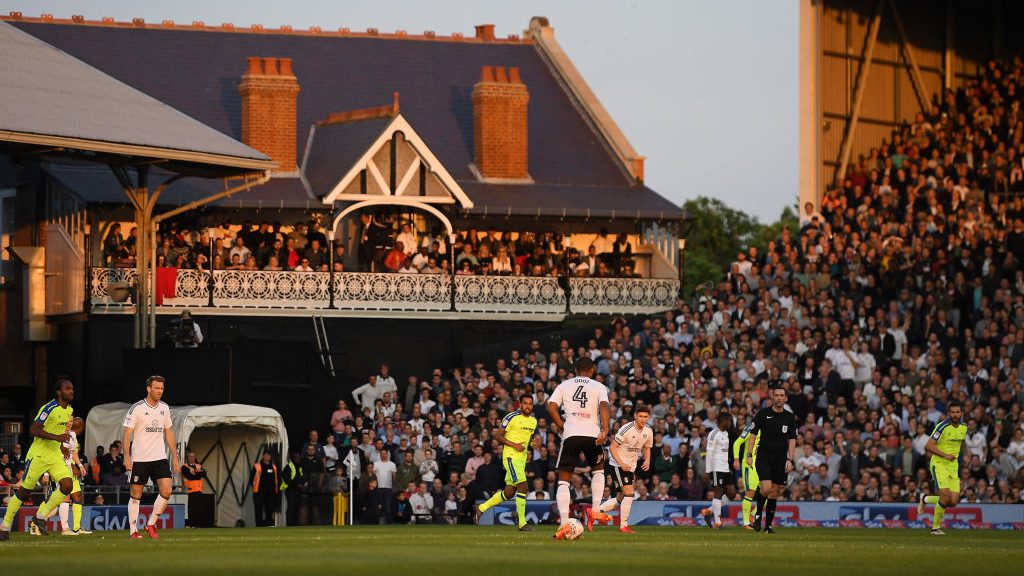 10. Huddersfield Town
Last championship: 1923-24
Years in Premier League: 2/27 (Return: 2017-18)
Nickname: The Terriers
Location: Huddersfield, West Yorkshire
American players: Danny Williams
Biggest rivals: Leeds United, Bradford City
Comparisons: Detroit Tigers, Milwaukee Bucks
At the ripe old age of 109, the Terriers are in their second year back in the top flight. Well, that's a little misleading because Town was not even nicknamed the Terriers when it was winning titles in the early part of the 20th century. The blue-and-white striped Town is an underdog story, and is still considered a strong candidate to dip back into the second tier. But what good is life without an underdog story? And, oh yeah, their manager David Wagner was capped by the United States men's national team.
11. Leicester City
Last championship: 2015-16
Years in Premier League: 13/27
Nickname: Foxes
Location: Leicester
American players: None
Biggest rivals: Nottingham Forest, Derby County, Coventry City
Comparison: Seattle Seahawks, New Jersey Devils
You could hate sports, and you'd have heard of Leicester City's title season. The most unlikely championship story in history, with castaway players and a forgotten manager rising up to claim the Premier League crown from the richest of the rich. I can't tell you not to root for the Foxes, though I also wouldn't bet on them repeating the glory. It's a little tricky to slide into the fan base of a team which has almost certainly had its most memorable moment it could possibly achieve, but such is life. Foxes is a great nickname, blue is a solid color, and Kasper Schmeichel is a wonderful goalkeeper.
Last championship: 1989-90
Years in Premier League: 27/27
Nickname: Reds
Location: Liverpool
American players: None
Biggest rivals: Everton, Manchester United
Comparison: Boston Red Sox, Philadelphia Flyers
Superstar players? Check. Intense, fascinating manager? Check. Title-winning history you can brag (and brag and brag) about? Check. Still plenty of misery to feel like you're somehow an underdog? Check. No wonder American fans have seemingly flocked to the Anfield set, which is a legitimate threat to win the Premier League. With Mohamed Salah, Roberto Firmino, and Sadio Mane (amongst others), you're guaranteed excitement even if the defense doesn't hold up (and it seems like it might do that, anyway).
13. Manchester City
Last championship: 2017-18
Years in Premier League: 22/27
Nickname: Citizens
Location: Manchester
American players: None
Biggest rivals: Manchester United
Comparison: Dallas Mavericks, L.A. Angels, Golden State Warriors
Some folks will tell you that you can't support Man City because they're a club that's done all their recent winning on the backs of incredible investment from deep-pocketed owners, but as time goes on we're learning they were an early adopter of emptying banks in pursuit of shiny things.
Still, City has spent crazy money, and is now doing so under the title-winning reign of managerial mastermind Pep Guardiola. Plus, you'll love the same team as Noel and Liam Gallagher, and their banter game is, generally speaking, top notch.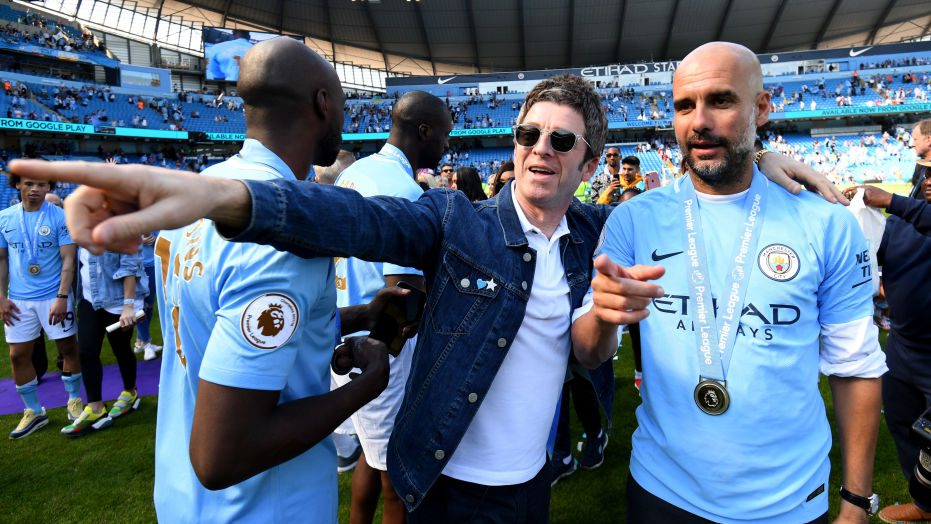 14. Manchester United
Last championship: 2012-13
Years in Premier League: 27/27
Nickname: Red Devils
Location: Manchester
American players: None
Biggest rivals: Liverpool, Leeds United, Manchester City
Comparison: New York Yankees, Montreal Canadiens, New England Patriots
A little shine came off United when it struggled to keep up legendary manager Alex Ferguson's lofty standards once the Scottish coach left the team. But United has spent almost as much money as any club on Earth and should never, ever be considered anything but a favorite with the biggest financial influence in the game. Now with vilified but brilliant manager Jose Mourinho and status as a power with hunger to reclaim its throne, Manchester United can get back to seriously contending for any trophy in the world. And you can sort of feel like you aren't jumping on any sort of bandwagon.
15. Newcastle United
Last championship: 1926-27
Years in Premier League: 24/27 (Return: 2017-18)
Nickname: The Magpies
Location: Newcastle upon Tyne
American players: DeAndre Yedlin
Biggest rivals: Sunderland, Middlesbrough
Comparisons: Buffalo Bills, New York Knicks (if they weren't in NYC)
A blue-collar fan base which has supported its club through thick and thin, but hasn't hesitated to protest when it's being run into the ground? There's something very American sports about Newcastle United, which has achieved glory in its time but has been waiting on more silverware for better than a half century. Its penny-pinching owner has been less than honest about his intent to spend money, and hasn't broken his transfer record in 15 years while every other club in the top flight is doing so with relatively frequency. Its current boss is one of the most celebrated in modern football, Rafa Benitez, and its players are hoping to again punch above their weight. You could do worse.
16. Southampton
Last championship: N/A
Years in Premier League: 20/27
Nickname: Saints
Location: Southampton
American players: None
Biggest rivals: Portsmouth, Brighton & Hove Albion, Bournemouth
Comparison: St. Louis Blues, Oakland Athletics
Saints have a whole lot of "Moneyball" to their program, and chairman Ralph Krueger literally wrote books on leadership. The ex-NHL coach is an incredibly impressive man, and the way Southampton has replaced assets with cheaper assets is admirable. With one of the best young programs in the world, pound-for-pound, and a certain bit of magic around St Mary's (their home ground) you could, like Newcastle, do worse than Southampton.
17. Tottenham Hotspur
Last championship: 1960-61
Years in Premier League: 27/27
Nickname: Spurs
Location: London
American players: Cameron Carter-Vickers
Biggest rivals: Arsenal, Chelsea, West Ham
Comparison: Oklahoma City Thunder, Dallas Cowboys
Spurs are a good team to pick. They have an awesome name, an inventive manager and a cool-albeit-goofy logo. They also play in London, which is nice for tourism reasons. The Tottenham-Arsenal rivalry is also excellent, so it's a good bet for vitriol as well.
Spurs also have a ton of extremely likable and/or exciting players, and have surged into the UEFA Champions League. The players are strong and deep, with superstar striker Harry Kane and Danish wizard Christian Eriksen. There's also terrific French goalkeeper Hugo Lloris. There's really a terrific tradition at the North London club and perhaps they've moved from being "so close" to being truly elite again.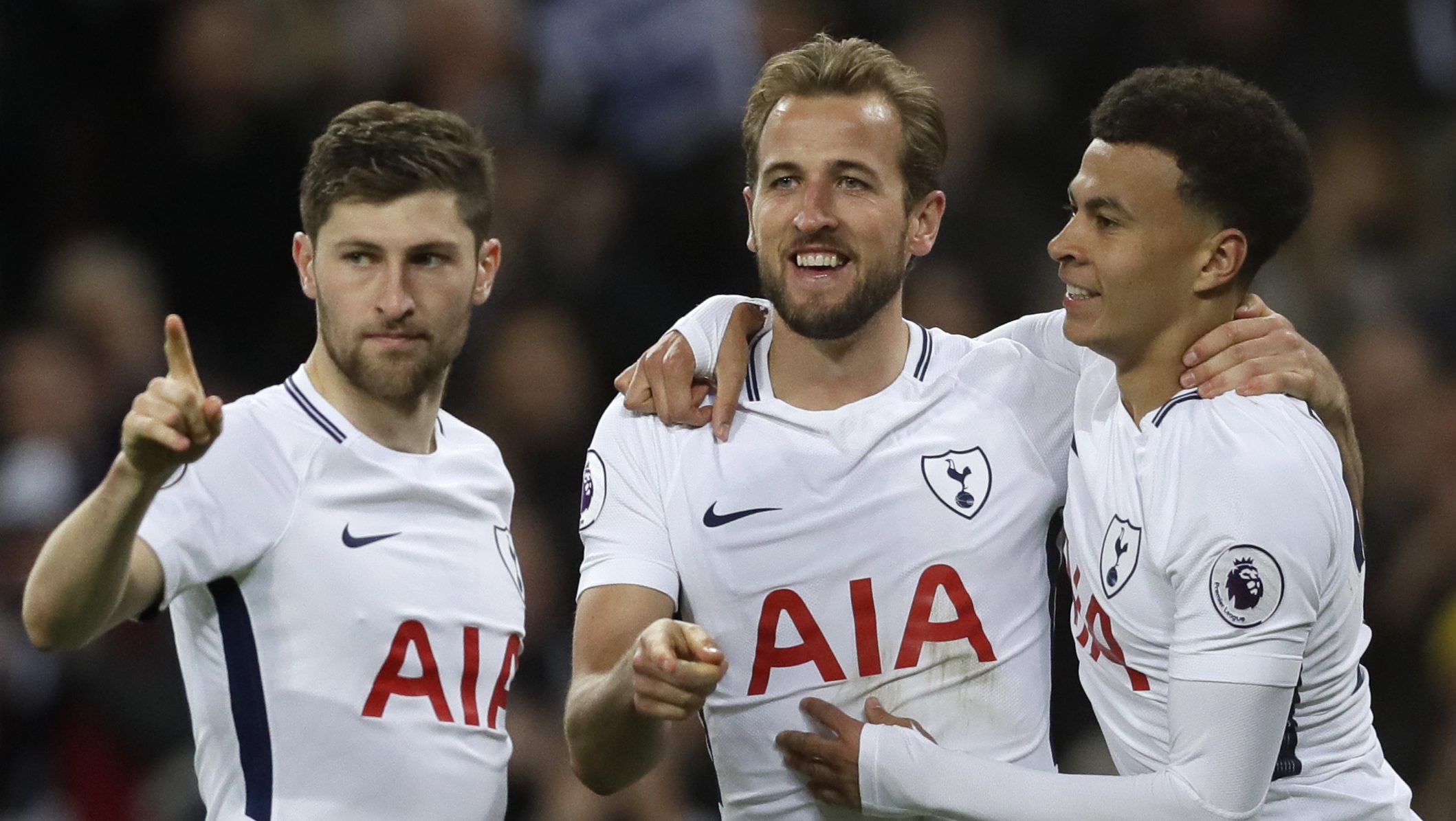 18. Watford
Last championship: Never
Years in Premier League: 6/27 (Return: 2015-16)
Nickname: Hornets
Location: Hertfordshire
American players: None
Biggest rivals: Luton Town
Comparisons: Colorado Avalanche, Cincinnati Reds
Sir Elton John's favorite club, this is a side that once gave USMNT star Jay DeMerit a shot… and he ended up their captain. Watford is neither swimming in expectation nor consistency, but have avoided relegation for three-consecutive seasons.
19. West Ham United
Last championship: N/A
Years in Premier League: 23/27
Nickname: Hammers, the Irons
Location: London
American players: None
Biggest rivals: Millwall, Leyton Orient
Comparison: Brooklyn Nets, Oakland Raiders
West Ham United has a lot of money, a new stadium, and an incredibly deep team given its relative lack of big stage success in recent years. There is every reason to believe West Ham is primed to surge into annual contention for UEFA Champions League places and, given their city and backing, you could be getting on board with a next level club while they're still an underdog story (of sorts). That said, the Irons have underachieved in recent seasons and dealt with eye-popping fan protests last seasons, which is not nice.
20. Wolverhampton Wanderers
Last championship: 1958-59
Years in Premier League: 5/27 (Return: 2018-19)
Nickname: Wolves
Location: Wolverhampton, West Midlands
American players: None
Biggest rivals: West Bromwich Albion, Aston Villa, Birmingham City
Comparison: Houston Astros, Buffalo Sabres
There's a real upward trend here, as Wolves have spent big in recent seasons and that didn't end with their promotion to the Premier League. A super Portuguese bent to the team sees stars Ruben Neves, Joao Moutinho, and Rui Patricio joining promising manager Nuno Espirito Santo in a bid to not just survive in the Premier League, but become a power.